Are you looking for the best online MP3 cutter? If you do then you have come to the right place.
One of the most common formats of audio is MP3 format. If you are an avid music lover, then you already know about the format. As a music lover, you might find a certain section of the song amazing! Maybe you want to keep it as your ring tone.
Another use of cutting an audio clip can be for projects you are working on. It can be an audio project or a website you want to create where you can use the audio clip to showcase an important action.
In short, you will always need an audio cutter, especially an MP3 cutter, to ensure easy work. In this post, we are going to do just that.
Let's get started.
Free Online MP3 Cutters
There are plenty of free MP3 cutters online but the problem is most of them are either windows, android or iOS apps. They all offer great services, but what if you don't want to download an app just so you can edit an audio clip?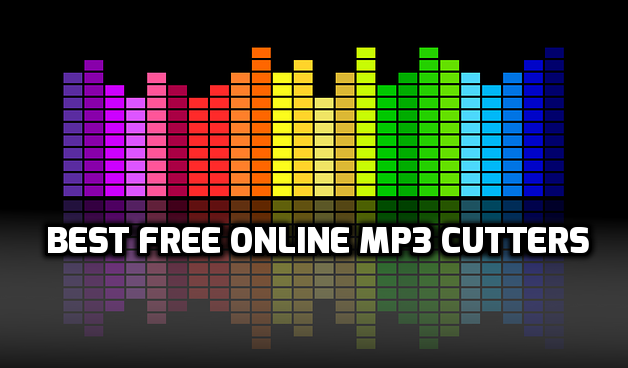 Well, in that case, Online MP3 Cutter comes in handy to those in need. Online MP3 cutters are fast and provide easy and free service. They are as efficient as a normal application, yet they do not consume tonnes of space on your device. Here is the list of few but best free online MP3 cutters. Also check, youtube to mp3 converter online.
MP3Cut.net
<Link: http://mp3cut.net/ >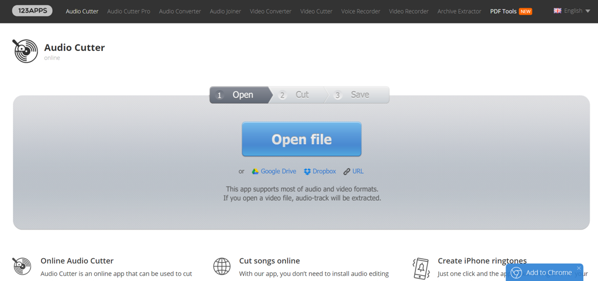 From its name, MP3Cut.Net is an Online MP3 Cutter with support over 300 different audio formats. MP3Cut is fast and free. It is secure, and it doesn't store your audio file after editing. In addition, it supports "fade in and fade out" effect on audio to make it more practical to hear.
Recommended:
10 best free video editing software you must try!
5 Best ISO software for Windows
MP3Cut.Net can also extract audio from a video. It also can create iPhone Ringtones. It also has a chrome extension and supports audio import from direct your device or Google Drive, Dropbox or URL.
Audio Trimmer
<Link: https://audiotrimmer.com/ >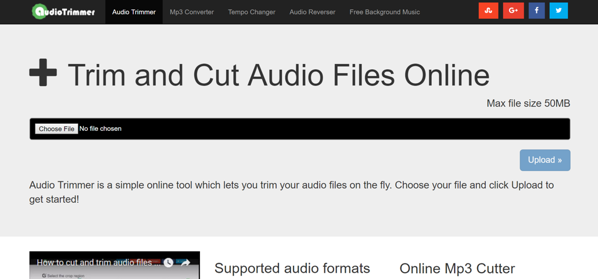 Audio Trimmer is another best online MP3 Cutter that supports all major audio formats. It can also create iPhone Ringtones (.m4r) and support fade in and fade out effect. It's simple and fast. It supports a maximum of 50MB of Audio Trimmer. This trimmer sure comes in handy for cutting mp3 and converting it into a ringtone for your iPhone
Toolur MP3 Cutter
<Link: http://mp3cutter.toolur.com/ >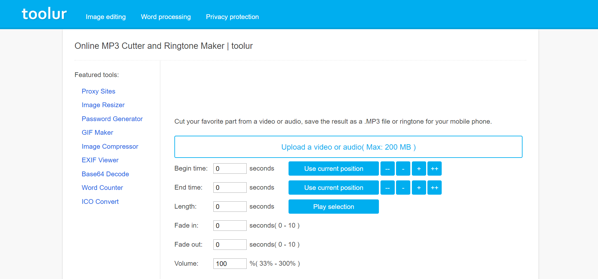 Toolur Mp3 Cutter is probably the best and most easy to use mp3 cutter online. Toolur supports over 200MB file upload. Just upload the audio or video file, choose the start time and end time and click "Cut Now" button.
Toolur also supports volume control (30% to 300%) and "fade in and fade out" feature. You can also convert into ringtone format.
Wincreator MP3 Cutter
<Link: http://www.wincreator.com/cutter >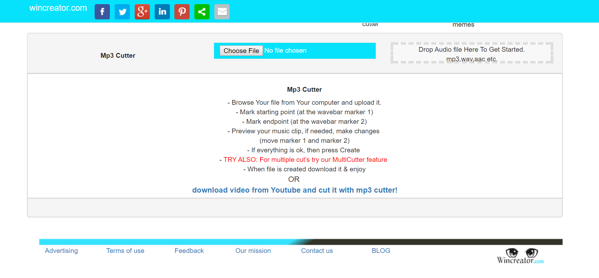 Wincreator is a leading source of great web tools, and its mp3 cutter is one of the best it has got. The Wincreator MP3 Cutter is easy to use and offers great quality service. Wincreator MP3 Cutter supports the "fade in and fade out" feature, also can convert mp3 into audio. Wincreator also supports MP3 conversion from YouTube videos.
Ringtone Cutter
<Link: http://ringtonecutter.com/ >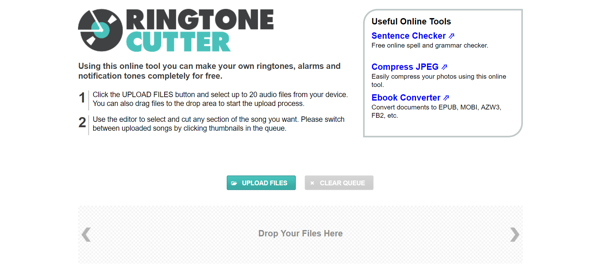 Ringtone Cutter is yet another online mp3 cutter that offers its services for free. It has an easy user interface and supports almost all audio formats. It can support up to 20 audio files at a time. After cutting the mp3, users can download the trimmed audio file in either mp3 or m3r format according to need.
CutMP3.net
<Link: http://cutmp3.net/ >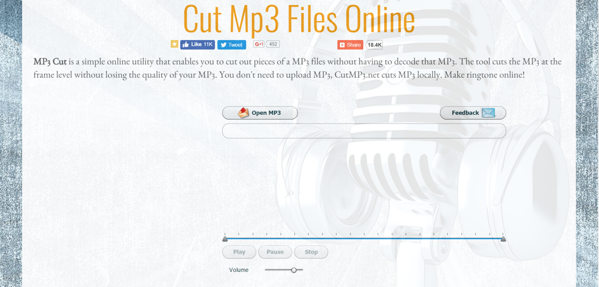 CutMP3.net is also among the best online mp3 cutters. This online mp3 cutter supports all audio formats and is very easy to use. Just choose the file you want to cut, choose the starting and ending point, and click the cut button.
CutMP3.net also supports adjusting audio volume while cutting and "fade in fade out" function.
Online Audio Cutter
<Link: https://mp3cut.net/ >

Online Audio Cutter is one of the best online MP3 cutters out there. It works as intended and offers great value for your time. As usual, it is completely browser-based, and you do not have to download anything to use it. It is compatible with all the modern browsers, including Google Chrome, Firefox, and Safari.
The key features of the Online Audio Cutter are its easy audio trimming feature. All you need to do is upload the audio clip, and then select the segment you want by using the slider. The Online Audio Cutter also supports all audio file formats.
Magicode.me
<Link: https://magicode.me/mp3-cut >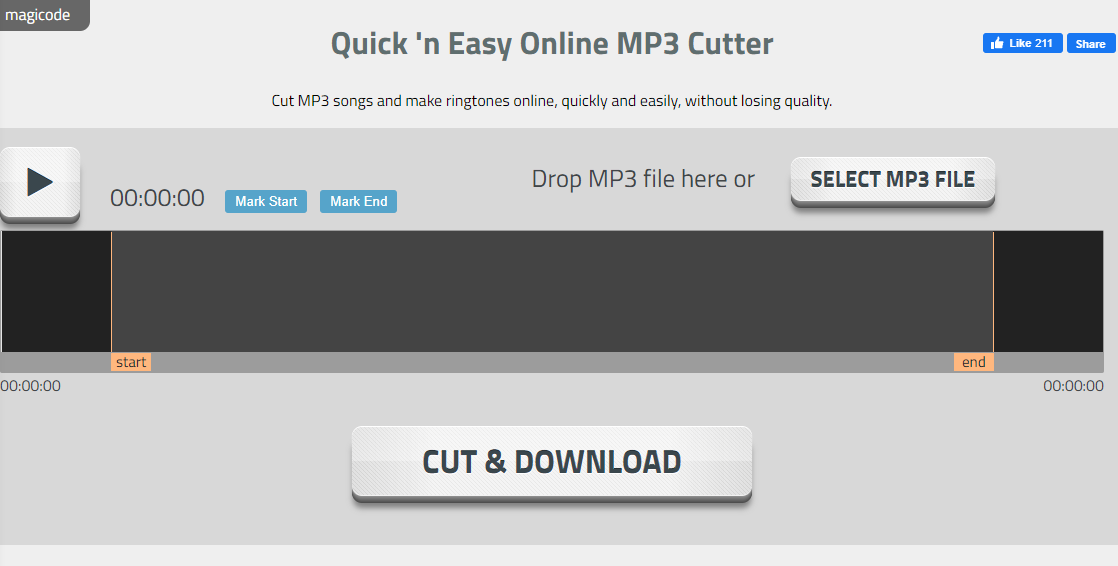 Magicode offers you the ability to create simple mp3 files that can be used in your projects or simply for ringtones. The tool has no size limit, and hence you can use it for large MP3 files. It also offers lossless processing, which means that the quality remains intact after the operation. It is also fast and reliable. Moreover, it utilizes the latest HTML5 standard so that all modern browsers can open the link.
Conclusion
This leads us to the end of the list of our online MP3 cutters. Did you find the MP3 cutter you were looking for? Comment below and let us know.