One of the many things people dislike about the new technological age we live in is the increasing number of terms associated with it. Whereas previous generations could get by without knowing what LAN or ethernet means, now it seems like people have to have at least a basic definition in their heads. This is especially true if you work in or around extensive networks.
Some of the terminologies will come up with an amazing amount of regularity. These could be tied to how well the OTS LAN cable does its job or what the technicians call this error or that area of concern. Here is a quick breakdown on some of the more common terms and jargon you'll encounter working around ethernet cables.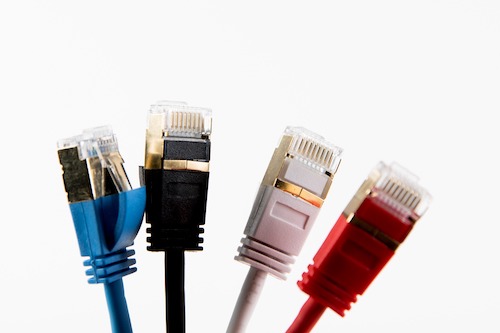 Gigabyte, Megabyte, Terabyte
One of the more common terms would be gigabyte, along with megabyte. The simple definition here is that this is the size of the data capacity of the cable. How much information it can shuffle through the electrical signal at any given time. A terabyte is made up of a thousand gigabytes, while one gigabyte is a thousand megabytes.
In general, if you're comparing two of the same scale, the higher number is better. For example, two gigabytes is a smaller amount of data than one terabyte but is also vastly larger than a hundred megabytes. Every cable has a maximum range of data it can handle at once, so pick the category of LAN cable based on your network needs.
Solid and Stranded Cables
You might have also heard the terms "solid" and "stranded." These are the two basic forms that a cable might come in.
Solid Ethernet
Solid cables provide a better performance, but only a slight improvement. Their real benefit is better protection against electrical interference, which can disrupt the transmission. They're going to see a lot of use under floors or inside office walls, and are prominent for enterprise network setups.
Stranded Ethernet
Stranded ethernet is less prone to physical damage. The performance is slightly slower, but they are better at resisting cutting, abrasion, cracking, and other breakages. They're good if you want to have cables in unprotected indoor areas like a home, or if you're a traveler and need a wired connection rather than using wireless access.
Attenuation
Attenuation is the term used to describe signal loss, measured in decibels. In a network, there are numerous factors that can cause attenuation to occur. These can include range if the signal is spread over too great a distance, and the size of the wire. Thinner wires tend to suffer higher rates. Another source of this problem would be interference, which for LAN cables will usually be electrical or electromagnetic. Radio waves can also be an issue.
Amplification
The opposite of attenuation is amplification. This is when you find a way to boost the strength of the signal, which can involve one of many methods. The nature of both ethernet cables and the physics of electrical current mean that you'll need to amplify the signal at certain points if you are sending data over a long distance. For computers, amplifying a signal also includes reducing noise in the data and avoiding corruption.
Network Repeaters
Network repeaters are one method to amplify a signal, meant to integrate with the usual hardware. These function by acting as an intermediate point, receiving data from the source and processing it. It then transmits the amplified signal forward, either to the next repeater or the intended destination. There are repeaters for both wired and wireless network connections.
Jacketing
The term jacketing refers to the exterior material that covers the ethernet cable. This is meant to protect the internal components, such as the copper wires that carry the transmissions. Materials used for this will vary in properties and purpose. For example, PVC jackets are more likely to see use in industrial and outdoor applications than in LAN cables meant for use in an office or home environment. Jacketing may also affect the thickness of the cable, as additional means of protection against interference from external factors.
Signal Reflection
Signal reflection is an issue that occurs when the data is reflected back to the point of origin, never making it to the end of the cable. Usually, you'll see these happen due to imperfections or physical issues. The flaws cause non-linear changes that interrupt the consistency of the signal, forcing them back rather than moving forward. This can occur in radio frequencies and fiber optic cables as well.
RJ-45 Connectors
Finally, you might be wondering "What's RJ-45?" Well, that one's easy. Look at your typical LAN cable. You will see things at either end that are made of plastic, with locking mechanisms. These are called connectors, and RJ-45 is the most common type. There are others, but these are specialized. Unless you're setting up an industrial or outdoor wide area network, you're most likely only ever going to run into RJ-45.
Conclusion
Ethernet cables and the technology they're related to can be complicated. There are many terms that people use, jargon that's typical of the industry. While you don't need to know all of them, knowing the important ones can help you get a better grasp of the technology and how to best use it.