Buying a watch is a bewildering experience. There are many types of watches ranging from a dollar to the price of a luxury car. Every shop presents its variety with difference in the steel make, color, brightness, night light visibility, long battery life, digital, traditional dials, classical, etc.
So, which one to buy? What are the features to look far? How much amount can one spend? The article answers these questions. Here are the top and the most common watches one should learn about before buying a watch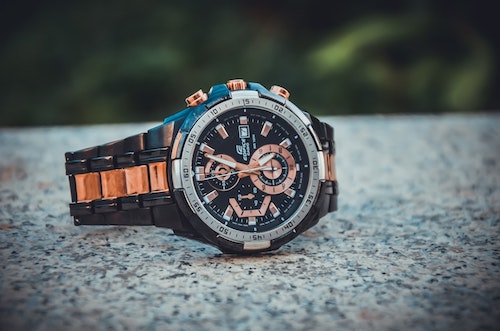 Watches – Display of personal possession
Watch is seldom considered as a very personal possession. It represents family status, aspiration, and display of wealth. A panerai watch awarded for retirement is a show of respect and camaraderie. Watches seldom conveys a person's positional status in the society. Ian Fleming, the James Bond creator once said, "The choice of timepiece says all about the gentleman"
Field watch
These watches are the descendants of wrist watches. They have analog displays. They are highly durable. Their designs are simple. They have inexpensive cloth or nylon straps. They are similar to the NATO straps that prevent the watches from falling off the wrist. These watches carry military DNA with them as they were used in first and second world wars. They are water resistant. They are made of titanium, polycarbonate or ceramic. They come with mechanical functions as well as battery powered.
Dive watch
These watches are specifically designed for deep sea divers and scuba divers. They function even at greater depths. Their design and features are different as the pressure under water increases with depth. Ask the following questions before selecting a dive watch
How water resistant should the watch be?

Water Resistance rating if 300 meters and above are best suited for scuba diving

Are the case and crystal thicker than the normal watches?

They should contain additional pressure defying features like domed crystals and steel rings to reinforce the case.

Does it have a depth sensor?
Is a helium valve attached to the watch?

Helium valve equalizes the pressure inside and outside the valve
Significance of a dive watch
A deep-sea diver should keep track of time. This is because, when the diver is 10 meters down, the nitrogen dissolves in the body tissues. Therefore, periodic stops should be made at the surface to allow the nitrogen to seep back out.
Aviator
While cockpits stacked with GPS and flight management systems, a professional pilot still chooses to keep a watch close by. Therefore, aviation watches just like dive watches are endured as one of the most popular options in terms of brands and enthusiasm. Here are a few characteristics of a good aviation watch
Open and large prominent dial, high – contrast hands and indexes. This makes it easier for the user to read the time and other indicators.
The watch also holds flight computer bezel markings to assist the fuel burn, wind correction angle, etc
GMT functions, dual time to track the local time and destination time.
Leather straps and oversized winders
They also possess anti – shock movement mount with durable case design
Sports watch
Fitness and smart watches go hand in hand. Sports watches have imbibed various advanced technologies with the increased fitness cautiousness among the people. Here are top features to look for while buying a sports watch
Water resistant

This feature is indispensable for swimmers and athletes.

Alerts and alarms

This feature helps to follow a strict routine. Using a mobile phone and other alert system cannot be relied as they are bulky.
Some watches even come with hydration alert systems. It simply reminds to take water.

Comfortable straps

The straps should not bother while involved in strenuous activities
They should be adjustable and should fit the wrist perfectly.
Resin strap sport watches are the best choice of all

Display

The display should be clear and preferably digital. This is because, athletes do not have time to stop and measure their performances with analog watches.
The display should also have an illuminator

Stopwatch

This feature helps to make comparisons with the previous attempts.
GMT watches
These watches consist of a fourth hand. This hand circles the dial for every 24 hours. The bezel is marked out in 24 hours. It makes it simple for the pilot crossing oceans at the speed of light to calculate the time. The user simply has to rotate the bezel by the difference so that the GMT hand points the desired time zone.
Driving watch
It was developed after the second world war when the craze for competitive races increased. It comes with lap timings, tachymeters, speed measurement, etc.
There are also dress watches and fashion watches for the fashion lovers.