The first thing that comes to mind when people usually think about business events is the word "formal." However, a business event shouldn't be predictable and stale. Change your perception of corporate or business-related activities by avoiding bland catering, awkward speeches, and conventional settings.
With just a bit of imagination, you can turn any business event into something different, such as a themed event. Below are some ways to make a business-themed event happen: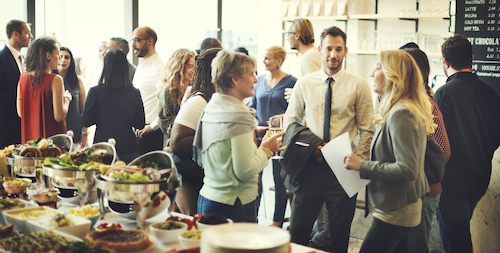 Incorporate Fierce but Fun Viking-Themed Tableware
While you want to keep a business meeting professional, it doesn't necessarily mean that you need to look and act very formal. Loosen up the event and make your next one less of a chore. Why not make your guests feel more relaxed and comfortable by incorporating unique tableware, like Viking horn drinking tankards for beer and other beverages?
Vikings are always known for their bravery and fierceness. Exude power and authority with an element of fun and excitement with Viking-inspired tableware. Instead of serving wine glasses, try to change a typical business event into a Viking-inspired themed event.
Strike a Perfect Balance Between Fun and Keeping Things Professional
A business or corporate event is not a children's birthday, that's for sure. So as much as you want to create a themed event, balance the fun elements with a touch of the business side. You don't want to end up with your guests going out of control because most people are drunk and want to have a party all night.
Here are some tips and tricks to make a themed business event still look professional:
Hire a social photo booth so people can take still shots, videos, and GIFs. These are great images to share on social media. Adopt a vintage themed business event for this idea.
Hold a friendly competition with pub-style trivia games with business-related questions, caption contests, or scavenger hunts. These games bring a lot of fun but are still professional.
Hire acrobats, aerialists, and contortionist for an immersive experience, mimicking the artistic Cirque du Soleil. It is full of class and sophistication with a touch of pure entertainment.
Hold a Unique and Powerful Product Launch
Another business event you don't want to miss is holding a successful product launch. It should leave people with a buzz of anticipation and excitement. A product launch is a powerful moment where employees, members of the press, investors, and even competitors gather in one place.
While a successful product launch doesn't always require a lavish party, it should be engaging. You can even create a themed event for a product launch, such as a tech-inspired business event. For example, you can use Augmented Reality (AR) or Virtual Reality (VR) so people can experience your new products.
While you can display your products for people to view, it's also a good idea to see something more impressive than a typical product display table, stall, or stand. Show off your new product line with AR or VR. For instance, if you're engaged in the furniture business, you can show how your sofas, cabinets, coffee tables, and chairs fit well in different home styles and designs using AR or VR. It will also save you a lot of space and money.
Offer Something Your Guests Can Take Home
At the registration site, entice people to complete their details and promote an excellent first impression by offering something they can bring at home. Even business people love to receive free stuff. A customizable swag booth, like a caricature artist, can capture the likeness of your attendees. It is a unique giveaway that is worth keeping. Create an interesting business event with a touch of art, making it an art-inspired event.
Implement a Futuristic Theme for Your Next Business Event
Seek the help of a tech guy or an interior designer to implement a futuristic theme for your business event venue. Think of robotics, artificial intelligence, space, and augmented and virtual realities.
Here are some ways to achieve a futuristic theme for your next business event:
You can install gigantic art deco designs with these futuristic ideas.
Place big digital displays on strategic locations.
Create a galaxy space theme with smart lighting set in place.
Conclusion
There's nothing impossible in the business world. While everything is targeted, straightforward, and results-driven, you want everybody to enjoy a business event. By implementing the above tips, you'll be able to come up with themed business events. Build a unique and positive impression from all attendees by holding a well-thought-out, creative, and engaging business event that still looks professional.