Motivation is a fickle feeling: some days you're productive like you've had five espresso shots, and other days just showing up at work is a chore. Harnessing that feeling of motivation is difficult, and techniques that work for your co-worker or best friend might do nothing for you.
Explore some great websites and apps to discover what motivates you best. You may enjoy completing your tasks like you're playing a video game, seeing your progress laid out in front of you, or receiving gentle reminders. Perhaps reading motivational articles or even finding new ways to learn will inspire you.
Start Using GoalsOnTrack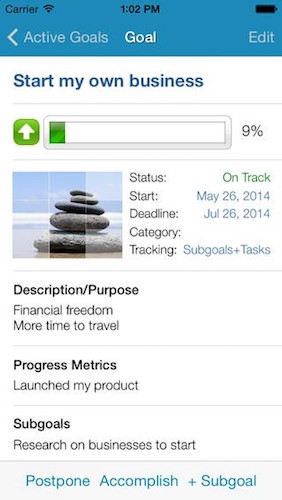 Image via Apple.com
The free iOS and Android app, GoalsOnTrack, helps you create SMART ("Specific, Measurable, Attainable, Realistic, and Timely") goals, break them down into smaller chunks that won't overwhelm you, and see your progress in real-time. When you break your goals down into tasks, the app automatically organizes them so you can see them listed by day, category, or goal. The app also helps you track how long you spend trying to accomplish each goal. You'll love the tracker designed to help you make or break habits by simply adding a check mark to a behavior you want to start or stop.
Subscribe to Life Optimizer
Indonesian IT pro and motivational blogger Donald Latumahina runs the website www.lifeoptimizer.org, a mecca of resources for motivating yourself. Most of the articles focus on learning from negative things, maximizing your efficiency, or gaining a new skill. In fact, the site's tagline is "maximizing personal effectiveness," if you needed any more incentive to visit the site.
Check out Timeful
The Timeful app is a free Android app offering gamification of getting your tasks completed. You program in your tasks, how often you need to complete them, and other details. Then, when you complete each task, Timeful gives you skill and experience points. When you don't get your stuff done or you delete tasks, you lose points. If you feel more motivated to win at games than to go grocery shopping, this app might be the resource you need.
Visit the Invisible Mentor
Don't think you have enough time to learn new things? The Invisible Mentor is writer Avil Beckford's website, and on it she provides tons of what she calls "bite-sized learning opportunities for busy professionals." Avil offers a self-designed "Mentoring Program" where you can follow her reviews and analyses of great literature, increase learning comprehension, and retain more from what you read. She also offers great resources for other online learning opportunities. If you want to learn something new, you don't need to take a class, you just need to visit this website.
Download Balanced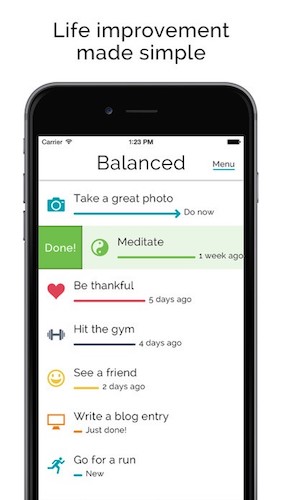 Image via Apple.com
With a minimalistic design and a simple user interface, free app Balanced offers a calming way to sort through your habits and start changing your lifestyle. Balanced has a lovely design that looks amazing on a tablet, like the iPad mini 4 from speedy T-Mobile. You add tasks, specify when you want to do them, and Balanced reminds you when it's time. You can mark them as done, say you skipped them, or do them later. Balanced keeps track of how often you choose each option, then gives you a "Balance score" which shows you how well you're doing at accomplishing that goal. It's simple, yet effective.
Read the Rational Optimist
If you find following the news depressing and disheartening, you need to check out the Rational Optimist. This is a great website for anyone who feels like the world's problems are too big for humans to overcome. Author Matt Ridley offers an honest, but not pessimistic view on what's happening in the world today. If you need motivation to get more involved in the world, start reading some of his posts.
Each day brings new challenges. The point of motivation isn't to hit your goals at a dead sprint, but to recognize when you're at your most productive, create patterns, and engage in new, healthy habits. Try adding a few of these great blogs to your reading list, and test out these fun apps to see which motivation technique works best for you.