Out of all the platforms used for blogging, WordPress has turned into one of the most versatile and flexible options. If you want you could use it as a conventional blog, or if you like you could customize it, tweak it, and create a variety of different websites from it. Learning how to use WordPress will unlock tons of different options – and there are numerous tutorials that will help you to do so on video streaming websites such as YouTube.
Instead of constantly tabbing back and forth between a tutorial of your choosing and the WordPress window that you're working on however – why not save the tutorial and transfer it to your smartphone or tablet so that you can have it playing and watch it while you work. To do that, all you need to be able to grab video off your screen – and the Movavi Screen Capture Studio should help make that part easy.
WordPress + Movavi Screen Capture Studio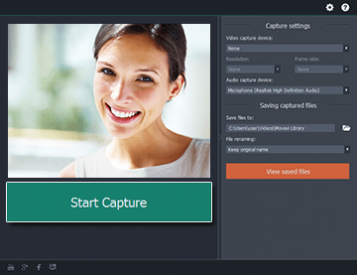 To save any WordPress tutorial that you find interesting, just:
Position the capture region to encompass the area where the WordPress tutorial is streaming.
Check that the audio source is set to 'System Audio'.
Start the recording by clicking 'REC' and play the WordPress tutorial at the same time.
When the tutorial is done, stop the recording and save the video in a format of your choosing.
The best part about using the Movavi Screen Capture Studio to do all this is the fact that not only is it so easy and intuitive, but you'll also have a ton of other options that you can utilize, such as:
Trimming unwanted parts of the recording from your video to get rid of them.
Enhancing the video quality to improve it and correct issues such as interlaced, pixelated or blurry video.
Cutting out the important bits from several different WordPress tutorials and merging them together into a single video.
Automatically optimizing the video you save for mobile devices with the help of the hundreds of presets that are available
On top of that with some of its other features you'll also be able to add background music, voiceovers, customizable text, and much more too.
Go ahead and start saving your favorite WordPress tutorials for offline viewing and you'll see firsthand just how easy it is to do so with the Movavi Screen Capture Studio.