It is essential to have a solid internet presence in the fiercely competitive world of real estate investing. Real estate investors who leverage search engine optimization (SEO) can effectively attract more qualified leads, close more deals, and achieve long-term success. This article shares ten valuable SEO tips to help real estate investors stand out in the digital landscape.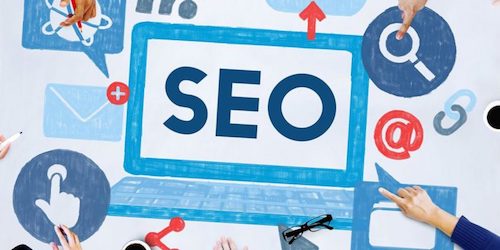 Conduct Thorough Keyword Research
Keyword research is undeniably the cornerstone of a winning SEO strategy for real estate investors. By pinpointing the most pertinent and frequently searched keywords in your niche, you can craft content that appeals to your target audience and secures top positions on search engine result pages.
To achieve this, leverage powerful tools such as Google Keyword Planner or Ahrefs, which assist in unearthing popular search queries. Remember to examine your competitors' keyword tactics, as this will help you identify any gaps in the market that you can exploit to gain an advantage.
Prioritize long-tail keywords when conducting keyword research. These longer, more specific phrases have lower search volumes and, as a result, face less competition. Consequently, they are easier to rank for and can generate higher-quality leads. They often represent users with a more focused intent.
Optimize Your Website for Local Searches
As a real estate investor, your priority should be to capture the attention of potential clients in your local area. Optimizing your website for local searches is a highly effective method to achieve this goal. To start, consider creating location-specific landing pages that showcase your services in different neighborhoods or cities, making your website more relevant to users in your target area.
Collaborating with a reputable company, such as Investorra, can further elevate your local SEO efforts. Specializing in SEO services for real estate investors, a company like this can help ensure that your website ranks well in local search results and draws in more clients from your target market.
Create High-Quality, Engaging Content
By crafting top-notch, captivating, and insightful content, you can achieve higher search engine rankings and position yourself as an industry thought leader. Focus on addressing your target audience's concerns and queries through various content formats, such as:
Blog posts
Videos
Podcasts
Incorporate relevant keywords organically throughout your content, and pay attention to optimizing essential elements like headlines, meta descriptions, and image alt tags. You can improve your search engine results page (SERP) rankings by producing diverse, high-quality content that speaks to your audience.
Use Schema Markup for Enhanced Visibility
Schema markup, a structured data type, enables search engines to comprehend your website's content. Incorporating schema markup into your site can boost your chances of being featured in rich snippets (organic results on SERPs).
As a real estate investor, it's vital to consider implementing schema markup for various content elements, including:
Property listings
Contact information
Reviews
Optimize Your Website's Loading Speed
Website loading speed determines your search engine rankings and overall user experience. Slow-loading sites often result in high bounce rates, as visitors tend to abandon pages that take too long to load. Use tools like Google PageSpeed Insights for thorough analysis and actionable recommendations to enhance your website's performance. Implement suggested improvements to boost loading speed, including:
Compressing images to reduce the file size
Minimizing HTTP requests for faster content delivery
Leveraging browser caching for quicker load times
Optimizing your website's loading speed improves search engine results and creates a seamless user experience, encouraging visitors to explore your content and potentially convert them into clients.
Build High-Quality Backlinks
Backlinks are essential in SEO, as endorsements from other websites indicate your content's credibility and authority to search engines. To acquire high-quality backlinks, generate valuable, shareable content that other websites will eagerly link to on their website. It will organically improve your site's reputation and visibility. In addition to creating compelling content, consider the following strategies:
Guest posting on well-regarded industry blogs, showcasing your expertise, and gaining valuable backlinks
Participating in online forums related to real estate investing, fostering relationships, and earning backlinks from relevant sources
Optimize Your Site for Mobile Devices
An increasing number of people use mobile devices to search for real estate opportunities, so having a mobile-friendly website is crucial. Ensure your site's responsive design adapts seamlessly to various screen sizes and devices. A responsive design provides a smooth browsing experience, encouraging users to explore your content further. In addition to implementing a responsive design, consider utilizing Google's:
Mobile-friendly test tool to evaluate your site's mobile optimization and identify areas for improvement
Mobile-first indexing guidelines to ensure your site's mobile version is prioritized by search engines
Utilize Social Media to Boost SEO
By promoting your content on popular platforms, including Facebook, Twitter, LinkedIn, and Instagram, you can attract more traffic to your website and elevate its visibility in search engine rankings. Additionally, active engagement with your audience on social media bolsters your brand's credibility and nurtures a devoted following.
To maintain a robust social media presence, adopt these best practices:
Regularly share high-quality, relevant content to keep your audience informed and engaged
Encourage user interaction by posing questions or hosting polls
Respond promptly to comments and messages, demonstrating your commitment to your followers
Track and Analyze Your SEO Performance
Monitoring and evaluating your SEO performance helps identify improvement areas and ensures your strategy's continued success. Utilize tools like Google Analytics, Ahrefs, or Moz to track your website's performance, including organic traffic, bounce rate, and conversion rates. Examine this information to determine the success of your SEO efforts and make any necessary alterations. Regularly monitoring your progress enables you to stay ahead of the competition and adapt your strategy to the ever-changing digital landscape.
Stay Up-to-Date with SEO Trends
The ever-evolving world of SEO, characterized by frequent shifts in search engine algorithms and best practices, requires real estate investors to stay updated with the latest trends and changes. Maintaining a competitive edge in the industry demands a proactive approach to learning and adapting your strategy. To keep current with recent developments:
Subscribe to reputable SEO blogs for valuable insights and updates
Attend industry conferences to learn from experts and network with peers
Participate in online forums to engage in discussions and share knowledge
Conclusion
Optimizing your real estate investment website for SEO requires a multifaceted approach. You'll boost your online visibility and attract more potential clients by implementing these tips, from conducting keyword research to staying current with industry trends. Embrace the power of SEO to enhance your real estate investing success and stay ahead in a competitive market.