Your website most probably is going to be your first point of contact with your potential customer. So,the way it is designed becomes an important factor whether or not this visitor is going to turn into your customer. Therefore your website design should not only be visually appealing but also be easily navigable and themed around your business enterprise.
Here are some tips that would surely help you to improve your website design –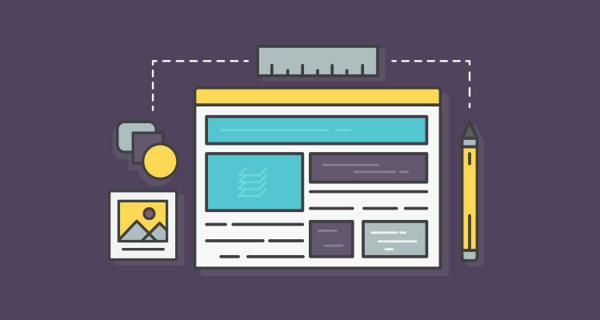 Have White space on Your Website- Your website need not have attractive images, videos or text on every inch of space that is available. If your website is cluttered with too many data then it might be hard for a visitor to get the information which he had came looking for. Therefore, white spaces are equally important to give your website an aesthetically pleasing look.
Also take into account that a major portion of your website visitors are on mobile devices and for them it would be hard to grasp so much amount of data on such a small screen.
Easily Navigable- Can your first time visitor easily find the desired pages on your website? If yes, then your website can be termed as user friendly, if not you need to make it more easily navigable. With the average time that a user spends on a website being very low it's very important that they immediately find the content they came looking for. One of the most common error which is seen on websites are that they try to cramp every sub-link on the header section of their home page. Try keeping less important pages in the sub-menu section.
One can also create navigational guide that helps first time users to gain a perspective about the features and how to use them. Try not to have a drop-down menu on your website which is not very easy to use on mobile devices.
Also read:
The 5 Best CSS Frameworks for Web Designers
Best creative logo designs for inspiration
Mobile Friendly- The chances of your website visitor coming from a mobile device is pretty high, given the fact that every hand now has a smartphone. As such one needs to give special attention on designing a responsive website that can be easily viewed across all devices. Few tips on creating a mobile friendly website design is-
a. Try keeping less text on your pages and use font that is easily visible.
b. Avoid using slideshow of images until and unless it's very necessary.
c. Your user can easily scroll up and down your page, so you can create a webpage of longer length rather than trying to adjust all the data on a same fold.
d. Make sure that the links to click is easily visible to your audience.
e. The visitor can easily contact you for help if needed.
Simple Design- There is no time for a website visitor to study your complex website design. Earlier companies used to have a complex design with fancy website graphic. But these fancy graphics slowed down the site and current internet users do not like to wait for a site that takes a long time to load. Thus, your website needs to be as simple as possible so that even a casual visitor becomes interested in your company.
Use spacious design, elegant colors, simple fonts to make your website design simple yet attractive.
Professional Quality Images- "A picture is worth thousand words". A good quality image can as easily attract a visitor as a bad one would cause them to leave your site. That is why you need to have a professional images for your website. Try avoiding free images as your users can easily differentiate between a good quality image and a poor one. It might also create a trust issue among your customers.
From a well designed logo to your product image, everything must make the user feel that they are in for a great experience. You can take help of professional and can even source some good images from any website selling premium high-quality stock images.
Design that Comprehends Company's Branding- Your website is a reflection of your company and as such it should represent the same. While designing the website following points should be kept in mind to make the design suit your company branding-
a. The color used should be in flow with your brand overall theme.
b. Use font that personifies your brand.
c. Make people feel that this product/service is made for them.
Choose Color and Font Wisely- While creating a website, choosing the right color and font is the most important factor. People no longer like too flashy colors, rather than a light colored website is much more appealing to them. Our advice is to look at your business and then select the color. For e.g. if you have an insurance firm keep your website color light while for a custom t shirt design business one may have funky colors.
Whatever might be your area of business, the current trend suggest to have simple font and keep them big and bold. Your font should be such that it is easily readable across all devices and at the same time has a visual appeal to viewers eye.
Scrollable Homepage- Do not hesitate to have a scrollable homepage. Current design trend suggest that more and more websites are coming up with scrollable homepage. The most important data are kept in the first fold of the page while the supplementary data is kept below. This design trend is also comfortable for people using smartphones to access the website as they can easily scroll down to get the relevant information on the website.
Contact Info Easily Visible- Your contact info should be easily visible to your website visitor whether they are on a desktop or on a mobile device. A call button or a get a direction widget is very helpful for your visitor to contact you and as such should be easy to use.
You must also have a form through which your users can contact you regarding your products or services. If you are providing a live chat support (which you must if you have adequate resource) make sure that the visitor can easily use it on any device and on any browser.
Social Media Feed not a Good Idea- Many websites which have a good social media presence usually show their social media feed on their web page. Although it's good to have a great social media presence, it is not your ultimate objective. Your ultimate objective is to get users to your website and by showing the social media feed you would be doing exactly the opposite. Your user would get distracted on seeing your social media post and might visit your social media page, leaving your website. This may cause you to lose a valuable customer.
These we think are few important thing one must keep in mind while designing a website. Do share your thoughts.