WordPress themes are becoming more numerous, some of them are very nice except they are premium. So here are JumpFactor's best picks of the freshest free WordPress themes.
Boldy Business Free WordPress Theme A Beautiful Portfolio Theme for WordPress. Designed & Developed by site5.com. WordPress Post Thumbnail Enabled, WordPress 3.0 Menu Management Support, JQuery PrettyPhoto Lightbox.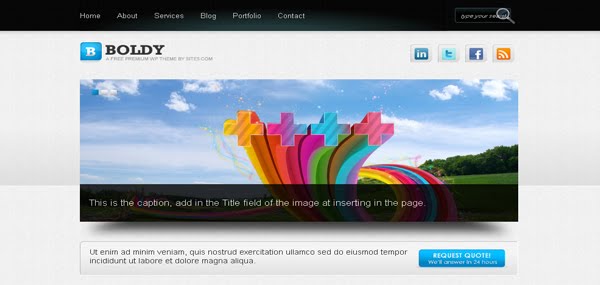 A clean Portfolio Theme ideal for photographers, artists and designers to showcase their portfolios. This is our first attempt at creating a WordPress theme and then offering it on a public domain. The theme does need intermediate level of familiarity with WordPress. There is an online help document available to get you started. You may download this theme for free and use it on your site; however you may NOT remove the Dizeno Co link in the footer.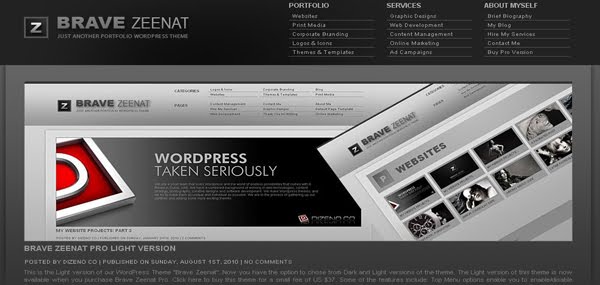 Magaling Reloaded WordPress theme is fully WordPress 3.0 compliant which harness the features of the latest WordPress version. Aside from these features: Twitter status integration, Featured Post Gallery, Feedburner Email Subscription, Popular Posts, Ajax Tabbed Sidebar, Automatic Thumbnail Resizer, Adsense ready with advertising blocks easily customizable via an Option Page; Magaling Reloaded is packed with an additional features: Featured Photos, Featured Video, built in Page Navigation system.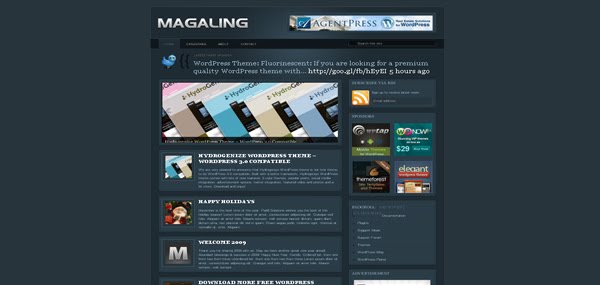 Upon viewing the Dark Night theme, you will see a place at the very top for features posts, along with a place on the side for Twitter updates. This particular theme has a darker color scheme which is great for the contrasting bit of red that pops out and invites guests. At the very bottom you will have multiple numbers to select from, indicating which page you wish to go to. The Dark Night theme is perfect in that it has a somber, albeit practical and layout for guests who wish to navigate around the page as efficiently as possible.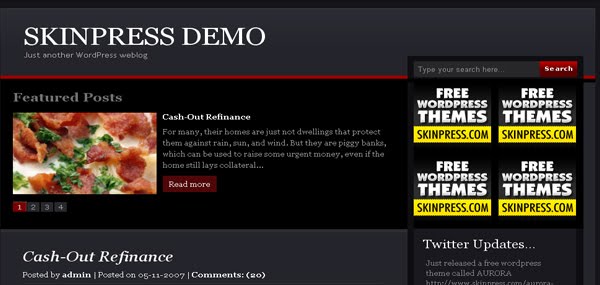 Orsted Theme is a very stylish Green Theme perfect for Blogs. Theme is widget ready, advertisement ready and an easily customizable theme to use. Works in IE7, IE8, Firefox, Safari, Chrome, Opera and is compliant with the Latest version of WordPress 3.0 and below.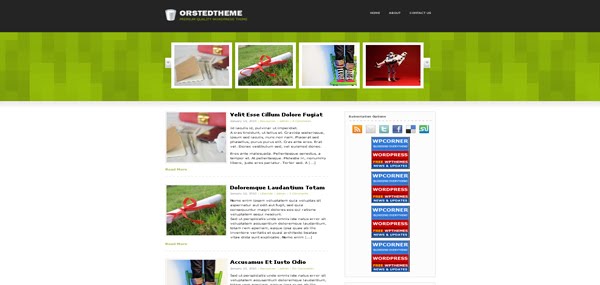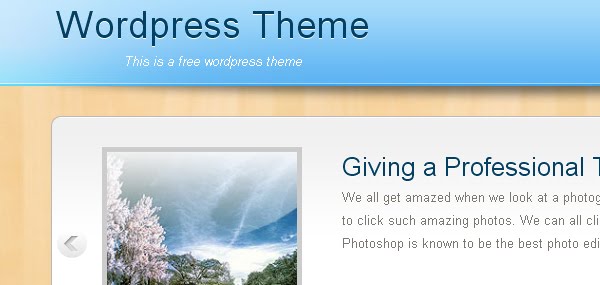 A special feature of this theme is the logo changer. You can use the default WordPress setting ("blog name") or you can use your own logo. Upload your logo in the root folder of LapOfLuxury theme and name it logo.png or you can use the logo.psd as a template. You will find the source in the root folder of LapOfLuxury theme. (Image limitations: No more than 910px/120px).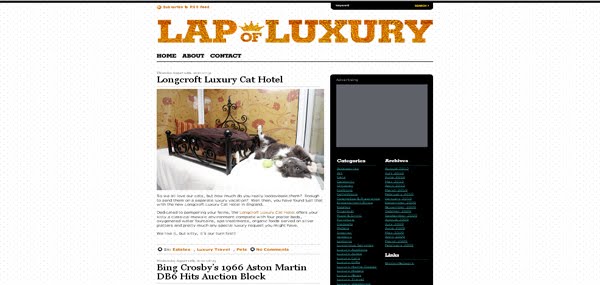 A minimal, eclectic, and rich theme. Featuring customizeable post types, streamlined archives, and three widget areas.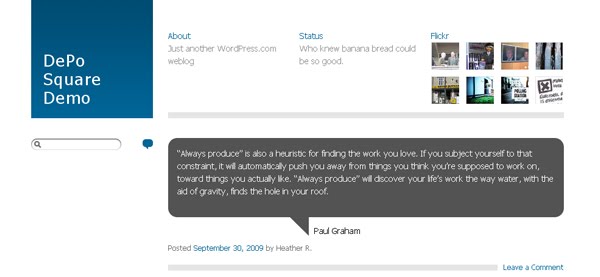 Charlene is a minimalist two-column WordPress theme that uses white space beautifully to provide a crisp, attractive appearance that makes your content sing.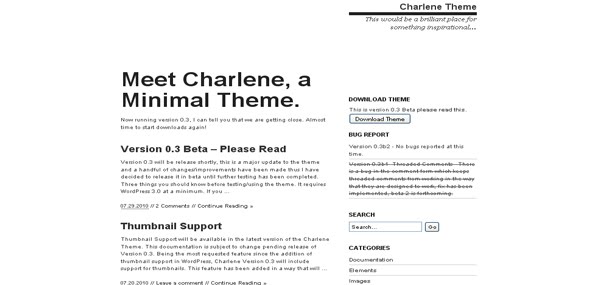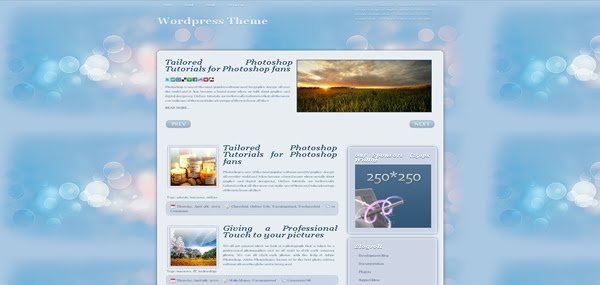 The Morning After was the original magazine theme in the WordPress community and after more than a 100 000 downloads, it now has a place in our themes collection. It may be "old", but this amazing theme is not yet dated! A definite download and one that you will thoroughly enjoy!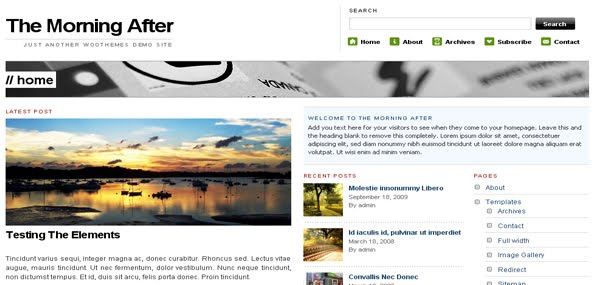 Simplo WordPress Theme 3.0 Ready WordPress 3.0 Menu Management Support, JQuery PrettyPhoto Lightbox, JQuery Forms, Ajax based contact form and 6 color styles.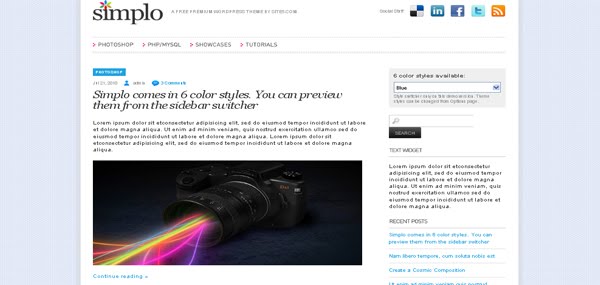 This WP theme comes with a 2 customizable front page widgets which you can manage easily within the admin panel. Fluorinescent WordPress theme is packed with a better framework and a robust admin options panel to accommodate the General Settings, Page Tracker, Social Networking, Related Posts, Page Navigation and Custom Ads Settings.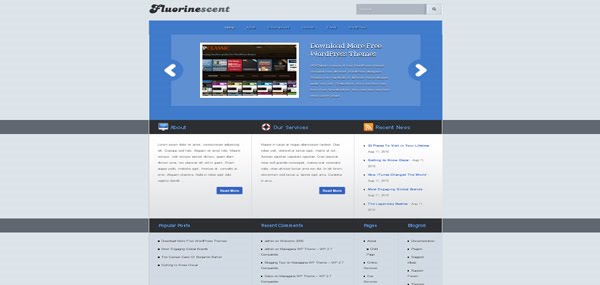 Mansion is a free photoblogger's theme for WordPress. It features a flexible-width thumbnail grid for both images and photo journal entries. Mansion is perfect for those who want to primarily showcase their photographs and occasionally write blog posts.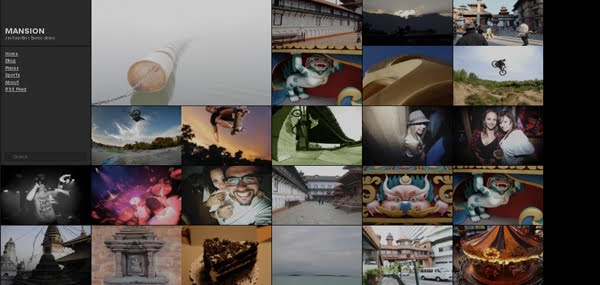 This theme is perfect for you if you're in need of a gallery/portfolio website or if you just want a website with a unique grid layout that not many websites have taken full advantage of yet. "Shaken Grid" uses the jQuery Masonry plugin which "arranges elements vertically then horizontally according to a grid." The result is a gap-less layout even if you have varying post heights.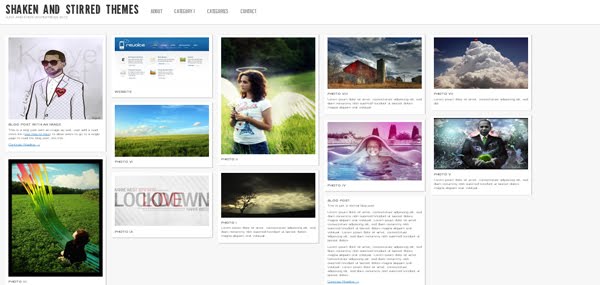 Gridline is a clean and modular news magazine theme that is packed with javascript to add flexibility to the important home page real estate. The main story section contains four of your latest posts layered on top of each other, accessible via tabbed navigation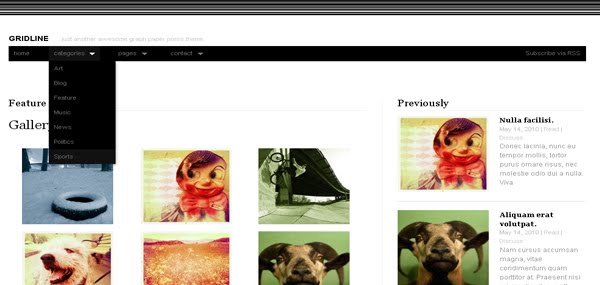 This new html5 portfolio theme. It uses custom post types for portfolio pages, takes advantage of the new menu navigation, and includes a ton of neat features.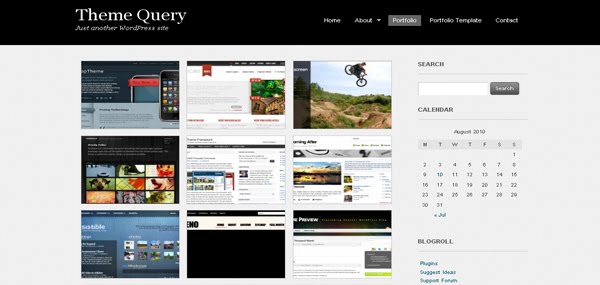 BlueBubble is a Free, Clean, Simple Premium Portfolio WordPress Theme for Designers, Photographer or any other creative minds! It's designed for easy showcasing your work and it comes with some very cool features. This theme was updated and requires WordPress 2.9 or higher!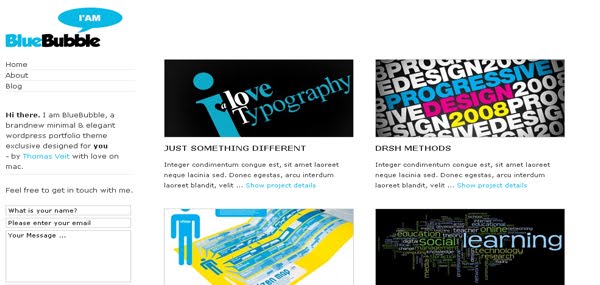 Some of the features include: Fixed Width, Right Sidebar, Widget Ready, Twitter Ready, Jquery Slider, Homepage configurable to show 5 categories with three latest posts from each category, 3 Category Templates: Full Posts, Excerpts, Thumbnails Only, Page Template for Search & Tags, 2 Page Templates: Contact Page, Services Page with three tabs to show content, sample work and contact form, Help Document included, Source Files (PSDs) included for template, page headers, portfolio titles, logo and buttons, Compatible with IE7, IE8, Firefox, Opera, Chrome, Safari, Flock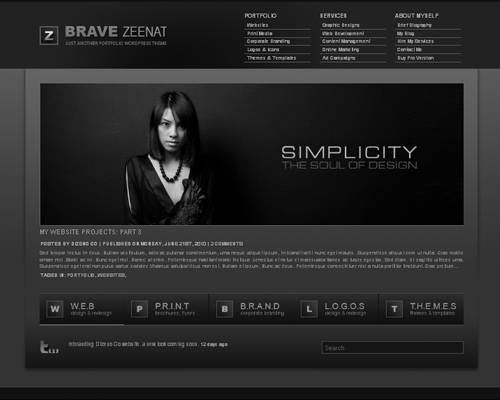 Masugid WordPress theme comes with a stylish featured content slider to showcase your compelling posts. This special multi-colored 5-in-1 free WordPress theme is packed with a better framework and a robust admin options panel to accommodate the General Settings, Page Tracker, Social Networking, Related Posts, Page Navigation and Custom Ads Settings.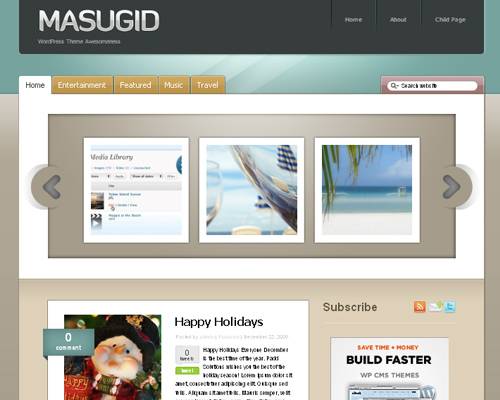 Wise Business Free WordPress Theme, Designed & Developed by site5.com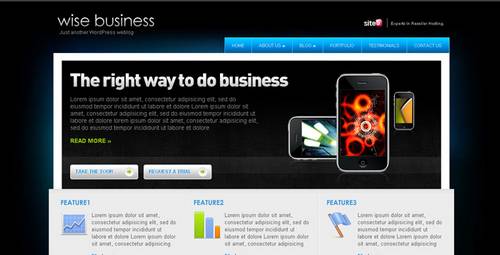 Glory theme is Best Suited for Personal Blogs. It has a Fun & Fresh Design.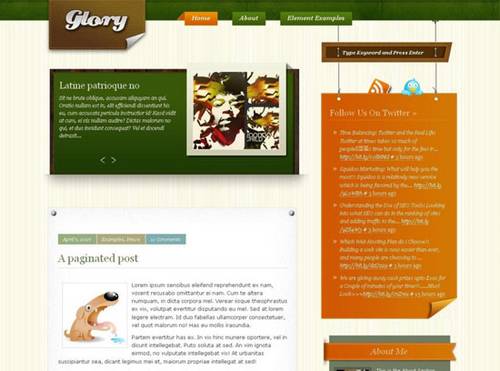 Side Blog is a free blogging theme with all sorts of customization and content management options Developed by press75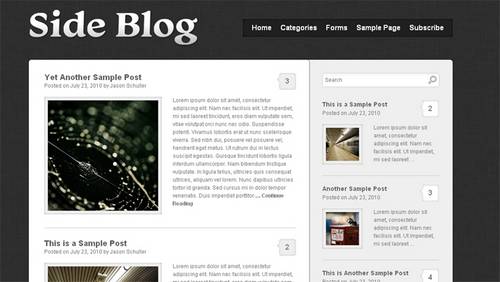 This distinctive theme features thumbnail grid layout and widget-friendly footer sidebar. And a quite literal application of terms 'Header' and 'Footer'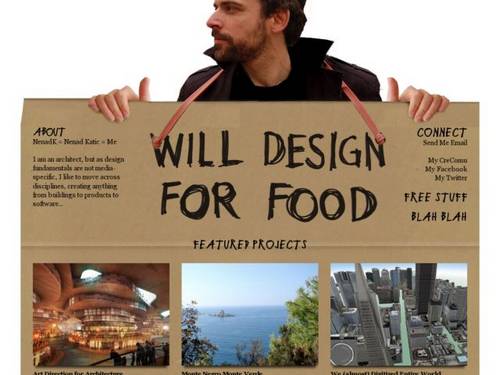 Damla is a free WordPress theme with featured content option and supports the post thumbnails. Suitable for any niche. Theme Options at admin panel.