Are you still stuck with those old regular ceiling fans that you bought more than a few years ago? Well, if your answer is 'yes' then this post is for you. Because in this post, we talk about how one can make their homes smarter by upgrading to the latest IoT-enabled smart fans that are the latest crush of fan aficionados. So, let's get started without any further hum and haw.
What are smart fans?
Smart fans just like any other smart device (such as smartwatches, smartphones, and smart cars) work on the Internet of Things (IoT). This allows smart fans to be controlled using Wi-Fi or Bluetooth-enabled devices or apps. Smart fans, for instance, can be controlled by smartphones and voice assistants like Alexa. Various reputable brands like Luminous India have introduced their smart fan models. Let us read on to find out the benefits of installing smart fans.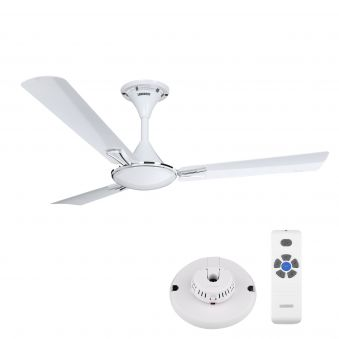 Here's how smart fans make homes smarter
While the regular fans have been around for decades, it took the fan industry several years to make substantial changes to the designs, technology, energy efficiency, and similar aspects of ceiling fans. But like they say, 'Better late than never.' And so, the latest smart fans are manufactured taking into account all the important aspects that make fans smarter. Here are some of the most important ones.
They make life easy.
The first and most important way in which smart fans make homes smarter is that they allow users to control their ceiling fan with a single click or a simple voice command. The smart fans can be controlled using smartphones, voice assistants like Alexa, and infra-red remote controllers. This means the user doesn't have to move from their place to switch on/off a fan or to vary the speed. They can do all of that using the aforementioned controls.
They are energy efficient.
Yes, smart fans do work on the internet but that doesn't mean these fans consume a lot of power. In fact, smart fans are designed using the latest technology to ensure energy efficiency. The Audie by Luminous is a perfect example of an energy-efficient smart fan that consumes only 70 watts of power. This means smart fans don't just offer smart control options, but they also allow smart energy savings,
They are tastefully designed.
Gone are the days when fans used to be plain, simple, and boring. The latest fans like the smart fans not only take care of the functional aspect but also ensure that they complement the look and feel of the space where they are installed. They are available in different styles, colors, and design options and can make anybody's heart skip a beat.
They offer superior performance
We already discussed that smart fans are manufactured using the latest technology that makes them highly energy-efficient and extremely convenient to use. Similarly, the latest technology used in the manufacturing of smart fans allows superior performance in terms of air delivery. Also, smart fans come with aerodynamically designed blades that ensure a better air thrust.
Note – The air delivery of a ceiling fan is the amount of air displaced by a fan and it is measured in CMM (cubic meter per minute).
Our Recommendation
We understand how overwhelming it can get to choose a smart fan from the countless number of smart fans available on the market. In fact, the process might get all the more complicated if you are a first-time fan buyer. We, therefore, recommend that you check out the Audie by Luminous India. It is one of the best smart fans available on the market and the best thing is that it comes from a brand that is trusted by millions of customers across the globe.