WordPress is one of the finest CMS and statistics also conqueror to this fact. Yes, it conquers almost a quarter of the world's websites. Webmasters love WordPress as the websites have all the necessary features for a kick-ass website. It includes amazing UI, UX, complete SEO ready and more.
But, wait. Does the website SEO ready? The core of the WordPress is SEO optimized, but that doesn't mean that webmasters can completely ignore the fact that more SEO work is needed for making the website more user-friendly. With the right choice of plugins, you can further lift the visibility of your website to Google search engine.
Today, we will go through 5 best SEO plugins for WordPress that can make your website the best SEO optimization possible. All this will be done using plugins so that you do not have to edit a single line of code. Interesting, right?
The plugins improve on-site SEO optimization and offer control over some very vital options such as metadata, description, focus keyword and more.
Let's find out the 5 Best SEO plugins for WordPress.
1. WordPress SEO by Yoast

Yoast SEO plugin is the most famous SEO plugin in the WordPress market. It is already powering millions of WordPress website all over the world. The plugin offers tons of options and other vital on page options such as keyword focus, meta description and other key information regarding SEO content optimization.
The plugin also generates SEO-friendly XML sitemaps, breadcrumbs, '.ht access" control and more.
Download: WordPress SEO by Yoast
2. SEO Ultimate

Another amazing plugin to take control of the website SEO needs. The plugin comes with tons of features including control over meta description, creating deep links, author highlighter, 404 monitoring and more.
The plugin is used by many websites and can help you optimize your website on-page SEO.
Download: SEO Ultimate for WordPress
3. All-In-One SEO Pack

With tons of features, All-In-One SEO Pack is one of the famous SEO plugins for WordPress. Like other SEO plugins, the plugin features basic SEO options such as providing meta tags and generating titles for search engine.
Other than the basic features, the plugin also supports canonical URL's custom post types, Google Analytics and more.
Working with an e-Commerce site? Then, this SEO plugin is for you. In fact, All-In-One SEO Pack is the only SEO plugin that supports e-Commerce website.
Download: All-In-One SEO Pack
4. Scribe for WordPress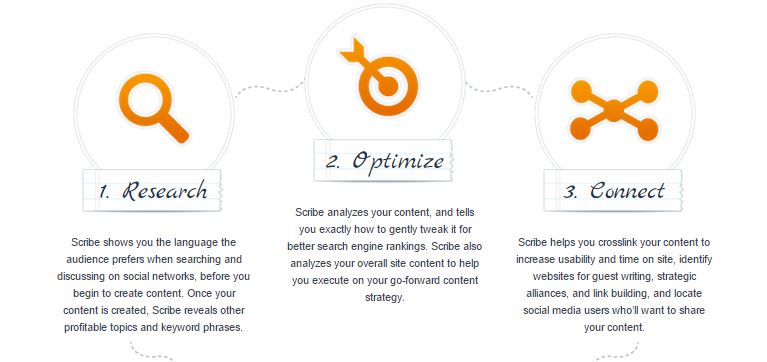 Want everything from research, optimization and interaction? Then, Scribe WordPress SEO plugin will help you gain that. Scribe is one of the all-in-one packages that helps you do keyword research, optimize the web pages and help improve interaction with the users.
The plugin also offers a step-to-step guide, which in turn enable you to completely optimize your website for the Google, increasing its chance to rank higher than your competitors.
With an internal social media tracker and other competitive rankings, you can quickly gauge the rankings and performance of your website.
Download Scribe: Scribe
5. SEO friendly Images

SEO friendly images are necessary for a website who wants to rank well in the google. The SEO friendly Images plugin helps in adding alt text to the images, which is the number one factor for image rankings. With alt text, your images will be indexed properly as the alt text is the only way to represent the images to the google rankings.
With this plugin, you can easily manipulate the rankings of your website using only images. The plugin also adds the TITLE tag for better rankings(TITLE tag is a weak ranking factor)
Download: SEO Friendly Images
Wrap Up
Search Engine Optimization is a powerful term and with WordPress, most of the work is minimized to plugins and theme control. The plugins that I shared today are necessary for capturing the basic SEO for your website. Sometimes doing the on-page optimization correct can yield tons of benefits for the website, bringing organic search results to your website.
Do you think? I, missed a plugin? Comment below and let us know.