A position of the Quality Assurance engineer is incredibly important for every company that deals with any kind of software and web development. The responsibilities of QA include design and implementation of tests, debugging and performing corrective actions. That means that most of the employers look only for qualified and experienced engineers.
Young experts have more troubles with finding a good QA job, let alone educated engineers who are not able to confirm their professionalism. Only a job-winning resume can become a persuasive factor for recruiters to invite one or another candidate for an interview. No matter whether you have hundreds of successful projects or have just graduated from the university, a properly written resume can pave your way to a well-paid QA engineer position.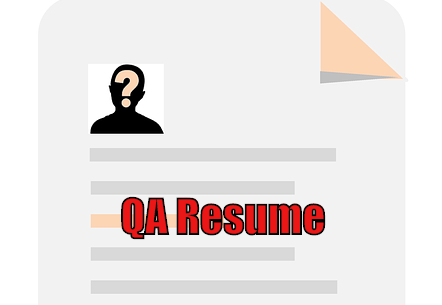 Also read:
Bookkeeper Resume Tips and Samples
Best Dental Assistant Resume
Tips on writing your first QA resume
Undoubtedly, many resumes of college graduates get lost in the pile of numerous CVs sent by job-seekers. This mainly happens because of a lack of the specific experience searched by employers. At the same time, a well-composed resume with an accent on other important things apart from experience may result in the fact that your junior QA resume will be put into the "Yes" pile. Let's see what solutions will help this resume become successful:
Write an impressive objective
One of the first things an employer sees in the resume is the objective section, so if should clearly explain why you apply for this position and what contribution you will make if you are hired.
Focus on your skills
The most important section in the resume of the QA specialist with no experience is skills. Every recruiter is interested in your efficacy and knowledge as well as skills and abilities. Unfortunately, you can not mention the word "experienced" in the formulations but you can opt for other convincing statements like: good exposure, ability, familiarity, excellent skills etc. Here you should not only prove your professionalism but also focus on your strong personal features important for a job.
Mention your college achievements and completed projects
Unless you have any experience obtained while studying, it would be nice to list your achievements from the university life. These might be prizes, awards, competitions you have won as well as successfully finished projects. It will show that you are not that fresher who must be taught from scratch.
List your technical qualifications
Provide evidence that you are familiar with the testing software, other useful tools and applications. You can offer a two-column table where the first column will list the name of the group (OS, tools, testing software, language, QA methodologies, software apps) and the second one – the title of the software and other details.
Add a cover letter to your resume
Sometimes a resume is not persuasive enough for a recruiter, so it is a great advantage when the paper is accompanied by a cover letter. It is especially important for QA starters who receive a chance to communicate the relevance of their skills and knowledge to the certain position. A concise and detailed cover letter can open you a door for an interview if your resume has not managed to do that.
Analyze a job description to show your appropriateness
Remember that your resume should be written in accordance with a definite position. Only having analyzed the vacancy description you can realize what exactly an employer needs and offer it to him. Your resume must be relevant to the requirements issued or it will be one of the first ones to be sent to the dustbin.
Make a positive first impression in the summary
Compose a summary that will present you from the most beneficial side to the employer. Highlight only relevant skills and put the most important of them in bold. Mention your on-job-accomplishments if there are any. State your certifications, trainings completed. The first impression is the most memorable one so it must be positive, undoubtedly.
State relevant subjects you have studied
Being a fresher you can prove your awareness of the basics. It is preferable to have computer networking and system administration skills. Any subjects connected with these topics learnt may be listed in the section "Relevant skills".
Emphasize obtained software testing certifications and trainings
Not only higher education is important for obtaining a job. Any additional trainings, courses both onsite and online can add advantage. Some companies issue mandatory requirements in possession of such testing certification as ISTQB or CSTE, so their possession must be mentioned obligatory. Any other relevant certificates should not be omitted too.
General tips
It happens that QA entry level resumes have so it may seem unbelievable mistakes and drawbacks that it is difficult to imagine how it could have been written. The most common of them are the following:
Providing fake data;
Making spelling, punctuation and grammar mistakes;
Too sizeable volume. No more than 2-3 pages;
Use of table structure only. It can be used only for experience;
Adding irrelevant personal details;
Use of the pronoun "I" in the description of your experience or achievements. It is better to start with the past participle;
Forgetting to write contact information;
Education section begins not with the recent one etc.
Apart from the resume there are two more important conditions for being hired. First of all, it is an active search of a job applying for positions in different companies.
Another important advice to a job-seeker is a thorough preparation for an interview. Usually, a top-notch resume appears to be nothing if a person can not explain what is written there. Moreover, you should be always ready to given a detailed answer to the interviewer's questions as silence or inaccurate formulations will do you a bad favor. How one can prepare for an interview? You should find the most frequently asked questions of recruiters on the Web and prepare comprehensive answers to them. Also, you must learn what is written in your paper and be capable of expanding on each statement.
Both these factors play a significant role in finding a decent QA position.
Make your QA resume perfect!
Unfortunately, a professional recruiter sees at first sight if a resume is composed by an amateur. There are always some features that give out the lack of knowledge or experience of a resume writer. If you desire to increase your chances to be invited to the interview, entrust professionals with this responsible task and turn to them for your resume to meet the highest standards.