If you are new to gaming, the terminology can be frustrating, with many acronyms and slang terms that have a specific meaning in the gaming world. We aim to help you gain an insight by explaining some of the terms that are used in gaming circles.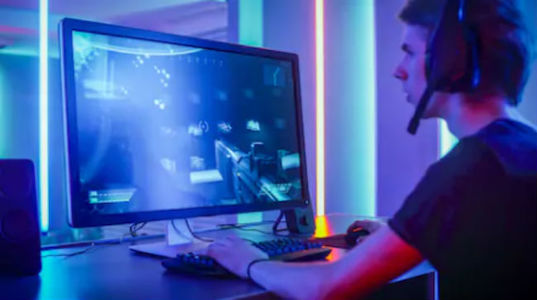 AAA Games – Triple A games are of the highest standard; made by big software companies such as EA (Electronic Arts) and Ubisoft. These games demand high computing power to play effectively, so make sure that your PC hardware is adequate for hi-res real-time games.
ADDS – This means additional enemy forces that sometimes appear during a game.
AFK – This means 'away from keyboard', which a gamer would type into the chat window if they have to leave the room for a short period of time.
Bots – Bots are non-human opponents that you find in multi-player games. If you want the best reactions, you need a gaming mouse from an online supplier, which will give you an edge.
Buff & Nerf – A buff is to add extra power to a weapon, while a nerf is a change that reduces weapon power.
Camping – This refers to the tactic of waiting for the enemy to approach, rather than trying to hunt them down. Some players prefer to camp and set up an ambush for enemies, it can be a good strategy sometimes.
Clans – Clans are groups of players who like to compete with each other.
Cooldown period – In most games, when you deploy a weapon, there is a slight pause before you can ese that weapon again, which is the cooldown. If you are a gambler, here are a few hacks to help you win on the roulette table.
DLC – Downloadable content that a player can access; some are free and some have a cost. Typically, these additions are not essential and are superfluous.
FPS – First person shooter games are known as FPS.
Glitch – A glitch is a bug in the game software; it might impede your player and glitches are reported to the software engineers who resolve the issue.
HP – This can mean either health points or hit points. When your HP reaches zero, your character will die.
Game lag – A lag is a slight delay when you make an input before that input shows on the screen.
MMORPG – This stands for massively multiplayer online role playing game, when players all over the planet play in real time in a virtual environment. A good example is World of Witchcraft, a very popular MMORPG.
Noob – This refers to a raw novice; an abbreviation of newbie. You might be considered a 'noob' for a few months.
RNG – A Random number generator is used to create aspects of the game, which will not be the same each time. Click here for government information on online gaming.
Sandbox – A sandbox is a game where the player has a lot of freedom; Minecraft is an example of a sandbox game.
The above are just some of the special terms that you find in gaming circles and we hope this article helps you to become an ace gamer.