Emails are becoming a popular marketing channel among businesses as email marketing is technologically advancing to get more interactive and customer centric. Initial thought does not show any connection between email marketing and conversions.
However, if you delve deeper into the topic, it would be quite easy to understand how you can turn your email marketing campaigns into conversion channel and get more customers.
Read on…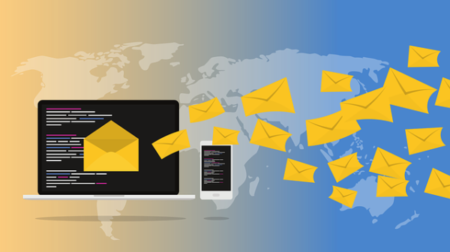 Have a double opt-in for your email list
For your email marketing to be successful, it is very important that your subscribers have granted you the permission to send emails. The best way to warrant this is to have a double opt-in for your email list. Double opt-in implies that once a prospect has shown interest in your company by signing up, you send them a confirmation email with a verification link so that you can be sure that the subscriber wants to hear from you.
With single opt-in, it is quite likely that your subscribers provide an invalid email address. Double opt-in helps you get valid email addresses that help you cut down on the bounce rate and maintain a healthy email list. Your email address is the most precious currency and double opt-in reflects how much you reflect it.
Pro-tip: If you have majority of your subscribers in the EU, you should also consider GDPR while seeking permission to send emails.
Get your email address whitelisted
Ask your subscribers to add your email list to the address book. This will enhance your email deliverability and ensure that the email lands up in the inbox rather than the spam folder. Inbox placement is important to get your emails noticed. Therefore, whitelisting is considered to be a best practice.
Deliver value with your copy
Your email copy should be engaging enough to arouse the interest of the subscribers and encourage them to buy from you. If your copy will not be relevant for the subscriber, they might mark your email as spam or even worse click on unsubscribe. Sales pitches are strictly contraindicated if you want your email marketing to be successful.
Pro-tip: Have a prominent CTA that matches the content and redirects the recipient to the related landing page or website.
Send purposeful emails
Send an email when you have something important to say, not because you have to meet the email targets. Your email should serve a purpose. Send an email that matches the buyer's journey and the stage of the buying cycle. For example: If a prospect is in the awareness stage, you should send an email that shares the benefits and features of your products or services. On the other hand, someone in the decision stage would be happy to receive the pricing structure of the relevant product.
Have a well-designed landing page
Your landing page determines the conversion rate of your emails. The better your landing page, the more your conversions will be. Follow a suitable visual hierarchy in your landing pages so that the subscriber can know more about your offer and get tempted to buy from you. Whether it is the value proposition you present in the landing page or the header image or the CTA, you should make sure that it resonates well with the subscribers.
Pro-tip: Your landing page is a part of your website. You should install an SSL Certificate on your website, including all the web pages and landing pages. By doing so, your prospects will be able to trust you and share their information with you without any fear or apprehension. Secure websites also stand a brighter chance to rank higher in search engines and get more traffic.
Incorporate social media marketing in your emails
It is of paramount importance to take an omnichannel approach if you wish to increase your conversions. Hence, it is advisable that you include the links to the social media platforms in your emails. This will encourage your readers to interact with you on other platforms too except email. You can organize a giveaway that puts both your email and social media platforms in sync. Be consistent in the posts that you share so that your prospects or customers have a pleasant experience.
Personalize your emails
Your emails should be personalized and have a human touch if you want to ger more conversions. Apply personalization beyond the first name and take help of machine learning in your email marketing. It will enable you to send out more relevant emails that take into consideration the demographics, buying pattern, and past purchases of the subscriber.
Employ email automation
Automation is the future of email marketing. Whenever a subscriber signs up for your emails, send out an impressive welcome email followed by product recommendation emails, cart abandonment emails, and reengagement emails.
Pro-tip: Maintain a conversational tone so that the emails do not look like a robotic message being sent to all.
Monitor the email metrics
Marketing is futile if you do not monitor the results… Email marketing is no exception. Monitor the email metrics like open rates, click-through rates, and bounce rates to figure out any loopholes in your email marketing strategy. Your emails should follow the best practices like including a View Online link, unsubscribe button, a preheader text, etc. for better subscriber engagement. You can also hire an email marketing agency that takes care of all your campaign management woes ranging from strategy to deployment.
Have an online email archive
An online email archive with the links to the web versions of the emails is a great way to get better search engine visibility. As a result, those who have not yet subscribed to your emails will also get inspired to subscribe to your emails.
Wrapping Up
Follow these tips and you will surely notice a boost in your email marketing results.
Would you like to share how you improve your email conversions? We would love to hear from you.