In the era of the modern world, undeniably, everything is technology based. Everything is controlled by computers, from businesses, online marketing, shows, and advertising to website designing. But the question arises who the people involved behind these visuals are? Graphic designers! They are the backbone of the entire graphic art industry that uses their talent to convey unique concepts to the audience. People opting for this field are surely gifting themselves the skills and talent that can ultimately benefit them with a bright future.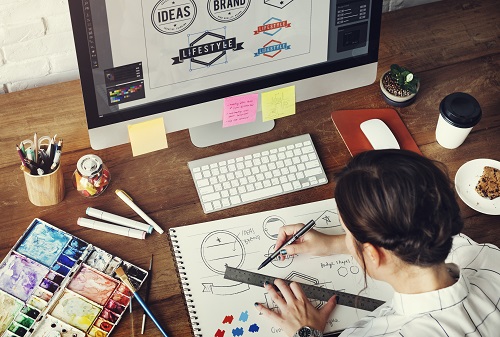 Apart from all this, the important idea is that graphic designers can incorporate their creativity to turn an ordinary piece into an extraordinary one. Much credit goes to professional graphic designers for playing as supporters and saviors of the different media departments. If you are missing out on this field scope and its growing demand in the upcoming years, the article below is here for your guidance.
An insight into the graphic designing
Before we get into the details, we must know what graphic designers do. The art of not communicating it with words but instead portraying it through visuals is what graphic designers are equipped with. Graphical storytellers and graphic designers near you produce thoughts and conceptions manually or with sophisticated graphic design techniques and tools or software. Through tangible and digital artistic expression that uses writings, imagery, or animations, these designers express a motive to audiences to encourage, amuse, or fascinate them.
They ensure their layouts precisely mirror the intended meaning and articulate content by establishing consistent interactions with stakeholders, clients, and other experts. Graphic designing seems like an easy job, but it is not. The amount of detailed input that goes into this lengthy procedure is indescribable. To say something in a word is easy but to portray it through symbols and graphics is a one-step ahead approach. It corresponds to a mute trying to explain his perspective to viewers.
Things to look for in a dexterous graphic designer
Exceptional storytellers – business aspirations
Storytelling is not an easy job, so it can be performed seamlessly by experts in graphic design. Every business must make its agenda or offerings vocal to the customers. This action requires effective storytelling ability, which one can easily find in an experienced graphic designer.
They know the business tactics and deeds to chase the clients and how to play with their mind games. These designers use their creative abilities to express the business's idea and agenda in the most attractive and cinematic ways that could hold people's attention for a long time. This helps streamline their decisions that prove favorable to the companies.
Concise and to-the-point interaction
If one had enough time on their hands, lengthy word communication would have been their absolute preference. But considering the rising individual engagements every day, companies and firms always look for techniques that can make their appearance worthwhile to the audience. This is when graphic designers show their supremacy in helping the company achieve its targets.
It is important to look for an artist with a clear vision and perspective so that things can be performed seamlessly. The designer should be able to explain the art's rationale and make clear-cut depictions to meet the company deadlines and communicate the message to the consumers.
Teamwork and time management are the keys to success
Every employee associated with the company is committed to giving the best in its performance area. This demands dedication, loyalty, and promising service by the collaborator. A good understanding and working environment among the team members can complete the task in nearly half time and more productively than usual.
A graphic designer should interact enough with the other employees to ensure everyone is on the same page and the work is being done per the company's expectations. This move highlights the company's resourcefulness and loyalty toward the clients. A graphic designer must incorporate every single detail and information regarding the visual representation a company is willing to create. This is very important to convey the intended idea to the audience.
Clearly, where a person gets praised for his well-doing, one should also have the courage and maturity to accept faulty service or constructive criticisms. Success and failures lie in every job. This shows the progressiveness of your work and business over time. Graphic designers are responsible people in the entire marketing or advertising firm and hold the immense charge of accountability and answerability in the wrong. The company's unwilling public appearance is the worst that can happen and can take longer than usual to fade. That is where graphic designers should gather the courage to deal with criticism and modify their working attitude by learning from their mistakes.
Recognize the public wants
With the updating trends now and then, businesses should hunt for graphic designers that know the latest trends and modern firm requirements. When the regular old creations can no longer make an effect, these illustrators should adopt the newest ways. The media visibility is enough to showcase their work level, and the feedback makes it more evident.
What brings the need for graphic design ought things can be explained without it?
The blend of arts and technology in one frame is the best one can witness. Here lies the entire need. Undoubtedly, things can be communicated through speech, actions, and languages. But once the illustrations and human creative inventions arts take over this process, things can be conveyed in a better and much more appealing way. Not everyone has the same understanding level and concept targeting; these graphic designers use the magic of their hands and skillful arts to educate different mindsets.
A piece of creation seems more presentable and convincing to look at when it is contrasted with visuals and artistic elements. Otherwise, looking at or even giving a glimpse is boring and unpleasing. One of the surprising things is that graphic designers have become a necessity in most fields and are playing a prominent role in different socializing careers.
How do graphic designers seem to be benefitting businesses and industries?
It is appreciable to know that graphic design does not have a limited reach or scope. Its demands and needs are nearly observed in every sector, be it advertising companies, entrepreneurship, promotions, digital marketing, public awareness, etc. As an audience, it is easy to comprehend and give reviews upon the displaying information, but the companies realize the struggles of hunting for a creator behind these visuals.
With different jobs, the demands from these designers keep switching. The promotional and advertising media companies expect graphic designers to produce the most relatable and attractive graphical posters. These artists successfully achieve the purpose of promoting the cause or agenda of these firms. Sighting the digital marketing sector, they wish for their products and sales to be presented to the audience in one of the most accessible and positive ways. That's where these talented artists contribute their efforts in marketing the products in the most effective and profitable ways.
Bottom line
The scope of graphic designing is getting to another level every day. This field seems somehow conquering the world by changing marketing patterns. Visual content is so impactful that it can leave lasting effects. Graphic design has become a major need for businesses and advertising companies and is getting challenging for emerging talents. Considering the entire scenario, the article above aims to help you collaborate with the right and the best graphic designer to upscale your business simulation. Let us know your reviews.