"How do I retrieve deleted pictures? Some of my photos have been lost on my computer and I can't seem to get them back!"
If you also have a similar query like this about photo recovery, then you have come to the right place. Each day, thousands of people suffer from an unexpected loss of their data like photos, videos, and other media content. While it might seem like an unwanted situation, you can easily resolve this by using a dedicated photo recovery tool. The guide will explore a sure-fire picture recovery solution in detail.
Common reasons for losing photos
Before we learn how to recover deleted pictures, it is important to diagnose the issue. For instance, by understanding these reasons, you can avoid the loss of data on your system in advance.
A malware or virus attack on the system is one of the major reasons for data loss.
Your photos can also be deleted accidentally by you or someone else.
Sometimes, the data is lost while moving it from one location to another.
A corrupt storage or partition can automatically damage the stored photos.
The mishandling of photos by a third-party application can also lose its meta content.
A bad firmware update can also corrupt your system, leading to data loss.
Wondershare Recoverit: The Best Photo Recovery Tool
Wondershare Recoverit provides the best solution to retrieve deleted pictures in a hassle-free way. The application is extremely easy to use and provides dedicated photo recover under different scenarios. It doesn't matter if your system storage has been corrupted or whether you have accidentally deleted your photos, the photo recovery tool can resolve it all. You can recover deleted photos from SD card, flash drive, and other external storage units as well. There is even a free version of the tool available that can recover a maximum of 10 photos without any size limits.
Users can recover deleted pictures by following a simple stepwise approach in minutes without any prior technical experience.
The application can recover all kinds of photos. Some of the common formats that it supports are JPG, PNG, BMP, TIFF, GIF, etc.
It has a user-friendly interface and is known to yield a high success rate in data recovery.
The tool can perform photo recovery on an internal drive or the connected storage like flash drive, SD card, memory card, external hard disk, and so on.
Users can recover deleted or lost photos under different scenarios like accidental deletion, Recycle Bin deletion, virus attack, corrupt storage, lost partition, and more.
The interface allows us to preview the recovered content. In this way, users can selectively restore the photos of their choice.
How to Recover Deleted Photos from PC or Mac?
Recoverit photo recovery software is supported by both Windows and Mac. Users can install it on their Windows XP, Vista, 7, 8, and 10 as well as on macOS 10.8 and later versions. The free version of the tool can recover up to 10 media files without any size limit. To recover more photos, you can just buy its premium version. Once you have installed the application, follow these steps to learn how to recover deleted pictures.
Step 1: Select a location to scan
Firstly, launch Wondershare Recoverit photo recovery on your system and pick where you wish to scan. You can select a drive, a partition, or even any external storage unit to proceed.
Step 2: Scan the selected location
Wait for a while as the deleted photo recovery software will scan the selected location. Just make sure that you don't close the application in between or halt the process. An on-screen indicator will let you know the progress.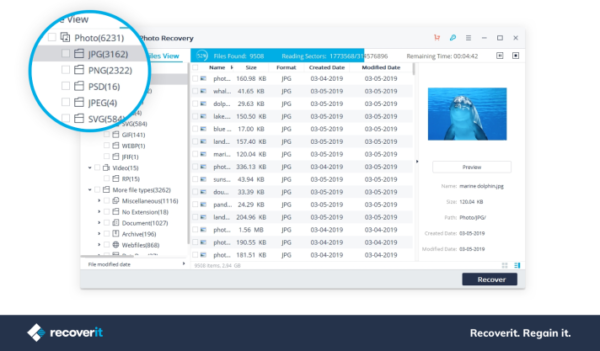 Step 3: Preview and recover your photos
In the end, once the process is completed, you will be notified. The recovered data will be categorized on the interface. You can go to a folder from the left panel and preview your photos on the right. In this way, you can select the photos you wish to retrieve and click on the "Recover" button to get them back.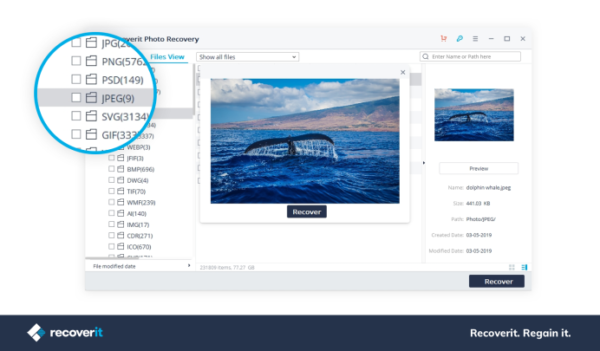 As you can see, Wondershare Recoverit is a complete picture recovery tool that will come handy to you on different occasions. You can recover deleted photos on a Windows PC or a Mac using this intuitive tool. It can also help you recover deleted photos from SD card, digital camera, pen drive, external hard disk, and other storage units. Simply follow its three simple steps, preview the recovered photos, and restore them in minutes. If you want, you can even try its free version as well to get a hands-on experience of the product.