In 2014, Amazon launched Alexa, a smart service with voice recognition and natural language. Since then, Artificial Intelligence has only evolved and made its place in the digital world.
In fact, Amazon has managed to sell more than 100 million of these devices since the date of its launch, demonstrating its rapid integration.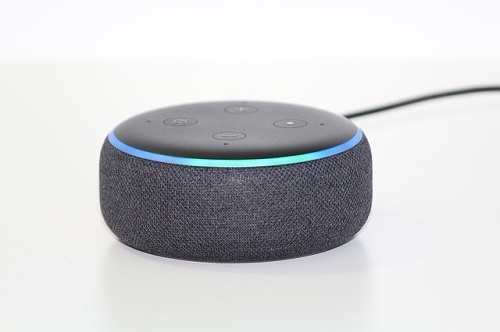 Alexa beats word search
Internet users were used to searching for information in a browser and through keywords. At the time when Alexa appeared, smartphones were able to do this in a very simple way thanks to apps.
But we discovered Amazon Echo, which was the name given to the current Alexa at the time. It was the first time that users were offered voice-operated ambient computing. This would later revolutionise the concept we had in our heads of convenience – the device responded when you spoke to it!
The Amazon Echo was to perform four different tasks:
The first was to detect the word "Alexa". When it was pronounced, the device was activated. Today, word detection is much more efficient than it was in 2014.
The second was to automatically recognise the voice. One of Amazon's goals was for the device to record the voice once it heard it, and then translate the audio into words.
The third came into play once the words were available, and consisted of figuring out their meaning. This was one of the most difficult tasks for the AI. Although, Alexa can now optimise its natural language understanding up to three times faster.
The fourth and final task was to convert the text to speech in order to return the answer to the user. Compared to 2014, Alexa's voice is now much smoother and more natural.
The evolution of Alexa and the progress of AI
Since the birth of Alexa, the device has managed to transfer learning from one task to another, making each and every component context-aware.
Alexa has the ability to quickly and easily access any content, as well as to turn a shopping process into something simple. Moreover, its use has been key in the application in smart homes, where all household appliances can be linked to it and controlled by voice.
Today more than 80 countries have access to this Amazon device.
The origin of AI
Despite what everyone believes, Artificial Intelligence is a concept that has been developing much earlier than you might think. By this we mean that the technology has had to overcome several challenges in order to become what it is today.
The origin of Artificial Intelligence could be found in 300 BC, when Aristotle discovered syllogisms. These describe how a part of the human mind works. Being a set of rules, they must be followed step by step in order to know what rational conclusions are drawn from the premises.
Since then, there have been hundreds of discoveries that have made it possible for all of us to have access to it today. What is more, there are many sectors that are committed to it. One of them is real estate, as homes already incorporate intelligence in practically all their furnishings. You can check that your food is being cooked from your mobile phone, or control the air conditioning by voice.
In addition, another sector that can benefit the most from Artificial Intelligence is the gaming sector. With the improvement of technology, sectors such as gambling have made the leap to the internet.
Artificial Intelligence in the 1990s
During this decade, Artificial Intelligence gained momentum and the 1990s became the golden age of it. The main reason why this happened was because of the sudden development of the technology and that it directly affected industries.
If a company did not join this technological advance, it would not be able to achieve good results and profits. Therefore, it was decided to invest in optimising processes that focused on AI.
What is clear is that technology is advancing all the time and more and more sectors are betting on it. We are approaching a future in which Artificial Intelligence will play a major role in all areas of our lives.