Nearly seventy new domains and over five hundred new websites are created every minute. The internet is growing at a rapid pace, and everybody wants to keep up with the updates. Long gone are the days when webmasters used to build their sites from scratch. Now we have website builders which make it a lot simpler and easy to create new websites without even having programming know how.
Now among all the new website builders and content management systems in the market, you are sure to have come across the name Wix. Here we will be discussing all the features and utilities Wix has to offer and whether or not you should consider it for your business.

Using Wix Website Builder
Have you ever wondered what makes you want to buy a smartphone? The camera? The looks? Processing power? Marketing persuades us on so many things before buying a new phone, but we usually take the main functionality for granted – Call Quality! This is something we never check and yet it is the main purpose of buying a phone.
These days we are using everything on the basis of its features, instead of the main functionality. Many other platforms will try to market themselves by promising great features, but you should know how well they can deliver the basics; that is to say, you should know if a website builder can actually help you build a website. And you can rest assured that it is as simple as cake and you will have your very own professional website ready and running in under an hour.
In layman terms, Wix is a drag and drop website editor that incorporates absolutely stunning designs.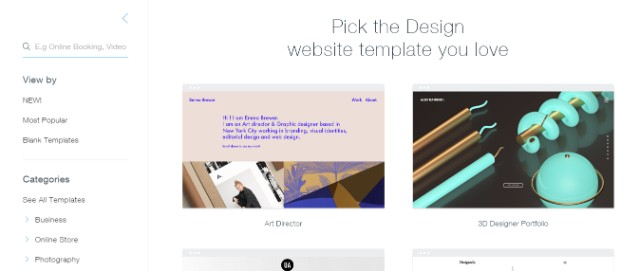 The first thing you will be given a number of gorgeous and professional website templates to help you start off. There are plenty to choose from with different design languages to fit different niches. In reality, this is the only place where you will actually lose most of the time as you will wonder which one of these beautiful templates you will employ for your new site.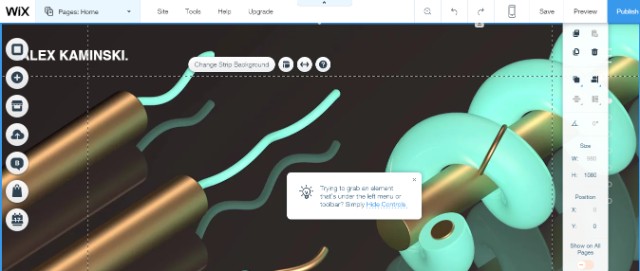 Now after you have picked up a template design which fits your vision, you can click the edit button, and you will be taken to the Wix editor. It's a basic drag and drop platform where you can adjust all the elements of the template you have just chosen. You can format text, move pictures or elements, add more text, change all the demo images with your own images, and lots more.
Besides this, the Wix editor comes with a quick tools toggle on the left-hand side with which you can change all the elements as well as add new ones. You can also get to switch between desktop version and mobile version of you site and then edit them individually. This implies that with Wix you are going to get a mobile-optimized website.
You can quickly choose and customize all the different pages on your site as well as add new ones and tweak SEO settings. You can also customize the background, colors scheme and fonts of your website.
And once you are done tweaking your template you can start adding your own text, Image, Gallery, Media, Shapes and Lines, Online Stores, Social, Apps, List Builder and last but not the least, buttons and menus. You can also input Contact Forms, Google Maps, new HTML, PayPal and much much more.
So you can rest assured that you will not be left with the limitations of the template. You can mold it to your likings. It is just a starting point, so you don't have to do things from scratch.
Now after you are done customizing your site, you can save it using the Save button located at the top right corner of your screen. And once it is saved you can just click Publish to make your site accessible to the whole world. You will have to provide a Site Title, Site Description and keywords when you are about to publish your website.
Perks of Wix
The platform comes with exceptionally beautiful and stunning website template designs for all possible niches.
The platform gives you unparalleled flexibility to tweak your site and make it absolutely perfect.
You get the added feature to include animations to your text and other elements.
As mentioned earlier, it comes with a Wix App Market which comes with hundreds of third party apps which you can use to improve your site's functionality.

The Platform comes with an option to create your website using ADI – Artificial Design Intelligence which will make building your site as easy and intuitive as possible. It will automatically connect your Social Media, as well as generate a contact form. But all these can be changed if you don't like it.
Drawbacks of Wix
Once you have chosen your initial template, it cannot be changed. So do put some thought in considering your starting point.
You will not get access to the source code. To the average user, it is of no concern but advanced users might consider this very limiting.
Building your website using will leave you with many Wix ads on your site and give you a subdomain. You will have to buy their monthly or yearly subscription plans and they are not cheap.
Wix for Your Online Business
Having all this in consideration it is quite clear that Wix is much more than a website builder, it is a full-fledged content management system. Wix is filled with a boatload of apps, services, and tools that are designed to give you an edge over your competition.
For starters, you can build a beautiful website to have a visual appeal to your audience as stated earlier. Next, you can start to manage all your contacts right from your account dashboard. You can also create and distribute emails to your clients with the Wix ShoutOut app.
Apart from this, you get other useful apps like SEO Wizard to help you optimize your website. You can also use the Get Traffic app to increase your site traffic inflow. In addition to all of this, the Wix App Market is filled with plenty more apps. You can incorporate videos and forums with Video apps and Forum Apps.
Overall, the platform is swarming with features that give your content its deserved recognition. Need more info? This Wix review might convince you more to use this website builder.
Conclusion
Overall, Wix offers a very user-friendly solution to website building. Furthermore, if you want an aesthetically appealing website then Wix can give you the best solution. If this is all you want, great looks and ease of use, then Wix is definitely worth your consideration.