Adobe illustrator is an essential tool for designers who want to create amazing designs .If you are new to designing then you probably need some help to expert in your field.
In this edition, we'll be featuring the best 10 Adobe Illustrator tutorials and we hope it would expand your creativity and imagination to be expert user.
Create A Cute Creature Character From A Sketch
In this tutorial I will show you how to create a cute creature from a sketch. This tutorial uses custom brushes, the Paintbrush tool, Pen tool, and the Live Paint Bucket tool. Even if you are not a huge fan of the cuteness, you can use these techniques for other illustrations, logos, and vector elements.
Create a Shaped Clipping Mask in Photoshop & Illustrator
Today, we're sharing a behind-the-scenes look at the creation of one of our favorite folder design templates. This Cruise Ship Adventure Presentation Folder Template uses a simple clipping mask to make the image of the ship appear to be split into several rounded square tile shapes.
The end result looks like something that would take a long time to make from scratch, but you can create it using Adobe Illustrator and Photoshop in just a few simple steps with this handy tutorial.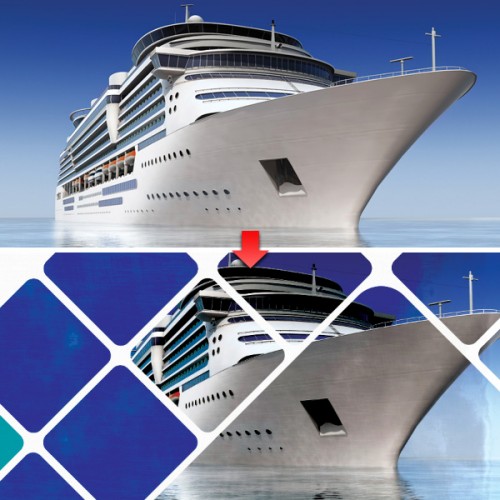 Create A Mouthwatering Chocolate Covered Strawberry
It's almost Valentine's day and rather than getting your loved one the same old cheap gifts you get every year, why not create a chocolate covered strawberry illustration for them? You can easily apply this illustration to your own greeting card, t-shirt, or anything else you can think of. Moreover, you can apply this tutorial to other illustrations and logos.
Create a Realistic, Vector Building Illustration
Fitting for these tough financial times, learn step by step how to create this turbulent vector illustrations. Numerous Illustrator tools are used to create this illustration. We'll use Symbols to add texture to the land are, the Mesh Tool for the sky, 3D effect to compose the skyscrapers, the Twirl Tool for the tornado, and Warp effect for the dollars. We'll cover alot of ground in this tutorial, faster than a businessman escaping to the bahamans!
How to Make an Attractive Vector Butterfly
In this tutorial I will show you how to make a vector butterfly using the blending mode from transparency box and the gradient mesh. The techniques shown in this tutorial will help you make shades on objects and liquid transition of colors. Believe me it is very easy.
How to Create Realistic, Vector Bubbles
His Majesty the Bubble! In this tutorial we will learn how to create realistic colorful bubbles. We'll cover numerous techniques and build this illustrations step by step. Set aside a couple hours for this one!
Create a Tasty Burger Icon in Illustrator
In this delicious tutorial I'll show you how to create a three-dimensional, scrumptious burger using Adobe Illustrator. Remember that I'm a vegetarian, so you should definitely appreciate the effort!
How to Draw a Cartoon Duck , Character illustration
This tutorial will take you through basic shapes , using basic tools ie pathfinder , knife and eyedropper tools to create a cute duck character. Following this tutorial you can draw a step by step illustrated vector tutorial file which will help you to actually look at how it is done! it is as simple as that!
How To Build a Vector Clock Graphic in Illustrator
If you're looking to develop your Illustrator skills, here's a tutorial for you! Follow this walkthrough to see the how adding layer after layer of vector shapes, along with a range of gradients and a spot of texture can quickly create a great looking icon-style clock graphic.
How to Make an Inspired, Golden Painting in Illustrator
In this tutorial we will travel back in time to recreate the painting style of one of the most outstanding symbolism artists – Gustav Klimt. His works are full of warm golden colors, simple ornaments, irregular patterns, natural symbols, and asymmetric shapes. We will work to produce this style with the help of Adobe Illustrator tools.
Draw a Glowing, Vector Pocket Watch – Front and Back
In this tutorial you will learn how to draw the front and the back side of a pocket watch from scratch. This tutorial is detailed and by the end you will know how to draw all kinds of shapes, like cog-wheels and small screws. You'll learn to create the scatter brushes used for the designs on the watch and how to use some of the existing patterns and gradients in Illustrator's library to your advantage.