Whether it's tracking products and maintaining inventory levels or generating work orders and receipts, inventory control covers it all! It is one of the most important subsets of supply chain management that ensures your business runs smoothly.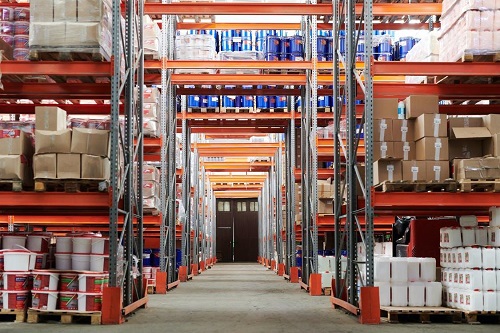 Effective inventory control will bring in profits and reduce labor costs while minimizing mismanagement. It ensures that your business maintains its stock levels to meet customers' demands. This facility is vital in today's world, where customers have hundreds of options, and brand loyalty has considerably decreased. If a particular product is out of stock, they will simply move on to a different company rather than waiting for you to re-stock it. Thus, you must ensure that your stock levels are efficiently tracked and clients re-order before an item runs out.
Latest technologies have revolutionized inventory control, and it is now easier than ever to manage inventory. The process has become faster and more cost-effective. Here are five essential technologies you should implement in your warehouse to optimize your operations and keep up with today's fast-paced businesses.
Barcode Scanners 
As a business owner or manager, you need to track products that come in and go out. Doing this product count manually could take hours and require a lot of manpower. It is where barcodes step in. The tiny little lines and unique number patterns you see on products in grocery stores and shops help track the delivery of raw components and log shipments of processed products.
Combining barcodes with barcode scanners improves efficiency and productivity in all businesses. The scanners use laser beams to read barcodes and translate the reflected light into data that a computer understands. This information is in a database for tracking products.
Industrial barcode scanners are used for reading barcodes in warehouses. They are mostly handheld and portable to make scanning barcodes easier. While buying scanners for your warehouse, you should look for premium quality ones that can read barcodes of all types (laser-etched, DPM, embossed) and from all angles.
To sum up, barcodes and scanners allow accurate data capture and real-time information. Thus, you can ensure that optimal inventory levels are maintained and that the manufacturing lines' operation never stops.
Warehouse Robots
Nowadays, robotic technology is used in inventory control for streamlining operations and cutting manual labor costs. It uses computer vision technology and sophisticated navigation systems powered by AI algorithms. The robots are equipped with scanners and sensors for locating and picking up goods from shelves. They are faster than humans and eliminate the risk of human error. Moreover, they can operate day and night at a speed that is 300 times faster!
Warehouse robotic technology is currently in use by the most prominent industry giants like Amazon. By integrating robots into their inventory control process, they have increased their productivity and improved the management of products in their warehouses. This efficiency has allowed shopping platforms like Amazon to offer same-day delivery options to consumers leading to greater customer satisfaction and increased loyalty.
Radio Frequency Identification Technology 
RFID works by encoding data in RFID tags. Then, an RFID reader uses radio waves to read the tag and extract data. It works just like a barcode as they both store data that a device reads and records in a database. However, RFID is more efficient and offers more advantages. Unlike barcodes, an RFID tag does not need to be aligned with a scanner.
RFID is part of Automatic Identification and Data Capture (AIDC) technology. It automates the process of identifying objects, collecting data, and entering it into computers. Thus, you do not need manual input, making this technology more efficient and cost-effective.
All products are marked with microchips read by scanners automatically once they are within the detection radius. The products do not need to be manually scanned by workers. It makes tracking them more efficient. Moreover, most warehouses place RFID scanners at their entrance so that all stock is checked in as it enters and checked out when it is shipped.
Light Fidelity Technology
LiFi technology uses light for data transmission. It allows devices to communicate with each other wirelessly. It aims to solve the issue of wirelessly connecting robots and electronic devices in warehouses.
LiFi is more beneficial in warehouse environments as compared to Wi-Fi as it offers enhanced bandwidth and better data transmission speeds. Moreover, visible light communication allows robots and drones to be positioned accurately. It also allows them to communicate and coordinate tasks. With increased transmission speeds and low interference of signals, the robots stay in sync and harmoniously function together to improve efficiency and reliability. Furthermore, LiFi is exceptionally secure. It is challenging for even tech geniuses to hack it successfully and damage your robots.
Warehouse Management Software 
Inventory work includes effectively allocating resources and cutting costs. By placing effective systems in place, you can speed up all the tasks in inventory control and boost warehouse productivity.
You can integrate an essential system into your warehouse: warehouse management software (WMS). This software controls and tracks the whole inventory process, from when stocks come in until they are shipped out. It allows materials to move efficiently through warehouses in a cost-effective manner.
You can also use WMS for performing inventory simulations. It helps avoid what-if situations while considering new tactics and strategic changes. The simulations can run different parameter settings and multiple situations. Thus, you will quickly gain insight into the outcomes of potential changes, and you can then decide which tactics to implement and which to avoid.
Warehouse management systems are becoming increasingly common due to their numerous advantages. You should not waste any time and jump right into researching the software and implementing it in your warehouse. You can also go one step further and invest in company smartphones or tablets that support the software so that employees do not have to walk to and back from workstations.
Final Remarks
Since inventory control plays an essential role in running a smooth supply chain, it is no surprise that these technologies have successfully integrated into the market. It has almost doubled productivity rates and reduced costs to half. Implement them in your warehouse today and watch your profits double as your business reaches new heights of success.