Whether you are looking for a job opportunity or looking for a way to grow your own business, networking is the key. Any networking event is a golden opportunity to make connections. If you are already getting jitters at the thought of your first networking event, here are a few tips that might help you: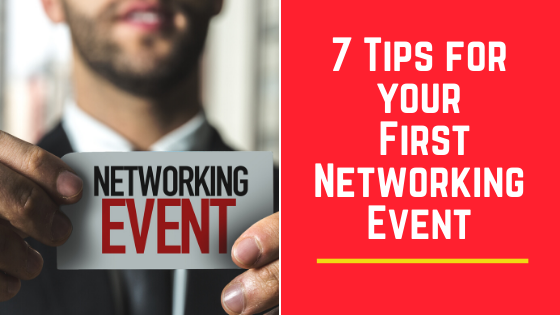 Set a Goal for Yourself
Having goals in mind before you set out to complete any task is essential to ensure your success. That is why, before you head out for a networking event, you should be prepared.  Keep a few conversation starters ready in your mind. If you are expecting to network with someone, in particular, think about the topics you can initiate for discussion.
Be Well Groomed
To successfully network at an event, you must be wearing an outfit that suits the event. Before the event, you must groom yourself properly by styling your hair professionally, ironing your clothes, and polishing your shoes. These are just some basics that would go a long way in helping you make connections. Always remember the fact that the people at any event will see you before they hear you.
Keep Business Cards handy
A business card is one of the most basic things that you should take with you to a networking event. While many people tend to carry paper business cards with them, you can make a difference with a digital business card. Did you know, according to a survey about 90% of business owners say that cards can help land new businesses!
You can have only a limited number of the paper ones and you might run out of them. On the other hand, you will be able to share your digital business card with as many people as you want. Plus, follow up becomes easy if you use a digital card because you would already have some of their contact information through which you shared the card.
First Impressions Count
It is a cliched expression but that doesn't mean that it's something you can overlook. It is very important to present yourself in a proper way to someone you are meeting for the first time.
You must smile politely, look into their eyes, and offer them a firm handshake. Have decent conversation starters in mind and try to start a dialogue with them. Most of all, you must hear their name clearly. While it's one of the most basic things to do, there are plenty of times when you might forget their name because of your nervousness.
It's a Dialogue, not a monolog
One of the biggest mistakes you can make when meeting someone for the first time is to continue talking for a long time without giving the other person a chance to respond. This automatically kills their interest in the conversation.
You must always ask questions first and give the other person a chance to answer and talk before you respond. When you approach a person at a networking event, they are fully aware that you are trying to make connections to look for some job opportunities or some similar thing. That is why you must show them that you are genuinely interested in what they have to say rather than simply engaging in a conversation. This will help the other person become more engaged in the conversation and crack the job that you have been eyeing.
Be Brief When Explaining Your Job
When asked about what you do for a living, don't dive into the details straight away. You must be brief and answer in a few sentences stating exactly what you do. You can explain your job in detail at a later point if the other person asks you too. You must also be careful to use terms that can be understood by all. Don't use terms that are related to your industry and can be understood only by people who are a part of it. This kills the conversation immediately.
Follow Up
When you are certain that you've made a genuine connection with someone at the event or engaged in a conversation with someone who is in some position to help you, make sure that you follow up a few days later by sending them a quick email or a text message telling them that it was good talking to them. Try to make it customized with an instance from the event meet.
Apart from all this, be confident about yourself, relax, and have some fun while you are discussing business! It keeps the environment light.