In today's fast-paced, visually dominated world, creativity is what sets businesses apart. At the heart of this creative revolution sits the graphic design industry, a lucrative endeavor, considering its worldwide value of $43.4 billion, with the U.S. market accounting for a substantial $13.3 billion. With such a thriving market, graphic design is now an integral part of the modern business landscape. Imagine waking up each morning brimming with ideas and transforming them into captivating designs that speak to audiences worldwide. This can be more than just a daydream; you can turn this aspiration into reality by starting your own graphic design business. So, if you're ready to embark on this entrepreneurial journey, we're here with a treasure trove of essential tips to help you navigate this creative and challenging path.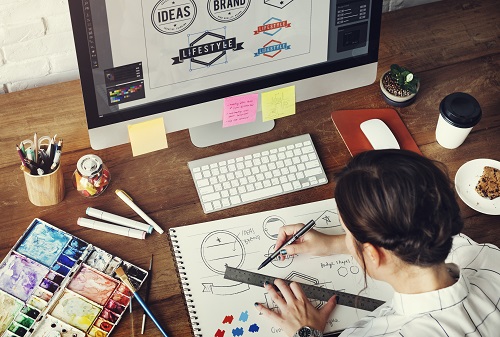 The Designer's Starter Kit: Essential Elements to Begin Your Graphic Design Business
Before you rush into this exciting venture, there are some must-have elements. At the heart of it is your skillset – you need to grasp the fundamentals of graphic design and be prepared for lifelong learning. This is an industry that changes with every scroll on a smartphone, so keep yourself updated with the latest design trends. Secondly, selecting the right software is crucial. Tools like QuarkXPress offer a powerful platform for creating unique content. It is renowned for its precision in typography and layout. So, it's worth considering QuarkXPress when looking for the best tool for content design. Thirdly, your portfolio is the window to your creativity. Assemble your best work and showcase it to potential clients. Lastly, understand the legalities involved. Knowing your legal structure is vital, whether you set up as a freelancer, a sole proprietor, or a limited company.
Tip 1: Hone Your Design Expertise
Becoming a master at your craft is a continuous journey that requires dedication and ongoing learning. To expand your design expertise, it is essential to seek growth opportunities actively. This can involve taking courses or attending workshops focusing on different design aspects, such as typography, color theory, or user experience. Online platforms also offer many resources, including tutorials and articles, to help you refine your skills. By continuously expanding your knowledge, you can stay updated with the latest design trends and techniques, allowing you to deliver high-quality and innovative work. Discovering your unique design style is crucial as it sets you apart from other designers.
Tip 2: Craft an Inspiring Business Plan
A well-crafted business plan serves as a roadmap to success for any designer. It involves setting clear goals and objectives aligning with your business vision. Defining your target audience is essential, enabling you to tailor your services and marketing efforts accordingly. Pricing strategies should be fair and reflective of your skills and the value you provide to clients. Additionally, developing realistic financial projections helps you gauge your business's economic feasibility and make informed decisions about investments and growth opportunities. While creativity is crucial, running a sustainable design business requires strategic thinking and logical planning.
Tip 3: Brand Yourself
Building a solid and recognizable brand is vital for the success of your design business. Start by creating a distinctive logo that captures the essence of your business and resonates with your target audience. Your online presence plays a crucial role in establishing your brand's credibility, so invest time in developing a professional website that showcases your portfolio and provides relevant information about your services. Engaging on social media platforms that align with your target audience's preferences can help you reach a wider audience and create meaningful connections. Consistency in your branding elements, such as color schemes, typography, and tone of voice, helps create a cohesive and memorable brand identity.
Tip 4: Nurture Your Online Portfolio
Your portfolio is a tangible representation of your skills, creativity, and growth as a designer. It should showcase diverse projects highlighting your versatility and ability to adapt to different design requirements. Regularly update your portfolio to include your latest work, demonstrating your proficiency in utilizing current design trends and technologies. Organize your portfolio in a user-friendly way, making it easy for potential clients to navigate and explore your creativity. Including case studies or project descriptions that provide insights into your design process and problem-solving abilities can further enhance the value of your portfolio.
Tip 5: Network and Connect
Building a network of professional connections is invaluable in the design industry. Actively seek opportunities to engage with fellow designers, clients, and industry experts. Attend industry events, conferences, or meetups to meet like-minded individuals and learn from their experiences. Webinars and online communities focused on design offer platforms for networking, sharing knowledge, and staying up-to-date with industry trends. Engaging on social media platforms, mainly those popular among design professionals, allows you to connect with a broader audience and establish relationships that may lead to collaborations or referrals. Remember that networking is a two-way street, so be proactive in supporting and promoting others in your network.
Tip 6: Master the Art of Client Communication
Effective communication with clients is paramount to creating successful design projects. Take the time to understand your client's needs, objectives, and preferences. Regularly update them on the progress of their project, ensuring transparency and managing expectations. Actively listen to their feedback and address any concerns or requests promptly and professionally. Clear and concise communication helps build trust and ensures your designs align with their vision. By establishing strong client relationships based on effective communication, you increase the likelihood of client satisfaction and foster long-term partnerships.
Tip 7: Prioritize Business Management Skills
Running a design business requires more than just creative abilities. Developing fundamental business management skills is essential for smooth operations and client satisfaction. Basic knowledge of accounting and invoicing enables you to track your finances, create accurate invoices, and manage cash flow effectively. Time management skills help you prioritize tasks, meet deadlines, and ensure efficient project delivery. Familiarize yourself with project management tools that assist in organizing and tracking project progress, facilitating collaboration with clients and team members.
Conclusion
Starting your own graphic design business is an exciting journey marring your passion for creativity with the thrilling world of entrepreneurship. It requires dedication, continual learning, and the courage to take risks. You can navigate this journey successfully with proper planning, a robust skill set, effective networking, excellent client communication, and effective business management. The road may not always be easy, but the destination is profoundly rewarding. So, are you ready to unleash your creativity and make your mark in the graphic design world?