We all know that moment when we wish our smartphone had just 5% more battery left. When you wanted to take the picture, but the camera didn't open because there wasn't enough battery left. When you wanted to check the score, but the Phone was off. You know the battery is running out, but you go on Whatsapping and playing games on your phone. This is where battery saving apps come in handy.
Developers are always finding ways to save battery life on your Android phone. Whether it be the turning off your GPS chip when not in use or turning down the brightness in a darker environment. These battery saving apps are often built into high-end devices. For example, the HTC One M8 has an 'Extreme Power Mode' and the Galaxy S5 has 'Ultra Power Saving'. Google has also incorporated a power saver into its latest Android version, Lollipop. Unfortunately, the inbuilt power saving options limit your smartphone's capabilities, so they're not convenient for everyday use.
I use LG G3. After updating the device to Lollipop, I found that the battery life was not the best. It had dropped to about 8 hours from the full day I used to get on KitKat. So, I started exploring battery saver apps. What I earlier thought that the battery apps, to be gimmicks, actually helped me out to achieve much better battery life.
Now, I'm not saying they'll extend your battery life to Kindle standards, but they'll add about 25-30% more usage out of a single charge. I have listed the best battery saving apps for you. Some are paid and some are free. Obviously, the paid ones have more functionality, but the free ones also do a good job, so don't underestimate them. Read on! Below is the list of the best battery saving apps for Android platform.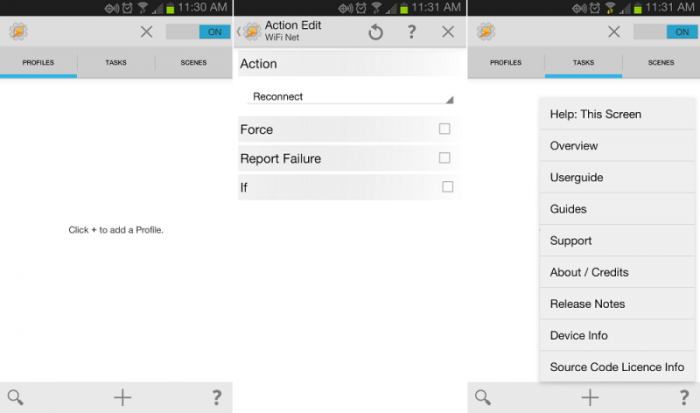 This $2.99 application is technically not a 'Battery Saving' or 'Power Management' application per say, but it definitely helps you get more juice out of your smartphone's battery. Tasker fully automates functions on your Android phone that are otherwise toggled by the user. For example, you can set it to automatically turn Wi-Fi off when you leave your office/home. This saves battery life, as your smartphone doesn't constantly scan for non-existant Wi-Fi networks. You can create Automated settings based on time, day and location; and also text and calls. Tasker also has a clean and simple user interface.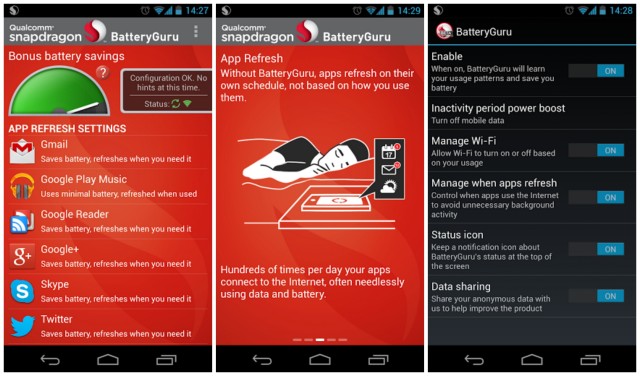 This app is compatible with all smartphones powered by Qualcomm Snapdragon chipset. The user needs not configure the app in any way; instead, the app runs for 2-4 days, learns the usage, and sets itself accordingly. It optimizes the devices without compromising performance in any way, which is a good thing. You get better battery life without compromising on the most important factor i.e. performance.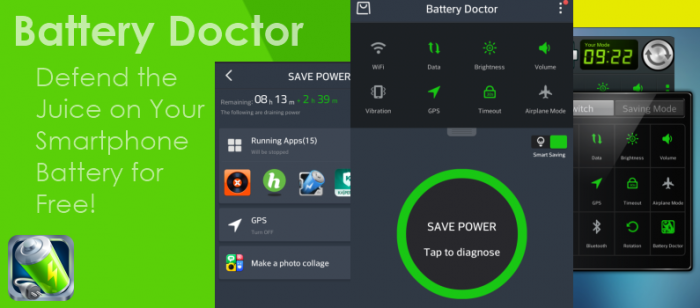 Battery Doctor is free and a feature-packed application. It can act both as a battery monitor and a power saving tool. Battery Doctor allows users to look up charge status quickly and track down those rogue applications and processes that drain your battery. It also offers quick-toggles, so you can toggle power hoggers off when you don't need them. It also features a task killer, though you should probably stay away from that. Android does a good job of managing tasks on its own without any user input.
A useful feature with Battery Doctor is defining the power saving profiles and scheduling the battery usage accordingly. You can set the phone to toggle airplane mode automatically when you're at work or sleeping. (Sometimes both at the same time!). They also have an iOS app available, which increases the credibility of the vendor.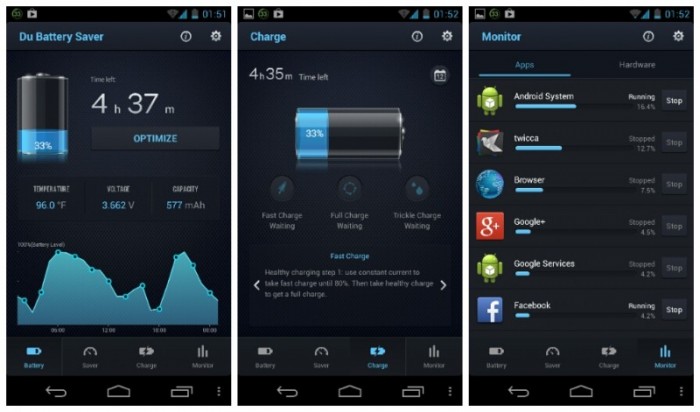 This is one of the most powerful apps to extend your phone's battery life. The DU Battery Saver app includes several "Smart Preset" modes to choose from. You can choose from the various options and find the best balance between battery life and performance suited to your style. It also has one click optimize, which releases background apps and super tunes your battery savings. I found it to be one hell of an app for battery saving, and you should definitely give it a whirl.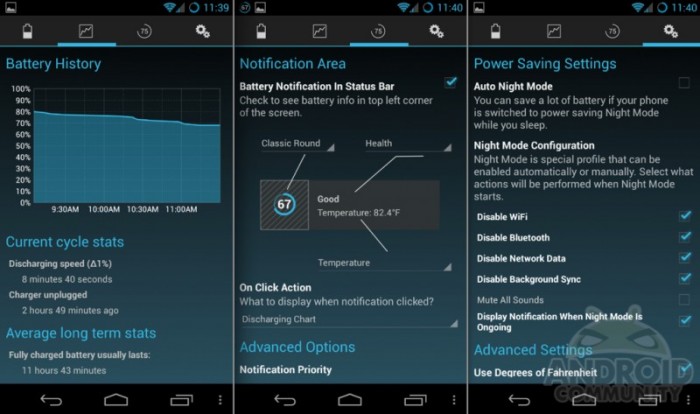 Battery widget reborn is a free app, with limited capabilities. The pro version is well worth $1.99 you pay for it and provides users with an extremely capable battery widget, which includes some power-saver tools as an added bonus. The Holo theme adds to the beauty of the widget, and the theme can also be applied on old devices with the library. It includes a circular charge dial and graph of charge, as well as power estimates and power toggles. A night mode ensures you save battery at night, by scheduling airplane mode to turn on when you sleep.
Apps aside, there are also a few things you can do to get better battery life out of your phone. Don't use navigation? Turn off the GPS chip. It uses a lot of battery life. Turn off Bluetooth and NFC when you don't use them. Not only are they bad for you, they also drain your battery. Turn on Auto-Brightness. Turn off push notifications on apps you don't want to disturb you all the time. For example, NDTV, BBC and CNN have notifications on by default and turning them off not only saves battery life, but also prevents your phone from annoying you every 10 minutes.
The biggest battery drainer of all is the Ad service used on free apps. Although you may not realize it, they run in the background and also use location-based services to give you localized ads. To avoid these, try paying for apps when you can, or use an Ad blocker if have a rooted device. Carrier and manufacturer-installed apps are also battery drainers, but you can always disable them if you don't need them.
Are you a heavy music listener? Use headphones or self-powered speakers. Playing music from your phone's speakers is, meh. Let's be honest, you're just reducing your battery life and listening to terrible audio. Do your ears a huge favor and use external speakers!