Best Call Recorder For Android :- Ever faced a problem of forgetting the crucial decision made, about the next big step, over phone conference? Losing Ideas just because you did not have a piece of silly paper close to you feels terrible! Or may be you simply want proofs of someone saying you something over phone. All these problems could be easily handled if you had a call recorder installed in your Android Handset. Whether automatic or not call recorder can pull you out of critical disadvantageous situations.
Call Recorder for Android has developed so much during the past couple of years that some call recorder now can not only record the conversation but can also email it to you for further usage.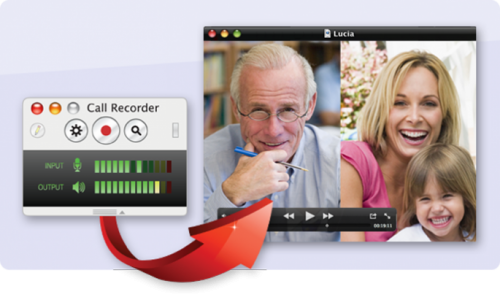 We give you here ten of the Best Call Recorder for Android that you can find on Google Play store including free and paid apps.
Recommended: Best Android Call Blocker
Best Call Recorder For Android
One of the best call recorders for Android in our view is the Call Recorder ACR. This app runs on most Android versions and devices. This app features both manual and automatic call recording. You can protect your recorded private conversation with passwords and auto delete your old saved conversation. Recording formats that are available are 3GP, MP3, AAC, WAV etc.
Call Recorder is next in the best call recorders for android which has a good recorded call managing features. Call Recorder starts recording automatically right after you install this app. Using this app is easy. All you have got to do is install this app and it will do the rest for you.
RMC records call silently. So if you want to be sneaky about call recording this is the right choice for you! RMC is also free and pretty simple to use. Although the call recording is not automatic and you will have to enable it first to start recording calls.Easy Voice Recorder
Easy Voice Recorder is sort of Jack of all Trade kind of app that not only records voice but also records calls. You can use this app for personal notes, important meeting conversations or classes recordings. You can also keep a back up of all your recording via you Laptops or Desktops. This app also records in background and not much resource hungry. Although records are only available in AAC or PMC formats.Call Record Pro
Call Recorder Pro offers good walk through while installing it. Not all device supports call recording and Call Recorder Pro warns you of that beforehand and gives you some settings option to try out for better experience. This app supports auto deleting of old conversation but you can also lock some conversation from auto deleting. With the pro version you can also share recorded voice calls as well as the recording quality.
Bad records of calls not only make the situation exacerbating but also frustrating and Call recorder Pro handles pretty well by letting you choose the record quality to get required audio quality in expense of space available on your device.
Easy Voice Recorder Pro includes all the features of the free version of this app with some additional features like boost gain on microphone, resume capability of previously recorded conversations. This app let you also choose which recorded calls get to be deleted automatically after certain period of time. Easy Voice Recorder Pro has toggle option for automatic and manual recording through a nifty widget.
The interface is quite simple but intuitive at the same time. Although the call record quality varies on different devices but on good side it also has the automatic record capability with manual recording by a single tap on button during conversations. Call Recorder Pro records calls and send it via email for further use. Other minor features are auto delete old recordings, contacts photos and many more.
This app does exactly what the name suggests. Automatic Call Recorder Pro records calls automatically. One interesting feature we found is the options to records calls that are not from your contact lists making it very easy and space convenient for recording prank calls from random unknown numbers. This app also has auto delete old records features. With the recent update you can now integrate your Dropbox account for backing up the recorded calls.
All Call Recorder Deluxe records both outgoing and incoming calls and saves it in 3GP files. You can then send the recorded calls to emails, Skype or any other cloud storage. You can choose between automatic and manual call recording.
Super Call Recorder records call automatically in real-time. It records both sides of the voice calls in clear sounding quality. All calls are recorded in MP3 formats and can be sent via e-mail, WhatsApp or other cloud storage. Super Call Recorder is free and has built-in playback feature.
So that ends our best call recorder for android list. Let us know what do you think about this list in the comment below.