WordPress is a powerful blogging platform , but WordPress alone is nothing. The wordpress plugins available with this tool is pretty impressive, especially since they are very practical.
Create a poll on your website or blog can be very useful and attractive. The poll (also called vote) may have several objectives like a trader can for example insert a survey to know the opinions about a particular product. Also polls and survey can be used to get your readers opinion and even new article idea. For bloggers who are not familiar with with HTML, PHP, CSS or JavaScript, WordPress poll plugins can be a great idea which don't require any technical skills.
There are a lot of useful WordPress poll plugins where you can download and use for free but test them all can be a hard process that's why in post below, we have collected top 10 best wordpress polls plugins that can prove highly useful for bloggers.
WP-Polls is extremely customizable via templates and css styles and there are tons of options for you to choose to ensure that WP-Polls runs the way you wanted. It now supports multiple selection of answers.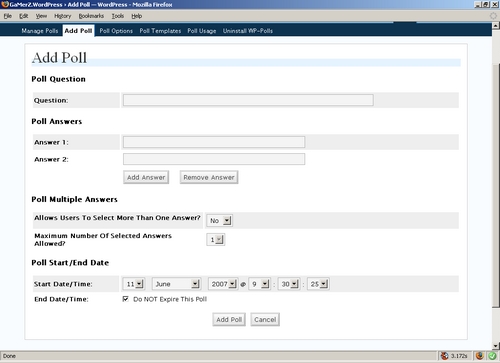 The Polldaddy Polls and Ratings plugin allows you to create and manage polls and ratings from within your WordPress dashboard. You can create polls, choose from 20 different styles for your polls, and view all results for your polls as they come in. All Polldaddy polls are fully customizable, you can set a close date for your poll, create multiple choice polls, choose whether to display the results or keep them private. You can also create your own custom style for your poll. You can even embed the polls you create on other websites. You can collect unlimited votes and create unlimited polls.

The Opinion Stage social poll plug-in allows you to easily integrate a social poll in any blog post/page. The social polls are designed to both improve user engagement and to drive additional traffic from social networks to the page in which the poll is embedded. The social poll plug-in is completely free and is easy to install and use.

The plugin allows you to add as many options as you'd like for each poll that you create. You can also style these in any way that you'd like – just pick your favourite colours on the Add New Poll page. If you don't have enough options, just add a new one by pressing the button.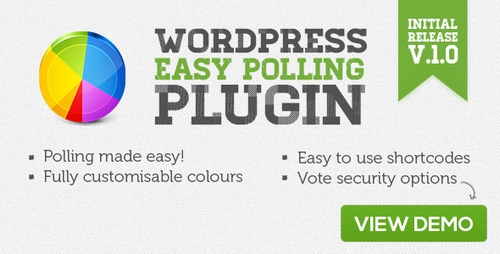 Quickly and easily create free, customized polls for your blog with the best WordPress poll widget available. Add polls to your blog to create an engaging experience for your audience and keep them coming back for more.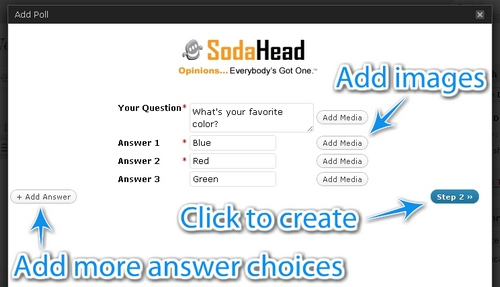 YOP Poll plugin allows you to easily integrate a survey in your blog post/page and to manage the polls from within your WordPress dashboard but if offers so much more than other similar products. Simply put, it doesn't lose sight of your needs and ensures that no detail is left unaccounted for.

The plugin gives your website visitors and area of your site they can become involved and addicted to. You can run "Would you rather" type polling games, and even allow your website visitors to contribute to the polling. The plugin can help you understand what, out of two options, your website users prefer. This is a good way to implement A/B testing and through it you can find out…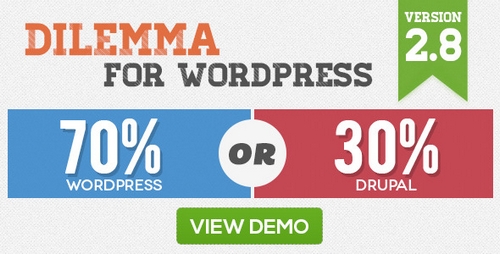 The Skysa Polls App allows your members to vote on hot topics which you create. Easily add and delete polls. Set the way the dynamic polls ajax window displays; set the polls window position, poll window size and poll window title.

Pollify is a simple wordpress poll widget comes with 3 layers of security, 5 languages with RTL support, easy to use and setup and Google analytics integration.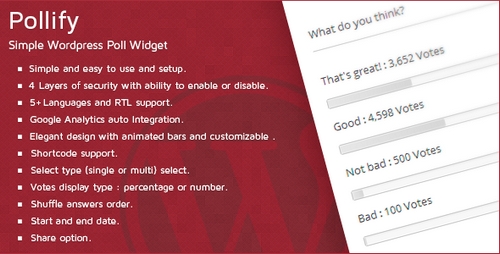 Creating polls is now easy! With this plugin you can easily create a poll, add it to a page or post and users can instantly vote. Allows the creation of unlimited polls with up to 10 answers each. Theming is also possible by altering the files in view/client (though hope to improve theming greatly in future updates).