There is only few ways one person can gain Bitcoins, either through Bitcoin Mining, or transfer from friends or other persons or simply purchasing them with real cash. In the case of purchasing Bitcoins with PayPal, there is no direct and secure way but there still is a workaround for it. Here is how to purchase bitcoins with PayPal easily.
Buy Bitcoins with Paypal via VirWoX
VirWoX stands for Virtual World Exchange. It is the most trusted site for bitcoin purchase from PayPal. Technically, we cannot directly purchase Bitcoins from PayPal in VirWoX but instead we purchase SLL (Second Life Lindens) and exchange it later with Bitcoins.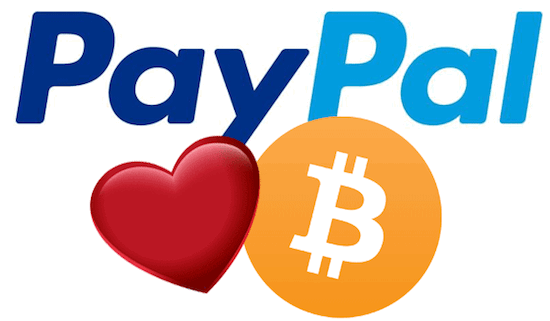 There are few things you need to keep in mind before buying Bitcoins with PayPal proceeding.
This has huge amount of transaction fee included (Nearly 10%)
For higher amounts of purchase than 90 EUR or $110, you need to wait for 10 days.
The transactions may take around 2 days to complete.
It is the safest and secure method of all, but still it has its own risk and since the value of bitcoins, SLL are not constant, you might get less or more Bitcoins than current rates of Bitcoins.
Let's get started with Buying Bitcoins with PayPal:
Go to VirWox.com
First, You need to visit the VirWoX's website on http://virwox.com. It has around 50,000 users and is a market place for exchange of Bitcoins, Lindens and other coins.
Create New Account

Click on the Not Registered Yet link on the VirWoX homepage. It will open a new page and you need to enter your personal details for new account creation. However, in the Avatar Name is not needed so you can ignore that field. After filling in all the details, click on Register button below.
Verify Your Account
After you click Register button, VirWoX will send you email with the password. You can log in using the username and that password sent on your mailbox.
Note: It is suggested to change the password since it is a monetary transaction and safety is most in such cases.
Fund your Account Through PayPal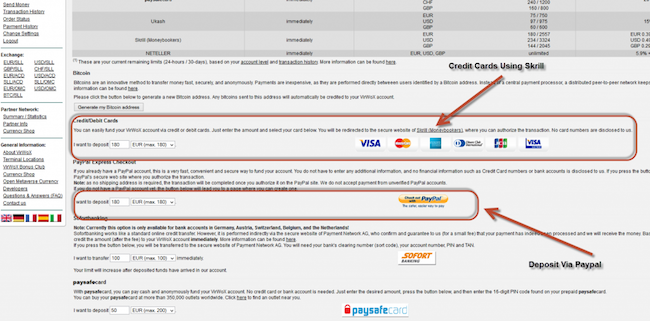 After logging in (and changing password), click on the Deposit menu on the left side. This will open a page asking for amount you can to deposit into VirWoX account. Enter the amount and click on Pay with PayPal button. This will lead to the PayPal page where you will be asked to confirm the transaction and that amount of money (minus service fee) will be added on your VirWoX account.
Exchange your currency (USD) to SLL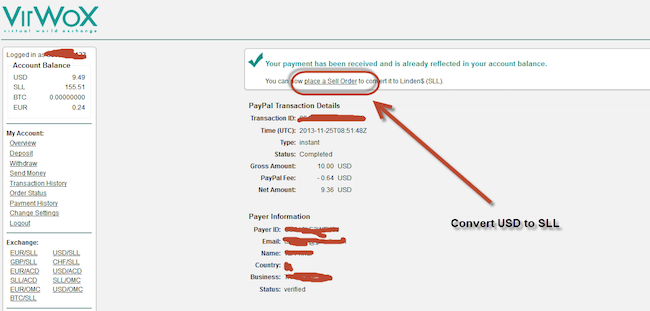 Click on the Exchange USD/SLL Link on the left of the page. It will load a new page where you can buy SLL (Second Life Lindens) which will later be used to exchange to Bitcoin.
Exchange SLL to Bitcoin (BTC)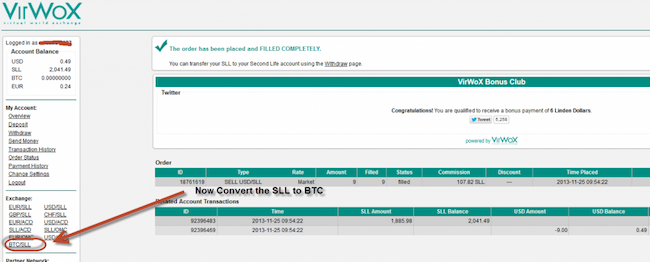 Now that you purchased SLL through your PayPal, click on Exchange: SLL/BTC located on the left side of the screen. It will load another page asking you to exchange SLL to Bitcoin. Fill the form and click Next > button.
Note: A manual review may happen, so this process may take up to 48 hours for approval of SLL to Bitcoin.
Withdraw Bitcoin to your wallet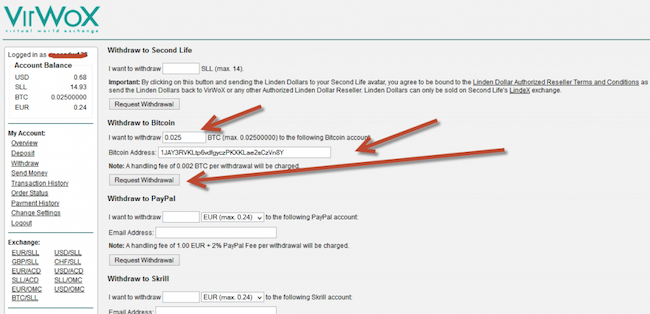 After the approval, click on the Withdraw link on the left side of the screen. It will ask you to fill a form mentioning specific amount of Bitcoin you want to withdraw and your Bitcoin Wallet address. Fill the form correctly and click Request Withdrawal button.
That's it. This is the most secure way of purchasing Bitcoin using PayPal.
Note: There are few other options available like CoinDesk.com and PaxFul.com which are either limited to specific number of country or are not so well secure and trusted. VirWoX is the most trusted and there are no reports of scam in this service.