No, Clash of Clans has not been released for Windows yet so gamers who don't own an Android phone or an iPhone have to either buy of the supported devices or find a way to play the game on their device running Windows 10. Let me tell you, playing Clash of Clans on Windows 10 or Mac isn't a big deal as there's an app specially made for emulating Android games on Windows 10. Yeah, I'm going to talk about Blue Stacks for Windows 10 or Mac OS.
Download Clash of Clans for PC Windows and Mac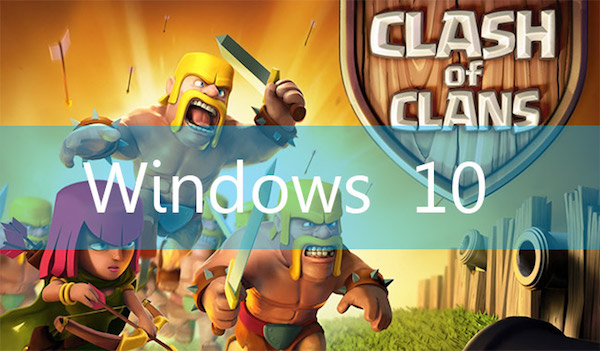 Yeah, you can get excited right now as the installation process won't take that long. Blue Stacks is nothing but a popular app designed for emulating Android games on Windows. Down it now to begin the installation process.
About the system requirements, of course, if you have a device running Windows 10 then COC will work like a charm on your rig.
However, if you have a PC that supports touch then the experience is going to be really awesome as all functions that work on Android will come on your PC but that doesn't necessarily mean that a mouse won't get the job done.
Blue Stacks Installation Process
You will start by downloading Blue Stacks (link above). At the moment, Blue Stacks v2.5.61 is available for for Windows and Mac OS. Since the file size is around 300 MB, the download will take a considerable amount of time to complete. Once the .exe or .dmg file becomes available on your PC, just go through the regular installation process (yeah, the installation will also take time to complete). Did the Blue Stacks icon appear on your desktop?
Well, whom are you waiting for? Click here to get started!
Of course, if you are launching the app for the first time, it's going to take a bit long to load all those stuffs. You might also have to let the app download updates regularly.
So now, it's time to install Clash of Clans on your new Android phone. Hell yeah! You are now running a full Android thing on your PC so you will be able to download most of the apps from Play Store and run them as apks on your PC. Locate the download the Clash of Clans apk from the built-in app store on the Blue Stacks. As far as I know, it's the same Google Play Store.
If you are having issues installing Blue Stacks on your PC, I would highly recommend you to check out a video on YouTube regarding the configuration of Blue Stacks. If the app doesn't respond, you can try hard resetting your system.
Let us know in the comments if you enjoyed playing Clash of Clans on your PC. If you have any issues, you can ask us questions here and we will get in touch with you.