Do you know why the wealthy age gracefully? One study in England found that having a comfortable living space may slow down signs of aging. Your living space consists of the place you sleep, the place you eat, and the place you sit.
On average, American adults sit six and a half hours a day – that is a total of 2,373 hours in a year. With that much time spent sitting, it pays to have a good chair. If you spend most of your time in your living room, getting nice living room chairs will undoubtedly pay off as you get older. If you're still not convinced, below are seven reasons having good chairs help with graceful aging.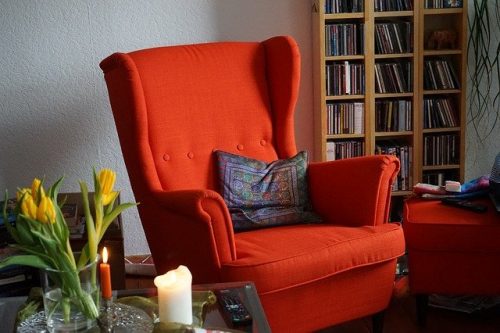 1. Ergonomically Designed
With chairs, ergonomics plays a crucial role in ensuring comfort. Ergonomics is a science that studies the limitations of human movement and how to apply it to the things we use. Chairs appeared thousands of years ago — as far back as the ancient Greeks. But since then, there has been little to no changes in the chair's design.
Ergonomically designed chairs, however, dramatically increase the comfort that ordinary chairs provide. If sitting on a plastic chair can make you feel comfortable, sitting on an ergonomically designed chair will make you feel like sitting in paradise.
2. Relieves Stress In Joints
Have you ever sat for so long and stood up with a painful hip or knee? When you sit in a chair that does not fit your body, it puts a lot of stress on your joints. Your hips and knees are often the ones that take enormous pressure when you sit down for too long in a chair that does not suit your body. Over time, the pressure built up on these joints could lead to arthritis, dislocated joints, and chronic joint stiffness. A good chair that fits your body's anatomy (height, weight, shape, etc.) will delay and reduce the chances of having joint pains and joint problems as you get older.
3. Reduces Bad Posture
One of the biggest problems of people who work in desk jobs is having a bad posture. According to studies, most of the world's population has poor posture. Living a sedentary lifestyle, working eight or more hours a day in a desk job, and using technology causes our poor posture; this is especially true for those who sit on badly designed chairs for a long time. Though poor posture is regarded by many as an aesthetic problem, many studies on posture have proven that having a poor posture can lead to serious health problems as you get older.
The good news is that you can correct poor posture. All you need is the commitment to fix your posture, proper posture exercises that strengthen the shoulder and chest muscles, and a good chair that helps reduce the habit of sitting in a bad posture.
4. Can Reduce Emotional Distress
It may sound ridiculous to think that the chair you sit on can cause emotional stress. However, studies have shown that there is a direct correlation between environmental comfort and mental health problems. And yes, that includes the chair you are sitting in.
When workspaces or homes do not have furniture that promotes comfort and relaxation, it becomes difficult for you to function and work efficiently, leading to poor work performance, anxiety, and stress. The distress caused by discomfort is often the top reason workers take time off from work. With the right furniture, your quality of life can improve, and your capacity to work increases.
5. Lowers Spine Damage
Your spine is one of the most crucial parts of your skeletal system. Without it, standing up and even sitting upright is impossible. It is critical to take good care of your spine with the right chair for your body. When sitting, the weight of your upper body presses down on your spine and hip. But when you sit on an uncomfortable chair or position, your spinal cord receives more pressure than it should to keep your body upright and avoid it from falling over.
This extra pressure can cause major spine damage in the long run, especially as you get older. Spine problems like having a hunched back or vertebral fractures are common for people who sit on uncomfortable chairs for long periods.
6. Promotes Better Blood Circulation
Poor blood circulation in the body can have dire effects on your health and lead to cardiovascular diseases in old age; factors like lifestyle, diet, and even the way we sit all contribute to how well our blood circulates in our body.
Sitting in an ordinary chair does not instantly mean you will have poor blood circulation. But it is a contributor to bad posture and constricts the flow of blood from your heart. Bad posture is one of the leading causes of poor blood circulation.
The right chair will reduce that slouching and body contortions. And help spread out your limbs to help the flow of blood in your body. When blood can freely circulate throughout your body, your lungs and heart function more efficiently. Your immune system also gets a boost when blood circulates your body better because white blood cells are transported faster.
7. Better Body Mobility
Lastly, the right chair helps your body's mobility. As you get older, your body loses muscle strength and bones become denser, which results in a reduced range of movement. This process is sped up when you sit in chairs that do not fit your body because many of your body parts are contracted, giving no space to stretch.
When you have the right chair, your body has enough space to change into different positions. Changing positions helps ease pressures on strained joints without having to stand up for a stretch. When muscles and bones get to stretch after staying in a stationary position, it reduces the chances of a breakdown in old age.
Conclusion
There is no denying that sitting has been a large part of our lifestyle ever since we were young. With the amount of time we spend sitting daily, it's critical to invest in a chair designed for your body. There's no doubt that the right chair will improve your comfort, productivity, and health.