PDF format is one of the most popular document formats, which is often used for the storage and transfer of business documents, letters, instruction and other electronic documents. The convenience and widespread use of this format is because PDF documents are easy to read and compatible with a wide range of devices — they are compact, support different types of text, image information and objects – including multimedia elements and graphs. PDF's also support secure transfer of information from one party to another.
To view, edit and delete PDF documents, you can use official PDF reader software from Adobe or third-party applications such as Foxit and more. You can find more PDF readers here.
In our time, people share lots of information every day on the Internet. The IT solutions save time and money are changing the landscapes of the market.
This review will focus on online applications that allow you to create PDF documents from a variety of other document formats and images. The topic covers the question when it is preferable to use online converters, what amenities and benefits they provide and what tasks they are able to deal with.
How to convert Word documents to PDF Online.
The first in our review is multifunctional online document converter Go4convert.com.
In cases where you need to send an important word document and you want to secure the transmitted information, keeping readability intact — saving document into PDF format does the trick.
Using a online PDF converter simplifies the process without the need of downloading or installing any 3rd party applications in the computer.
Go4Convert.com solves the problem and you can easily convert the word documents in PDF format.

Go4convert-fast and convenient online service that converts documents of various formats into PDF. Transforming documents are done online, i.e. you do not have to install anything on your computer.
To convert, you simply select the file you want to convert to PDF format, and then automatically starts the document conversion. Literally, in a matter of seconds you receive a document in PDF format.
Unlike many other similar services, Go4convert has no limitations for the size of the uploaded file. It is important that when you convert documents that contain various tables, pictures, photos, the converter retains the quality of elements and the structure of the source document. The converter also supports Cyrillic.
PDF Converter supports the following document formats that can be converted to PDF format: DOC, DOCX, XLS, XLSX, RTF, HTML, HTM, TXT, ODT, EPUB, FB2, DJVU.
PDF Converter converts to PDF not only various document formats, but also images, such as GIF, PNG, JPG, JPEG, WMF, TIF, BMP.
Go4convert provides its users with yet another useful function when working with PDF documents. This task is known as "merge together and split the PDF" .When you need to insert new pages or split the document into multiple documents, this task is simply irreplaceable.
Go4convert's online services are easy to use and extremely efficient for all your file conversion needs.
How to convert a PDF document to a set of images online.
Sometimes you would like to convert a PDF document to an image or set of images. For example, some Internet portals or social networks find it more convenient to place information in the form of picture retrieved from different texts documents or not compressed images. At this point, users look for the possibility to compress and minimize images to different picture formats such as JPG, PNG etc. The conversion will also reduce the size of the image. Here are we coming to another free service to convert PDF documents into images –
Converting images has never been so easy and we are proud to introduce another free service that will take care of converting PDF documents into images. — The Convert-My-Image.com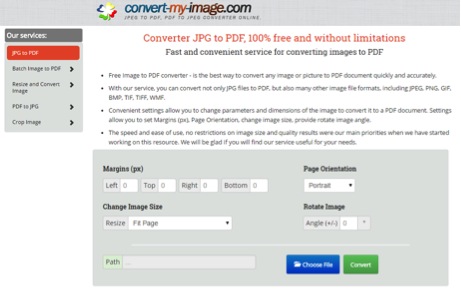 This online service provides a convenient way of converting PDF to image. The service is totally free and has no limitations on the size of the uploaded file. To convert PDF files to images you need:
– Go to the website of the converter
– In the left menu, select task 'PDF to JPG'
– Select a document to convert into PDF file
– In the "Choose Image Format, select the format in which PDF will be converted to (supported formats are JPG, GIF, PNG, BMP, TIFF)
-By demand, you can set the image quality and the page size of output document
– To start the conversion process press the button "Start", conversion takes a matter of seconds.
Everything is simple and fast.
Sometimes, there is a situation when you have a bunch of images or an archive containing images.. In this case, it would be more convenient to convert the images into a single PDF document that can be easily stored and viewed on any computer or tablet.
Online converter convert-my-image allows you to convert selected image formats to PDF, as well as a set of images in the PDF. To create PDF from images, two tasks are created: JPG to PDF and Batch Image to PDF. When converting a set of images in PDF, you need to pack your images in a zip archive.
With convert-my-image.com, you can convert a wide range of source files (e.g., JPG, PNG, BMP, GIF, TIFF, WMF, etc.) into PDF format, and you can adjust certain parameters such as size, margins and page orientation in order to create your ideal PDF document.
When it comes to fast, convenient and free image conversion, convert-my-image.com is a must-have tool for your business.
Multifunctional online documents and images converter.
Another highly equipped and versatile online document processing services website called Multi-Convert provides a wide range of conversion options.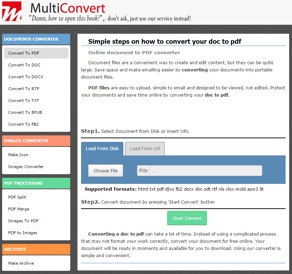 This converter combines a large number of different converters for conversion of Office documents, e-books and images.
Multi-Convert comes with additional features such as PDF split, PDF merge, Images to PDF and PDF to Images as well.
Similar to Go4Convert, Multi-Convert also boasts a large number of supported formats that include HTML, TXT, PDF, DJVU, FB2, DOCX, DOC, ODT, RTF, XLS, XLSX, MOBI, AZW3, LIT, EPUB and many more.
Apart from the wide range of document formats, Multi-Convert also supports numerous image formats including GIF, PNG, J2K, PGM, PPM, TIFF, JNG and many more. It also includes image-processing features such as margining and rotation.
To create icons from other image formats multi-convert proposes the task to 'Make Icon'.
Also added the ability to create zip archive.
Apart from this, Multi-Convert has the additional option to load the file to convert directly from the URL, saving a lot of time.
Online converter multi-convert features versatility, intuitive interface, no limits on the size and number of sequentially uploaded documents. The tool has fast conversion speeds and also preserves the quality of the original documents.
Wrap Up
Converting files is always a time-consuming act and with the help of all the tools and online websites listed, you will now have enough options to convert your PDF files.
Think, I missed something? Comment below and let us know.