Wanna turn your Android into an alarm clock? Well, 'My Alarm Clock' is gonna serve you the best. This app is not just a boring alarm clock which wakes you up at 6. In fact, it will start your day off with your favorite track and it will also push you to sleep on time.
My Alarm Clock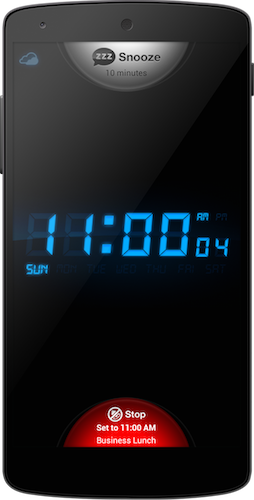 The most amazing feature of this app is that it brings you the latest weather information so you can plan your day accordingly when you wake up in the morning. The clock is kinda digital and you get every information including date, time and all those stuffs.
Pros
The app is, for sure, rich in features. It's going to wake you up in the morning with Justin's tracks when it's time to pour your steaming hot coffee on the mug and of course, Justin will continue as long as you don't snooze. It will also make sure that you get to meet your boss on time. Yeah, the app will keep running in the background so don't worry about fluid being drained out.
When it's time for bed, the clock will play a 'time for bed' tune so say 'Goodbye!' to sleepless nights… Wake up often at night? Do you pull up your phone every time to see how much of the dark you have been through? The nightstand mode built in the app will turn your phone into a bedside clock as well.
More Pros
There are two fabulous faces available for the clock (it's up to you to customize). The home screen will show you the time so you don't need to pull anything to know if it's time to leave for home. Additionally, the clock features local weather so you will know early if you need to turn on those wipers on your way home.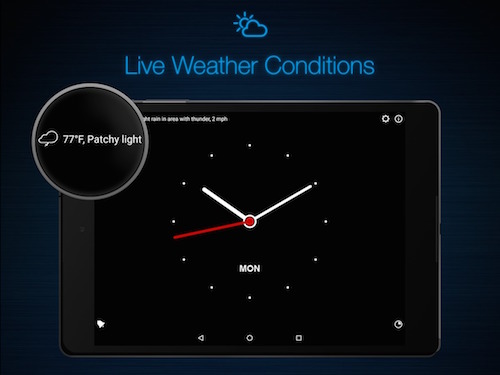 You are definitely going to love this clock. Well, what if you can wake yourself up in the morning? No, I'm not talking about time traveling. You can even use your own recording as wake up tone in the clock.
Do you have hard time locating the lamp switch when you wake up? This clock also features a built in flashlight so that you don't have to start your day with a serious struggle for reaching the switch.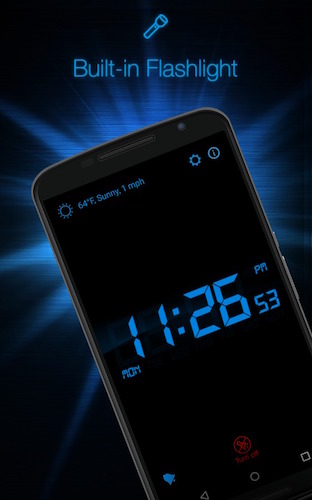 App Permissions
The app needs no special permissions other than Camera in order to use the flash and Location to come up with the latest weather information.
Also read:
Top Five Android Apps to Manage Your Daily Expenses
5 Best Fax Sending Apps for iPhone and Android
To sum up, I really enjoyed using 'My Alarm Clock' because it's the clock I always wanted to have by my bed. I start off with the Chainsmokers and have never missed a da… and I always know if I should take an umbrella while going to work. Highly recommended if you want to be more productive.