A small scale or medium scale business often tries to avoid the complexities of implementing an advanced structure like ERP ( that helps make their inventory) and CRM (that helps maintain a track of their potential customers). However, in this mobile age, if you are not using automated technology to proficiently and expeditiously manage various elements, you will most probably lose most of your business.
Today, it has become imperative to rev up with the rapidly advancing technologies if you really want your business to attain a sustainable success in this wobbly marketplace. By automating the core functionalities you can stay productive and generate greater profits. Fortunately, there are several useful and affordable softwares available out there that have made it easier to automate business functions without compromising with the performance and quality. Moreover, you may also choose to hire professionals to get a custom app to accomplish the task with a greater precision.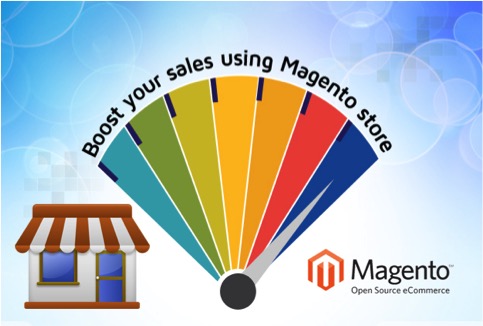 Although there are several options available around, implementing the Magento platform along with your Business softwares for CRM and ERP offer an invaluable solution. This has been possible due to the open source nature of Magento, which empowers one to tinker the platform in a requisite manner.
Why Magento must be used with CRM and ERM to proficiently augment an online business?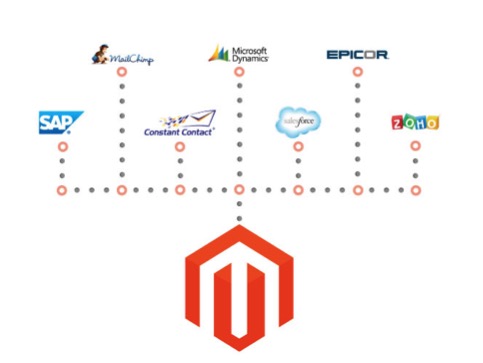 No doubt, Magento is a powerful CMS that offers great benefits to online retailers, but it requires manual efforts to accomplish some essential tasks. For instance, to extract order details and arrange data in your enterprise software, to place the orders with the courier service department, and so forth, you need a team to manually work upon it. This certainly adds to the expensive administration, and make processes more time consuming, while increasing the probability of errors.
Luckily, there is a great solution that breakthrough this issue and delivers outstanding results. And, it is by integrating Magento with CRM and ERP systems.
By choosing this solution, you can seamlessly and flawlessly maintain a track of your sales, list of customers, inventory, and other crucial business-related processes. Since, you don't need to handle every part of the software individually, you can work smoothly with this remarkable business solution.
CRM and ERP systems that can be used with Magento
There are several low cost and valuable ERP and CRM systems, which you can use with the Magento eCommerce. You may seek a suitable one to make the entire solution an affordable piece for your company.
CRM – Customer Relationship Management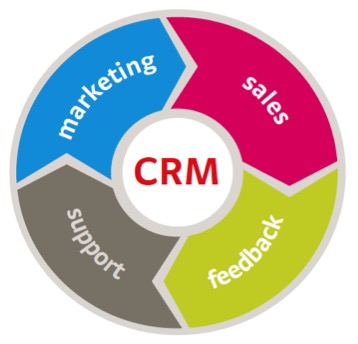 In order to maintain a healthy and prosperous relationship with customers, businesses often choose to adhere a strategy that helps handle all the interactions between a company and its potential consumers. This approach is known as Customer Relationship Management (CRM). With this approach, some technology (an application) is used to arrange, synchronize and automate various business processes like customer service, technical support, marketing and more.
Let's ponder into some fabulous CRM softwares that can be integrated with Magento.
Salesforce: A leading cloud-based CRM service provider, Salesforce is lauded for its invaluable services. It offers a web-based system that can be accessed with a breeze across the globe, all you need is an Internet-enabled device to reap its benefits.
Microsoft Dynamics: You can rely on Microsoft Dynamics to deliver a fruitful customer experience. It helps develop long-term relationships with customers.
Infusionsoft: Exclusively recommended for startup or small businesses, Infusionsoft offers an excellent online marketing and sales solution.
ERP – Enterprise Resource Planning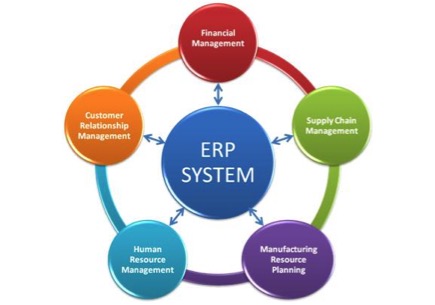 An Enterprise Resource Planning (ERP) software is essential for proficiently managing data of various business activities like inventory management, service delivery, shipment, marketing, payment transactions, and so forth. It basically embraces core business processes that are maintained in real-time via common databases.
Here are some prolific ERP softwares for your consideration.
Sage: With support for various products, Sage makes a great choice as an ERP software. It helps boost the performance of an entire organization.
Oracle: Oracle is a popular database company across the globe that can proficiently cater to the ERP needs of an organization. It makes an invaluable choice for large-scale enterprises.
SAP: SAP is a versatile ERP solution provider that delivers ultimate solutions for any type of business.
eCommerce offers a brilliant way to automate online business processes like transactions, inventory update, etc. Thus, by integrating Magento with your ERP and CRM softwares, you can accentuate your profits and manage your online business with a flair. Give the automation wheels to your business and experience an increased efficacy that will definitely bolster your brand value while adding to your credibility.
Author Bio: Claudia Johnson is a professional psd to responsive magento theme conversion expert working with Magentax Ltd. She has delivered interesting write-ups on Magento development tips and tricks for novice and professional Magento developers.