It doesn't matter if you are a businessman or skater guy, t-shirts are the most essential pieces in your wardrobe. There are different styles of t-shirts that you can combine with other pieces to suit different occasions.
The name of this garment is called T-shirt just because it creates a T shape when laid flat. T-shirts are an important part of your fashion, which is why in today's article we will take a look at some of the things you should consider before purchasing tees that catch your eye.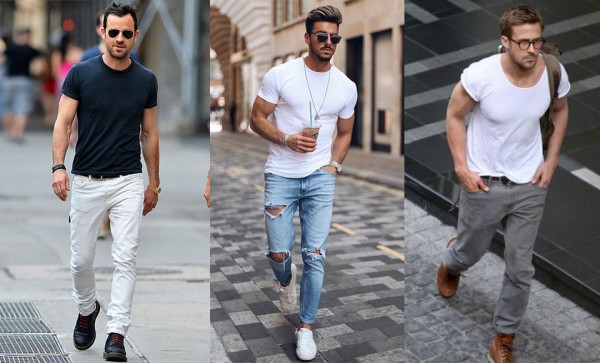 There are few things to consider such as neckline, fabric, fit, and design.
T-Shirt Fabrics
When choosing a fabric for your t-shirt, the goal should be to go with something that you are comfortable wearing. The most preferred choice is fully cotton tees just because they are relatively affordable, the fabric is breathable and easy to care for.
However, not all cotton tees are the same. There are different types of cotton and the quality of the tees is measured by the weight of the materials used for making the tees. Premium cotton is a lot stronger and has a smoother texture. Somehow, it feels more luxurious and has a price tag to match.
Some of the best subscription boxes like Wohven, include high-quality cotton tees that are perfect if you want comfortability. If you want to find the best t-shirt subscription boxes visit FiveBoxes.com.
Slub cotton is also a very popular t-shirt fabric at the moment, and it adds a rugged texture to the cotton fabric.
Linen tees are trending only through the summer just because they are very lightweight and dry quickly, unlike cotton which tends to absorb moisture.
Fit Styles
The material won't do you any good if the t-shirt doesn't fit your body. There are few things you should consider when deciding on the fit of your tees, and finding the one that fits you perfectly will make a great difference.
Slim-fit t-shirts are great for showcasing your body curves, while oversized styles add some cool factor to your look that is very popular at the moment. The basic choice is not too slim and not too loose. These T-shirts are labeled as "Regular".
When it comes to style, there isn't a secret recipe for looking good. Every man looks differently with each t-shirt style, so choose the one that works best with your body.
Type of Neckline
When it comes to t-shirt shape and design, there isn't much to change except the neckline, which can make all the difference. There is no discussion that the most prevalent type of T-shirt is closed. This type of t-shirt is identified as a round circular collar worn with many different styles from casual to business look. This is the type of garment that you'd want every color of it in your wardrobe.
The second most popular choice is a V-neck, which is a bit brave for some people with current trending styles. You have to combine your V-neck tees with other garments perfectly in order to look good.
This is an ideal option for undershirts, especially if you wear a classic shirt.
Henley is also a very interesting style that is also known as the Y-neck tee. These types of t-shirts are perfect if you want a more classic and business-like look that can be worn at meetings.
This type of t-shirt is similar to V neck t-shirt just with a few buttons on the bottom. You should unbutton the first button to show a peep of your chest that can be combined with a blazer for the perfect look.
There are other neckline styles that are less popular such as boatneck and scoop styles. These types of styles have horizontal necklines and scoop neck designs have exaggerated circular necklines for a more casual and relaxed style.
Final Words
These are some of the things that you should consider when buying t-shirts.
As you can see, t-shirts are an essential part of men's clothing and they can be combined with other garments to fit every style you can imagine.