"Investing in mobile apps is no walk in the park."- But,
If you think that mobile apps are only for big name brands like Facebook, Amazon and Bank of America, you are wrong. These Days, More and more Small businesses are following the mobile app trend. You will notice that many businesses you interact with in your daily life have their own mobile app.
"My Business is doing well, and I don't see a reason to invest in Mobile App development bla bla bla…."
10 years ago, that line was acceptable but today it's not, things have changed my dear good friends.
10 years ago, we did not have smartphone.
10 years ago, we did not have android, iOS, Blackberry etc.
10 years ago, it was a different world in mobile industry.
In this mobile and digital era, the smartphones are bringing a revolutionary change in the mobile space. More than 22% of people are using mobile. Today, leading app stores are having more than 3 million mobile apps. If we talk about the business, the mobile apps changing the face of entire business world. Businesses own mobile apps get more conversions and satisfied clients as compared to other competitors in the market.
Signs You Should Invest in Mobile Apps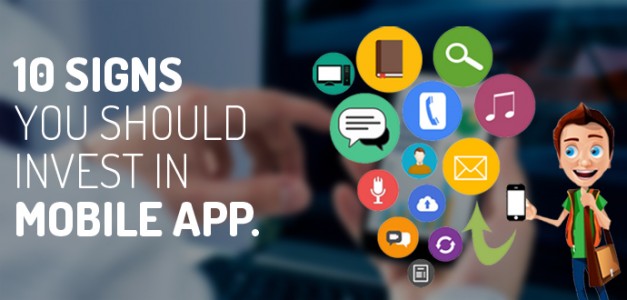 Still you are not sure why anyone would want to invest in mobile app development here are the top 10 sign of going down.
Your Competitor has a Mobile App: This is number one sign to invest in mobile apps because your competitor is on app store and you are not. It is wise to take a big leap ahead of your competitors when you already know that small businesses are still using mobile apps very rare, so it candidly would help you get a greater reach. You should focus rather to be the first one in the market by offering a mobile app to your customers. Your customers would be surprised to see your forward thinking approach which would eventually allow them to store their full confidence in you.
Your customers are now on Mobile: – Statistics show that the smartphone users spend on average of 180 minutes per day on their mobile. Customers are using their smartphones to find local businesses. With mobile apps, your business is right in the user's palm and it's wise to make a best use of it y developing a mobile app for our business and then launch in the market.
A Great Way to use Social Platform: – Now a day's people spend a lot of time on social media especially on Facebook and Twitter. You can connect them by integrating social features such as comments, likes, reviews in your app It will help your business and improve its social standing and we all know "mouth publicity is best publicity". Remember we are by nature social beings and mobile app development is the future of social interaction. A great example of this Amazon that has recently built its own app.
Build Brand: – whether you are small or a large business, your goal is to make the customer aware of your brand right. By investing in mobile app you can make your brand name and recognition among mobile users. A mobile app for your business can greatly contribute to your brand awareness. A mobile app is like a blank billboard sign you can do what you want with it. Creating brand identity through mobile apps is considerably easy by producing ads through mobile apps, a company can leverage their brand to increase their user base.
Your Business is open 24/7: Imagine a second you are idle at the odd hours and you want to buy something. Will you prefer to switch on your personal computer and laptop and go to physical store or simply touch your smartphone screen and open an app? Surely the phone right! Your business location only be open for specific hours and days. With a mobile app you are available to customers 24/7 hours a day.
Mobile Apps are Convenient for Users: – Mobile is easier to handle than desktop and laptops. That's why mobile apps always are easier to use than websites. Apps are usually designed with utmost focus on usability and flexibility. Once installed, the application will help its users to reach at your services. It's really easy for user to reach your services through mobile apps. All you need is to device a unique way to convince your customer, so they install the mobile apps on their smartphones, and that can be done only when the customers will get a value through that app. So if you want to make the mobile apps users fall in love with your application, you must find something different and unique ways that would impress your audience.
Customers have an emotional relationship with their Phones: – Research has shown that people have a more emotional relationship with their mobile phones specially women. Today we can live without food but not without Mobile phone. You can benefit from this by providing a personal experience with apps in mobile that extends the emotional connection with products and services.
Apps Boost Interest: – When you build an app, it provides an easy way to showcase your products and services in front of your existing and potential customers. Each time if they want to buy something, they can simply use it. With app you can update the content and notify them through push notifications. It will create a direct way in between you and customers.
A Larger, Younger Audience on Mobile: – Due you know almost 75% of the younger generation will have smartphone by the end of the year 2016. Young Generation is found to be spending most time on mobile phones and that shows how hard it is to engage the young generation using outdated technology. Mobile phone have become a new tool for browsing, purchasing products and services. To reach this kind of audience you need to invest in mobile app development.
App Indexing: – Last but not least, Now Google is indexing mobile apps and showing in search results. By creating a mobile app you get immediate access to the app indexing process which allows your apps to be easily found in Google search result. Mobile users who are searching for the content related to your app and your app is rank on Google, will have a chance to install. It will also help you to increase visit to your apps and website.
Author Bio: Mozrif is an analytical and versatile digital marketing evangelist, consultant, content writer at WeDigTech – Mobile App Development Company. Focused on helping businesses — from domestic to MNCs.