To smartphone users, it may seem as if new apps appear out of thin air and that they magically work properly the moment they appear. You know app development, so you know better than anyone how much time and effort go into creating an application.
Take some of the weight off your shoulders by using resources and tools that not only make your job easier but also help you put out the most polished product possible.
Test Your Work with Textmunk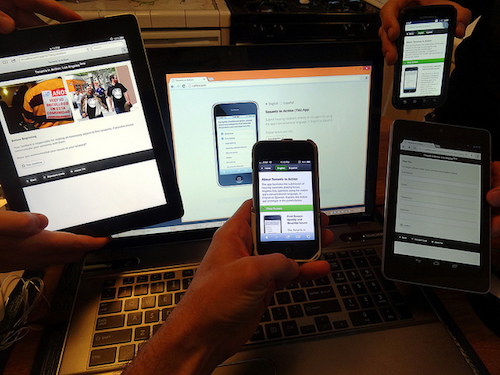 Image via Flickr by craigdietrich
Testmunk is one of the simplest but most helpful resources at your disposal as you develop your app. The number of operating systems, smartphones, and mobile devices available make Testmunk an essential tool to use as you create a new application to fulfill a need. Whether you're designing a texting app for people to stay in touch, a fitness tracking app, or something related to music, you have to ensure that it works properly across all platforms. Otherwise, you'll end up with bitter Android users or angry iOS fans who can't use what you've developed.
Rather than constantly checking the way your app performs yourself or asking random friends and colleagues to test the apps for glitches, bugs, and usability, you can do everything yourself through Testmunk. The tool has come a long way since its inception. A visit to the Testmunk website reveals a page full of documentation with instructions and tutorials for everything you can imagine. It teaches you how to do a test, how to run your app on your local device, how to design for Android and iOS, and much more.
Find Your Voice with Agora
People love voice-activated apps that make their lives easier. The ability to activate an app or pull up a program simply by speaking is convenient and cool on a high-tech, sci-fi level. Smart developers who create new calling and texting apps know the value of adding voice communications and video capabilities as well.
To incorporate real-time voice options and video calling easily, use Agora's developer portal. From there, you have a world of possibilities, including the potential to create a new voice-to-text app, a fresh way to video chat, or a combination of the two. You could come up with your own Animoji variation or simply put together a way for people to communicate no matter where they are in the world.
Design for Multiple Platforms with RhoMobile
You can't simply design apps for Android or iOS. There are too many platforms floating around to focus on just one or two. However, coding for multiple platforms is time-consuming and often frustrating. With the help of RhoMobile, you don't have to work as hard, but you don't have to skimp on quality either. The resource allows you to develop native apps over an array of operating systems, yet you only have to create one code.
It takes skill to code and imagination to develop new apps. Make sure you have these three tools at your disposal to ensure seamless integration.