Zynga began the new decade with proof that the Words With Friends brand is still going strong, with their #WordsWithVision campaign utilizing famous faces to spread positivity with a guiding word for 2020. Legendary country artist and keen WWF player Garth Brooks kicked off the 20-day campaign in January with his chosen word, 'connection', with Zynga keen to provide a unifying social force for its players.
The ability to bring a star like Brooks on board is clear proof that WWF is a global gaming success. Many might have felt that the Scrabble-inspired game would be a passing fad, but Zynga's title has now enjoyed over ten years of playtime. WWF cleverly tapped into a physical game loved throughout the world, then introduced a communal aspect by allowing head-to-head play via a smartphone.
Words With Friends is one of the most successful examples of a once physical game translating into a virtual format. So, with this in mind, here's a look at three other classic games that now thrive on people's smartphones across the world.
Solitaire
While it is not a particularly challenging game to set up, digital versions of solitaire take away the hassle of finding enough room in which to deal your cards. The most famous virtual form of solitaire is in the Microsoft Windows suite of games that used to be pre-installed on machines, a godsend for sitcom characters in The Office and for real office workers alike.
This single-player card game is now available from a multitude of apps, meaning that you no longer need a deck of cards or a desktop computer to play. MobilityWare's Solitaire app has an average 4.5/5 star rating from over 1.5 million players on the Google Play store, making it a good place to start for aspiring card players. It also shows the enduring appeal and moreish nature of this straightforward card game.
Roulette
The simplicity of the classic casino game allowed roulette to translate seamlessly to the digital world; the player places their bets, then watches as a virtual ball lands on a wheel. There have been improvements to graphics and the addition of bonus features, but the core mechanics have largely remained the same. The biggest development in online roulette has been the innovation of live casino, which has looked to bring the human element of casino play back to the forefront.
While the gameplay of roulette is an independent pursuit, the physical game would not traditionally be played in isolation. Some of NetEnt's free roulette games to play utilize live streaming technology to allow a human dealer to control the wheel as they would in "real life", with these live streams accessible via smartphones. Multiple camera angles and limited betting windows help to merge the physical and the digital as much as possible.
Sudoku
Sudoku is a relatively new newspaper staple in comparison to crosswords, first appearing in American papers in 2004. Wayne Gould, a judge from Hong Kong, developed a program that allowed unique sudoku puzzles to be generated with much greater speed. This helped sudoku's transition from newspapers and books into the world of gaming.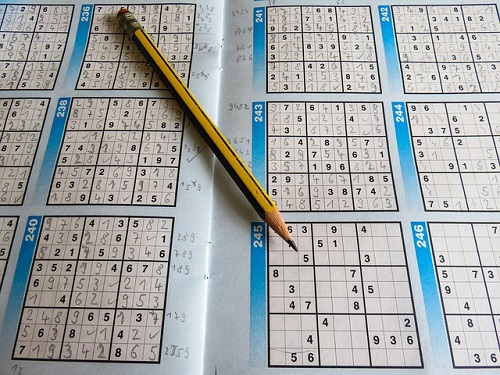 Dr Kawashima's Brain Training: How Old Is Your Brain? brought sudoku to a mainstream audience via the Nintendo DS in 2005, with players encouraged by the easy act of filling in the puzzles – no need for a pencil and a rubber to correct any mistakes. Easybrain's Sudoku.com app is one of several ways to play sudoku via a smartphone, with its Auto-Check and hint functions adding new elements to this once purely physical game.
While vast open-world games set in fantastical environments will appeal to many gamers, they are often difficult to run on many smartphones. It is telling that titles based on classic physical games (Scrabble, solitaire, roulette, sudoku) are those that provide some of the most accessible forms of mobile gaming.