Best Android Weather Widgets: What are the qualities of a good weather widget? First of all, it should be free. It's better to save some money for widgets while there are good free alternatives. Secondly, you want something that is battery friendly, doesn't eat up too much ram or processing power. You want something fast, which can provide accurate information.
Now, the weather is something that has an undeniably great influence on our lives. A little accurate information about future weather conditions can save a lot of troubles of your busy life. That is why a widget that constantly updates you with valuable information about weather at different locations might become one of your precious possessions! That is why there are thousands of widgets related to weather. But finding the right one suited to your best needs is crucial. Otherwise, you might have to face situations, where you carry an umbrella for the whole day and not see a single droplet of water fall from the heavenly sky.
Recommended:
Here are the Best Wishlist Apps
Top 5 Best Free Beat Making Software of 2019 You Need to Try
Best android weather widgets selected here are based on their looks, number of available features, accuracy of information and update frequency.
Android Weather Widgets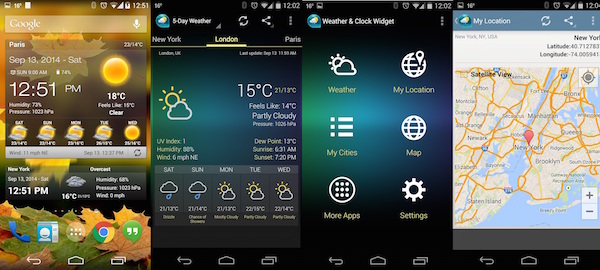 Why is this widget at the top? This widget provides all that you need. It's more like a complete package for the people who likes to weather prediction but also wants to save battery. This widget has elegant look, updates fast and works smoothly. It has custom widget home screen size. You can also add location with weather map for the location you selected. This widget is the best we've found that has a nice balance of looks, features and simplicity. And most importantly it's free!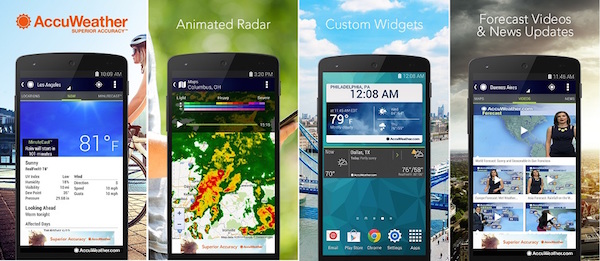 This widget could be at the top if it wasn't much resource heavy. It has minute cast feature that gives minute-by-minute weather forecasts for the next two hours and push notification feature for severe weather alert. Although push notification is only available within United States but the minute cast is available in US, UK, Ireland and Japan. One of the most interesting and unique feature of this widget is, it shows you videos of current weather news. The interface is really beautiful. And the animated radar map for North America and Europe works great. This looks amazing and that is the reason we have included this in our best android weather widgets list.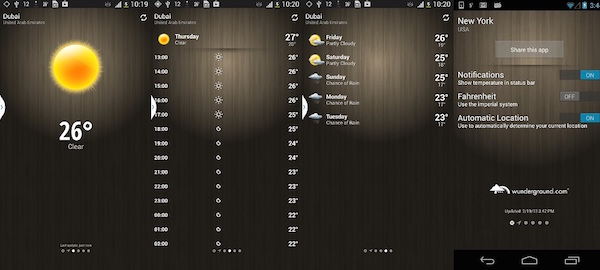 If you are looking for something that is light weight and really easy to use, Weather by MacroPinch is just the widget for you. This widget was designed specifically to be simple but also good looking. The animation is quite good and there is also an option to add manual location. Being light it lacks some features, but as the live updates are really small in size, the data uses is minimum with this widget.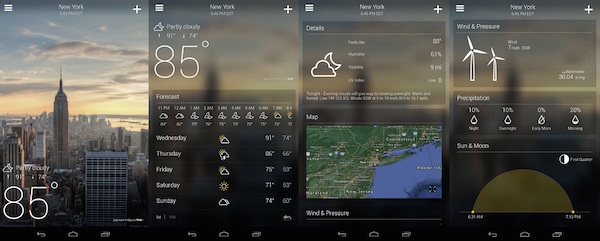 Yahoo weather is another free one that gives you accurate information about wind, pressure, and chance of precipitation etc. Although it doesn't have much animation like other good looking widget. It is still good in terms of being more lightweight and providing fast accurate weather data in much simple looking format.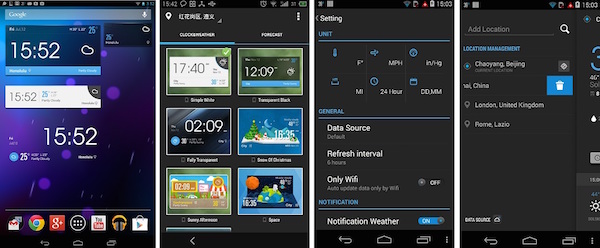 This free weather widget has a transparent and beautiful interface. If you want a widget that will not only give you weather information but also decorate your device, then you should get this. This widget offers many different options for themes. The design is simple, clean and also ad free! Which is usually rare for free widgets.

Weather underground is a free community powered weather widget. Right now Weather Underground claims to provide the most accurate weather information. Weather underground has their 33000+ personal weather stations that reports local weather information. Although this widget is free but you can purchase ad free subscription for $1.99 per year.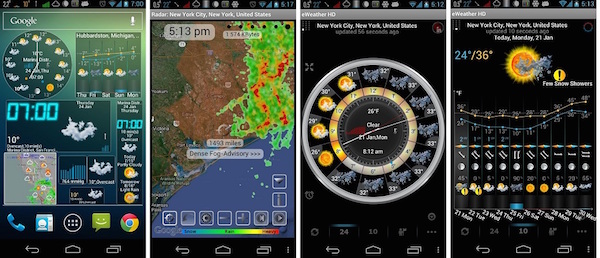 If you don't want to have any free widget that actually offers in app purchases for most of their features, than you should go for paid widget instead of free things. eWeather HD probably has the best appearance and the highest amount of features. But it is also quite expensive to pay about $4 for a widget. But you will also get great weather reporting service that comes directly from world renowned Foreca and US weather provider. The animation of NOAA radar on Google map is in High definition, but sadly only available in United States. eWeather has about 130,000 locations listed for providing weather reports around the world. There are so many features that it is not really possible to list it all here. But we can assure you, if we were making a list of top paid weather widget, eWeather HD would have been at the top.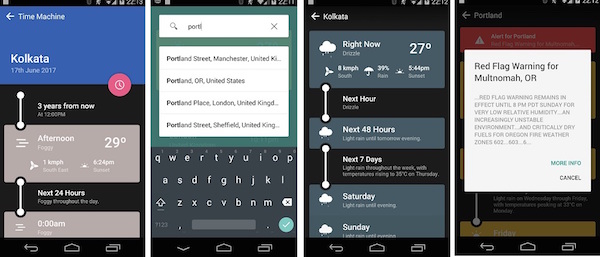 Weather timeline is a paid weather widget that follows the rule of simplicity. The widget uses bold colors so that you can differ important news from lesser ones. This widget is designed work smoothly on any kind of android device. Although it is paid, but $.92 for this widget is a great offer since you won't be bothered by ads.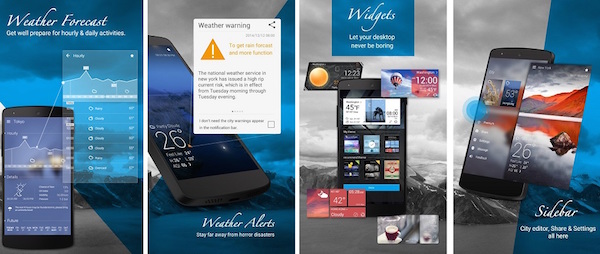 Although Go Weather Forecast is free to use but you'll only get half for free. The other half is paid. But this beautifully designed widget offer more than a thousand themes including weather reports. The pro version doesn't have any ads inside and has 24-hour and 10-day weather forecast service. The pro version also has exclusively designed themes.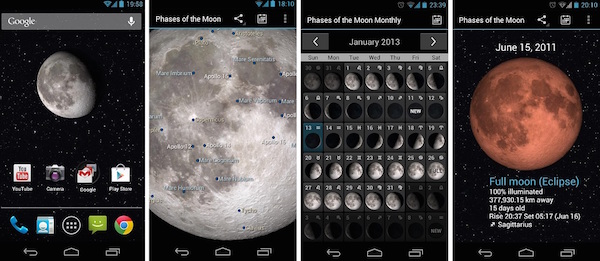 Alright, now this widget is not entirely about weather. It's about moon and designed for those who love moon. Who doesn't love to hold the moon in their hand with stunning animation of the moon phase that updates in real time! This android app provides all the data including moon rise or set time, name of the moon phase, zodiac location and also the distance to the moon. It even got a monthly calendar that shows moon phases over the months. The only difference of free and pro version is just ads within. So don't worry about paying for this fun little attractive widget.

And that will be all ten that we think are best android weather widget for your android device. If you want more cool 3D widget for android you can also look here.