Discord Servers and Best Discord Bots
Want to make your Discord Server a paradise? Get the best Discord Bots! List prepared by BFWR team to get you started!
There are hundreds of Discord Bots to choose from! But here's a list of what we think are the best Discord Bots and a quick walkthrough on how to add them to your server!
You can add Discord Bots to your Server by inviting them off the list on the official Discord website. Once you have extended the invitation to a Discord Bot, it will show up on your Server and do its work! Most of the Discord Bots are free while some developers offer purchasable upgrades to take the Bot's experience to a whole new level.
MEE6: The CIA
Looking for the best moderation bot? MEE6 got you covered!
MEE6 will constantly monitor your server's message tree for violations including fraud, spoilers, foul language, etc. The built-in commands in MEE6 can be used for kicking, muting, and even slamming a permanent ban on violators. You can even set the number of times a user can make violations before he gets banned. Apart from moderating the happenings on your server, MEE6 has the functionality to play background music on your server and even promote followers based on their activity.
If you get MEE6 premium, leveled up users in your server will get an ad-free leaderboard banner, along with the ability to integrate multiple YouTube channels. Want some music quiz to pop up for your followers or the feature of recording audio? Get them all with MEE6 premium! Subscriptions start at $11.95 a month but for those who want to make a one-time investment, you can grab MEE6 premium's lifetime subscription by paying $79.90 at once!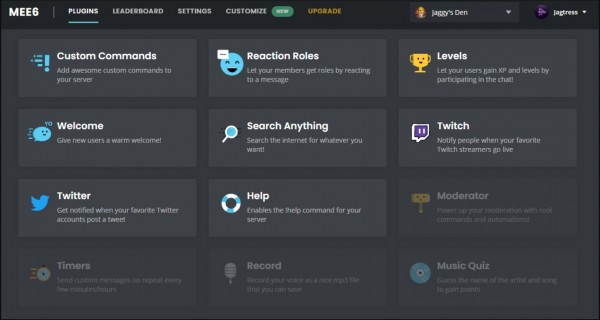 Best Meming Discord Bot
Dank Memer: Memes are in the Air!
Your followers want meme? Then it's time to engage Dank Memer on your server! With Dank Memer Discord Bot, users can send just the accurate meme for any situation. The currency system integrated into Dank Memer allows users to steal coins from other users, gamble their earnings and even more. These coins can be used for buying special items from Dank Memer shop.
Basic features can be accessed free of cost and while there isn't an option for a premium subscription, you can donate on their Patreon to get exclusive memes and extra coins.
Love emojis? This one's made for you! Here are the Best Emoji Apps
Octave: Music, Music and Even More Music
Blast the songs on YouTube or SoundCloud on your Discord Server using Octave! We call it the best music bot for Discord! Apart from playing songs, Octave allows you to create playlists, queue songs, and even display lyrics for supported songs.
At only $5 a month, you get to enjoy Octave premium's features including bass boost, custom playlists, longer track lengths, just to name a few.
Apollo: The Event Cartographer
Want to schedule events on your server? Get Apollo! Create events on your server using Apollo and let your followers mark whether they will be attending the event. Apollo also takes care of reminding the interested followers about an upcoming event by sending a private message. Need to create recurring events for Saturday nights? Apollo's got it all that you want in an event planning app.