Restaurant manager resume is focused on anyone who wants to make it big in the hospitality market. Restaurant management is in no way a simple task and requires the manager to take control of each single thing in a very subtle way.
To get into a Restaurant manager position, you need to have good presentable personality and a strong communication. Analytical skills are also quite desirable for this position.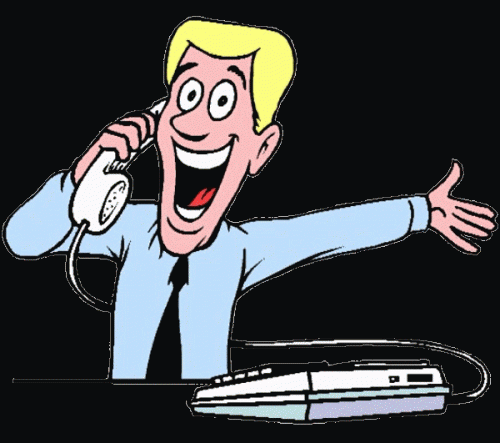 To get the invitation for the job position, you need to have a great resume and that is where we come in. At BFWR, today we will list the best restaurant manager resume for the readers.
Restaurant Manager Resume
Before, we start listing the resumes, let's find out the skills that a Restaurant manager must have.
Skills for the position of Restaurant Manager
The manager should have the following desired skills.
Should be well versed in hospitality and culinary management.
Understanding how the front and back-end operations work is a must.
Must be capable of understanding the vendor/ inventory management.
Team leader skills are desirable with the ability to train new staff and supervise them when in need.
Should understand the local market and make changes according to the competition.
Should be capable of improving sales using marketing strategies.
Guest Service Excellence adds value to the candidate.
Amazing knowledge about foods and different type of culinary. Can create an appealing menu and focus on quality at the same time.
Previous working knowledge of the position is desirable but not necessary.
The above skills are desirable for the position of the Restaurant Manager position. The skill list is not complete by any means and the requirement can fluctuate depending on the restaurant requirements.
Also, a degree in Hospitality Management can help the candidate a long way in the job prospects. Also, knowledge of the local culture and language can help the candidate to bring the best out of the job position.
Now, it's time to discuss the different aspects of a good resume. Without wasting much time, let's list them below.
A good resume starts with a statement. The statement should attract the HR manager.
Skills should be mentioned clearly. The manager only takes 30 secs maximum to judge the resume. So, it is better to give the best shot by presenting skills in a clear way.
Career projects that you have excelled at would add more value to the resume. The hiring manager always wants to know what problems you have solved in your job. The challenges define you.
If you follow the above-mentioned tips, you will be in a great position to grab the job interview.
Enough of the knowledge! Let's see some the best restaurant manager samples.
1.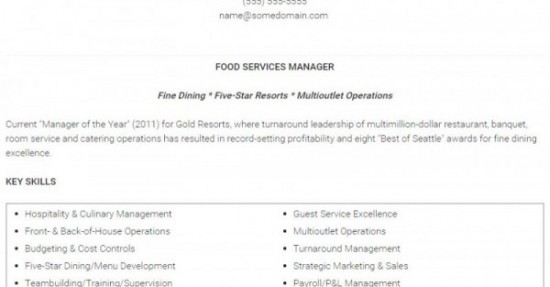 2.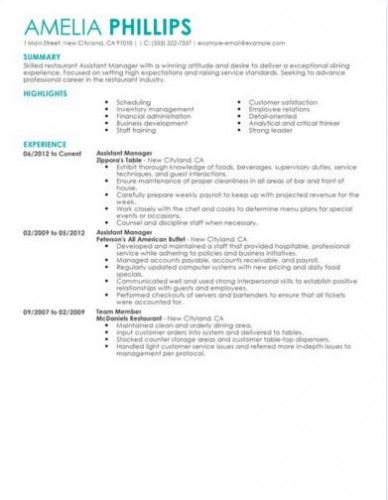 3.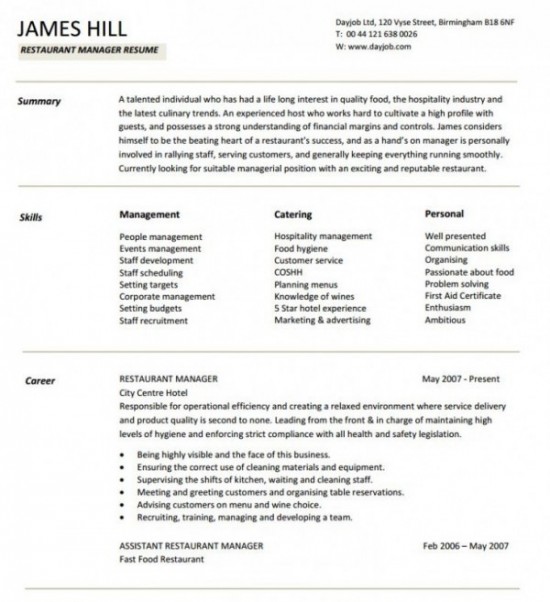 4.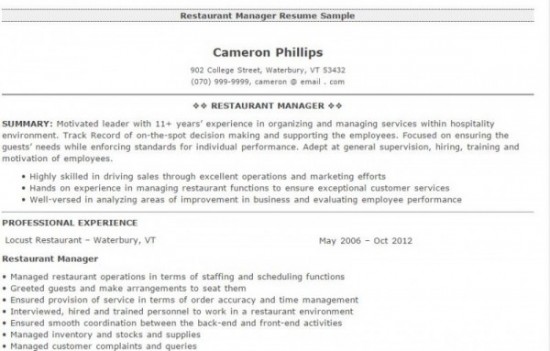 5.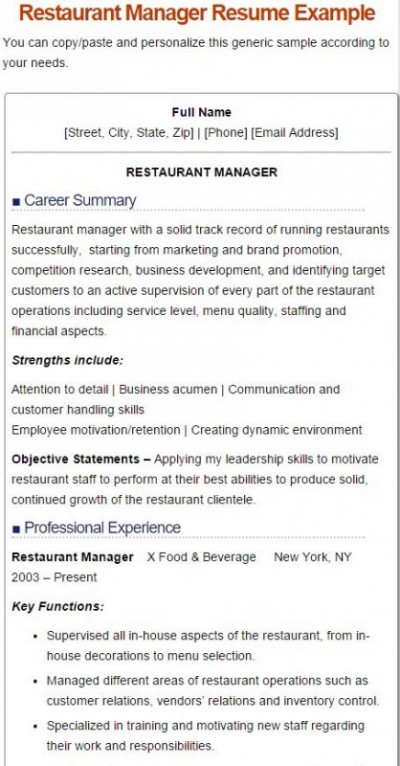 6.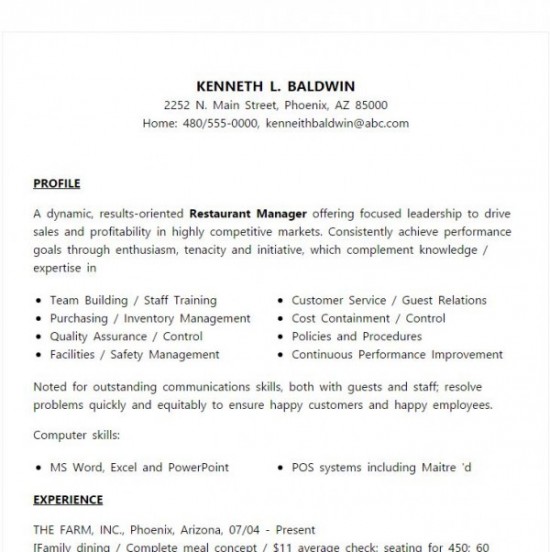 7.