Indeed, restaurant manager resumes are focused on anyone who wants to make it big in the hospitality market. Restaurant management is in no way a simple task and requires the manager to take control of every single thing in a very subtle way. Besides, it is very important for every aspirant to have a detailed look at how everyone fares. For this purpose, it is necessary to see some of the most popular resumes available. Also, you will go bonkers after going through some of these very popular ones!
Surely, they will spellbind you to a great extent. Also, you need to remember that no resume can ever be perfect. The applicants may stutter in some of the other aspects. Besides, to get into a Restaurant manager position, you need to have a good presentable personality and strong communication. Moreover, analytical skills are also quite desirable for this position. Hence, you must not only possess all the relevant skills, but also your cv should be presentable. There are a few tips which will guide you through your interview process. But, before that, you must be all-clear in your mind and approach! Let us have a look at some of the best CVs ever made.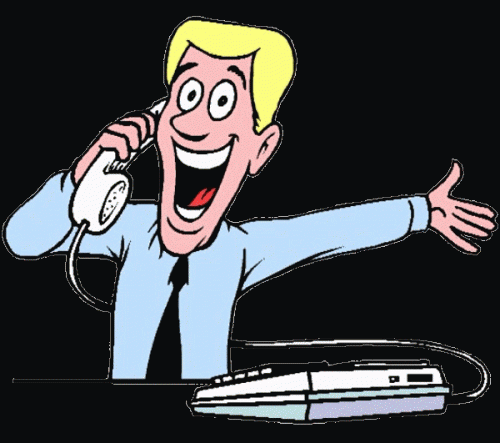 To get the invitation for the job position, you need to have a great resume and that is where we come in. At BFWR, today we will list the best restaurant manager resume for the readers. Do look carefully at each of these resumes and see where you need to improve. Especially, if there are any technical aspects in framing your resume, do consider them. Who knows, you might stand a better chance after you alter a lot of these minute things!
Restaurant Manager Resumes
Before we start listing the resumes, let's find out the skills that a Restaurant manager must-have.
Skills for the position
The manager should have the following desired skills.
Should be well versed in hospitality and culinary management.
Understanding how the front and back-end operations work is a must.
Must be capable of understanding the vendor/ inventory management.
Team leader skills are desirable with the ability to train new staff and supervise them when in need.
Should understand the local market and make changes according to the competition.
Should be capable of improving sales using marketing strategies.
Guest Service Excellence adds value to the candidate.
Amazing knowledge about foods and different type of culinary. Can create an appealing menu and focus on quality at the same time.
Previous working knowledge of the position is desirable but not necessary.
The above skills are desirable for the position of the Restaurant Manager position. The skill list is not complete by any means and the requirement can fluctuate depending on the restaurant requirements.
Also, a degree in Hospitality Management can help the candidate a long way in job prospects. Also, knowledge of the local culture and language can help the candidate to bring the best out of the job position. However, only possessing a degree or knowledge does not suffice. Not even for a single working day! Besides, you got to have the relevant skills required for a manager.
What should a good resume contain?
Now, it's time to discuss the different aspects of a good resume. Without wasting much time, let's list them below.
A good resume starts with a statement. The statement should attract the HR manager.
Skills should be mentioned clearly. The manager only takes 30 secs maximum to judge the resume. So, it is better to give the best shot by presenting skills in a clear way.
Career projects that you have excelled at would add more value to the resume. The hiring manager always wants to know what problems you have solved in your job. The challenges define you.
Keep your resume simple and short. Do not overemphasise on your achievements. The HR or recruiter will find it boring to read a pretty prolonged resume. Avoid this at all costs.
Do not list irrelevant skills which are useless for this job. Also, it may affect your chances of securing the job.
If you follow the above-mentioned tips, you will be in a great position to grab the job interview.
Enough of knowledge! Let's see some of the best restaurant manager samples.
1.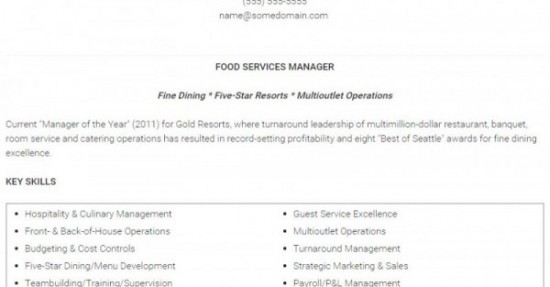 This resume scores a lot in terms of presentation. Besides, listing the skills in the points format always makes your case stronger.
2.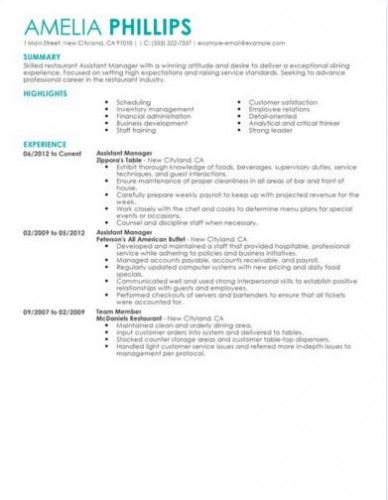 This one is too neat and precise. Also, it segregates the resume so smoothly.
3.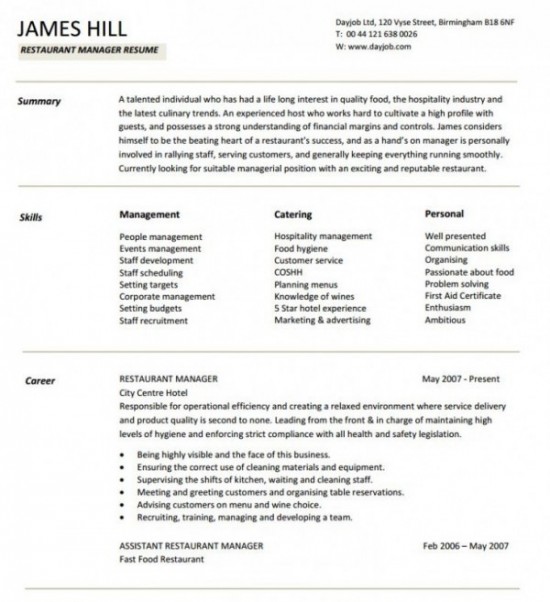 A well-oriented resume!
4.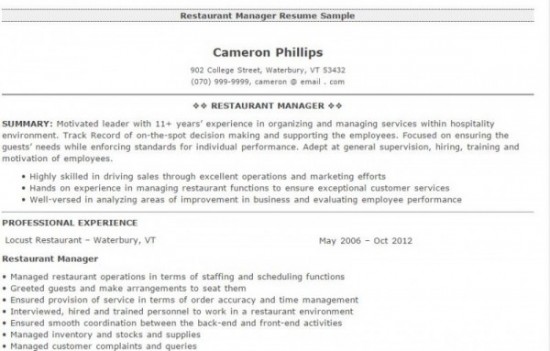 Some other resumes –
5.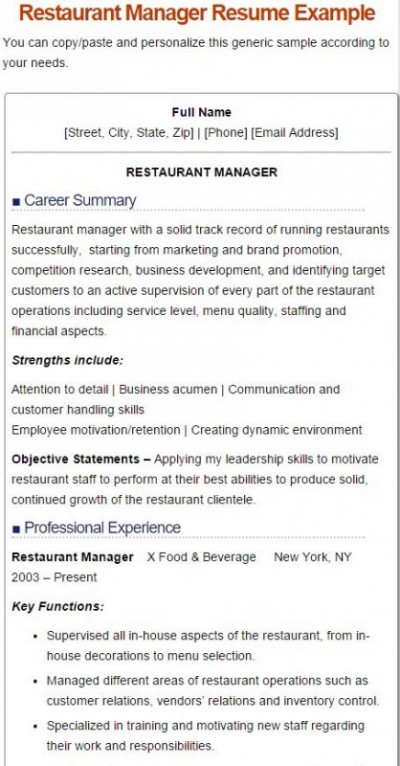 6.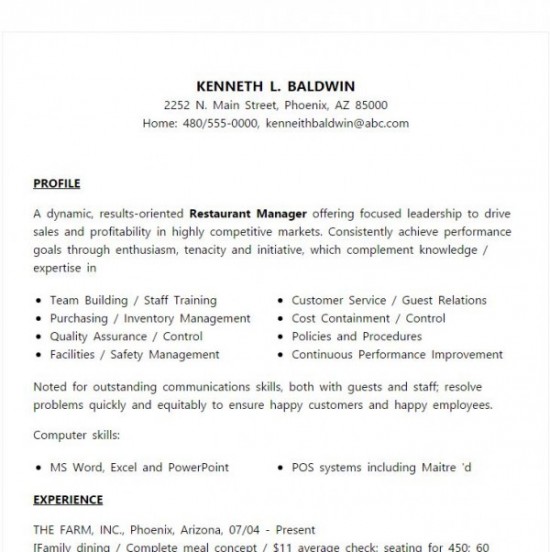 7.