Many web developers are showing reluctance to using HTML5 web technology, because of the fact that several devices with old browsers doesn't understand HTML5 codes. And as a result, such devices ignore the codes, which causes issues while a HTML-enabled website is viewed on a mobile device running older browser versions. Fortunately, there are a number of jQuery Mobile templates available online that are designed to render the ability to devices with old browsers to access websites built on HTML5.
In this post, we'll discuss about 6 of the best jQuery Mobile templates that not only features stunning designs, but also easily adapts to all types of mobile devices.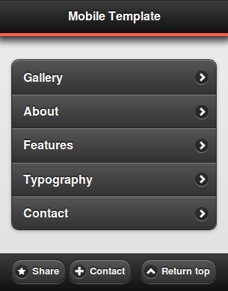 1. Nightly v2.0
Nightly v2.0 boasts new features and fixes, making it a highly powerful jQuery mobile template. It is based on the latest jQuery Mobile 1.4.5 framework. The best aspect about this template is that it is also compatible with Adobe's Phonegap framework. So, apart from building website that works well in-tune with jQuery Mobile, you can also build amazing apps for mobile devices. It comes with excellent jQuery tools that help you detect what device and resolution is used to view your site. This theme contains several features like different color schemes, Font Awesome icons, 20+ HTML pages, GPS tracking, etc. This template is available for $13.
2. InMobile 2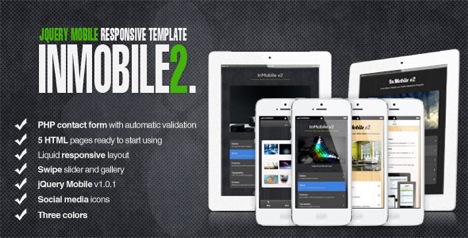 This is a responsive template optimized for mobile devices as well as tablets. You can easily modify the look and feel of your InMobile 2, by choosing from any one of the three template versions that the template provides to users. It comes with several other customization options including two color schemes, working PHP contact form, two gallery types, etc. This template is compatible with all major browsers such as IE9, Safari, Chrome and a few others. It is available at a marginal cost of $8.
3. jQuery Mobile Bootstrap
Bootstrap has become one of the most sought-after front-end frameworks used by a number of web developers, especially those with zero designing knowledge. Besides, bootstrap templates are fully responsive. So, if you've been searching for a bootstrap-enabled jQuery template, then jQuery Mobile Bootstrap best fit your needs. And, the best part! This template overrides the jQuery Mobile content color A – E swatches with Bootstrap framework colors and styles. It's available for free.
4. Mobilize

Want to create personal or business websites using jQuery that are optimized for mobile usage? Looking for a jQuery mobile theme that help you set up a mobile website in no time? In that case, Mobilize is the perfect theme for you. It comes with a responsive layout that can be easily customized and comes loaded with rich feature-set. The template comes with a mobile touch optimized slider, featuring a responsive layout and 24 transition effects and lots more. Some of its other features include contact form with validation, 4 color schemes, 9 backgrounds, touch optimized gallery and much more. This is a premium theme available for $9.
5. My Mobile Page V2
My Mobile Page V2 is the second and improved version of the "My Mobile Page" template. It comes with a fluid layout that auto-adjust to the device screen size, it is being viewed upon. The template contains a working contact form, featured icon navigation, SEO optimized HTML code, and many more amazing features. You can purchase this template at a nominal cost of $10.
6. Shopey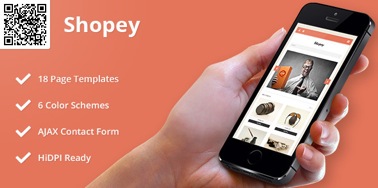 If you're searching for a mobile-optimized e-commerce template that comes with jQuery elements, then Shopey is an ideal choice for you. It's a mobile template primarily designed for e-commerce websites, however it can also be used as a portfolio template. The theme offers you 5 different page templates for building a portfolio site, a feature that proves a boon for users who don't need an e-commerce solution. This theme easily adapts to any mobile device with different screen size, and resolution. Some of other features of this theme includes 6 color schemes, working contact form, HiDPI Ready, and a lot more. It's available for $10.
Wrapping Up!
Modern jQuery mobile templates, help users access HTML5 websites on their phones having old browsers. Additionally, these templates also offer great functionalities such as fluid layouts that makes website navigation a breeze, touch optimized sliders and lots more immensely useful features. Reading this post will help you learn about 6 best jQuery Mobile templates that are worth a try.
Author Bio:
Victoria Brinsley is a highly experienced Android application developer associated with Appsted Ltd – a reputed mobile apps development services provider. In case, you are willing to avail related information about development tips and tricks, get in touch with her.