Updated: New housekeeping resumes added on 2/1/2020.
Housekeeping Resumes are the best way to get the job interview for a housekeeping job. With hospitality and other sectors are in massive demand for housekeeping jobs. And, if you are taking your chance for a housekeeping job, then we have Housekeeping resumes getting you started.
A housekeeper can have many titles, and some of the few titles are HouseKeeping, Executive HouseKeeper, HouseKeeper/Room Attendant.
At BFWR, We always keep our readers updated with resume related articles. If you are new, then you can read How to write a resume. If you already have the idea of creating a resume, then you can look further at the tips that make the resume work.
We also have a great collection of resume/CV and a practical guide on how to build a cover letter that works! And, if you want to automate the process of resume building, check the free resume builders.
Let's move on to the housekeeping resumes. These resumes are handpicked so that they are best suited for the people who are looking for jobs.
So, what is the role of HouseKeepers?
Housekeepers are the new age warriors that keep the environment clean. They do their duty in smaller chunks and at regular intervals. They also work on the request of the guest and takes care of their needs if needed.
Some housekeeping jobs also require taking care of the cooking and laundry section. They are also responsible for sanitizing the place and keeping it free from any form of the disease. They do it by ensuring that the surroundings are kept clean all the time.
The housekeepers are also responsible for working without disturbing the other workers or patients in the hospital or any other organization. The work hours need to be flexible, and there would be no reason to disturb others.
If you are looking for a housekeeping job, then it is always a good idea to have a housekeeping cover letter. We have already linked how to create a cover letter that works — have a look at how to approach the problem.
Below you will see a collection of housekeeping resumes. All these resumes have one thing in common: readability and accessibility. By look at the resume, you can see it. Modern resumes are also seen to improve the readability of the resume selector. It will also help you to get your resume through the automatic selection process done by machine learning and artificial intelligence. As someone who is trying to get an interview, you should always be ready to remove a section that you think will not add value to your resume. This mistake is made by many people out there who think that adding more information will make the resume look good. In reality, the resume is a small rendition of your past achievements and gives an impression to the selector on what you can do for the company you are applying to.
Let's dive deep into the list of amazing housekeeping resumes.
---
1.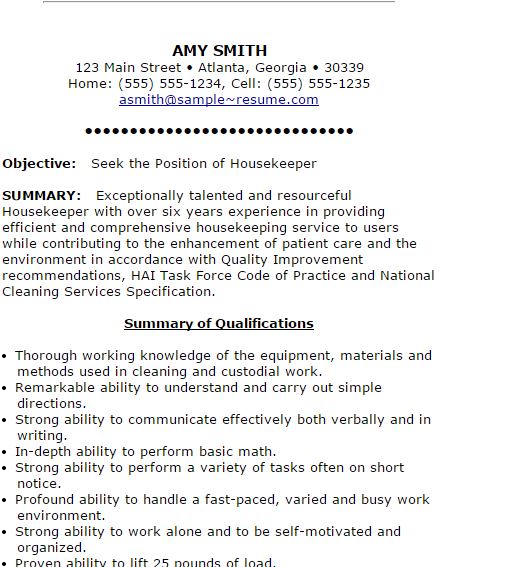 ---
2.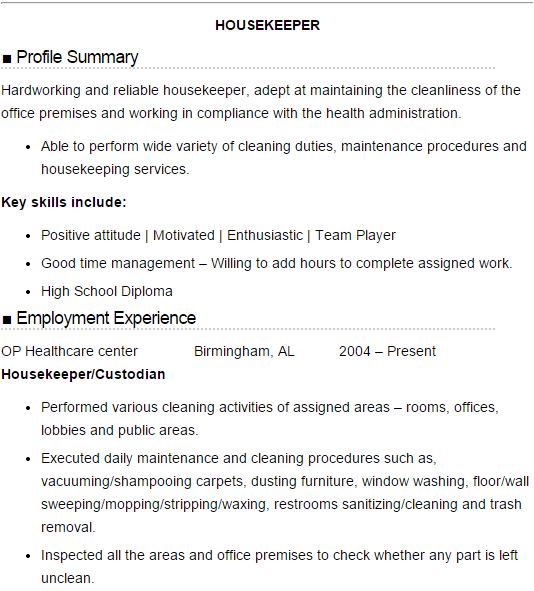 ---
3.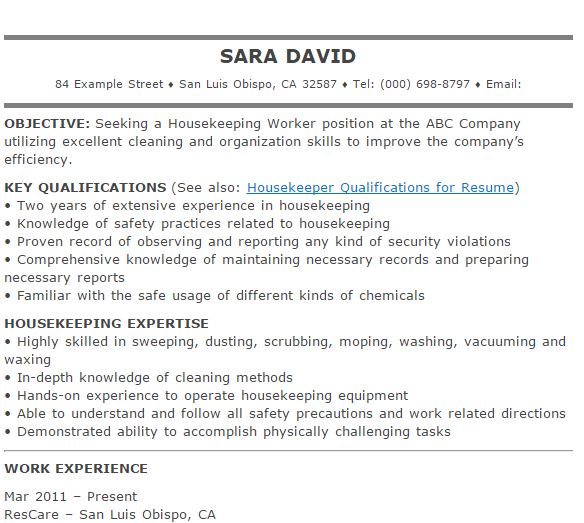 ---
4.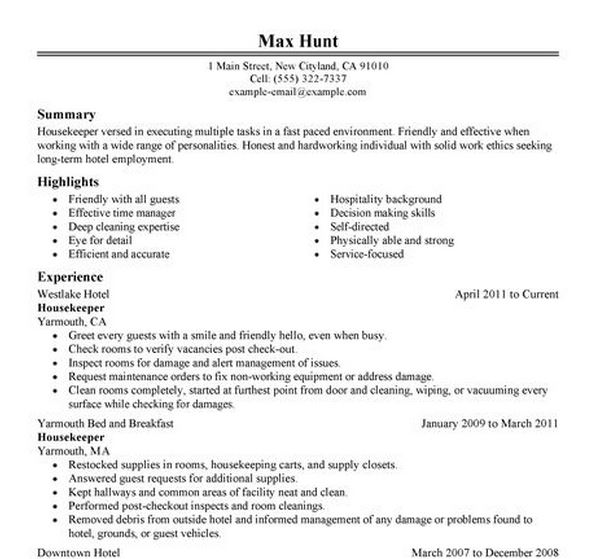 ---
5.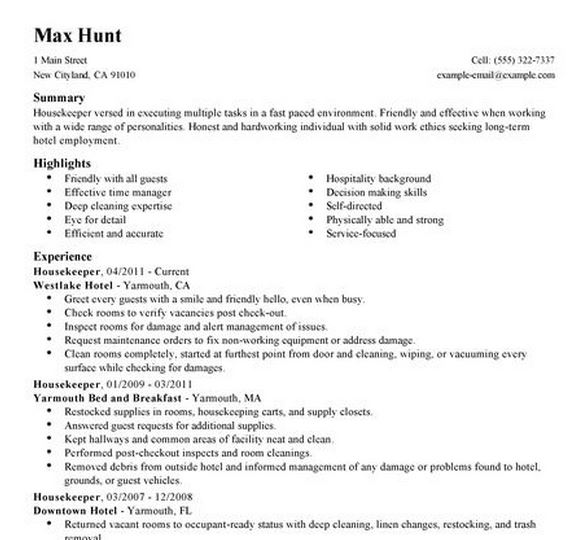 ---
6.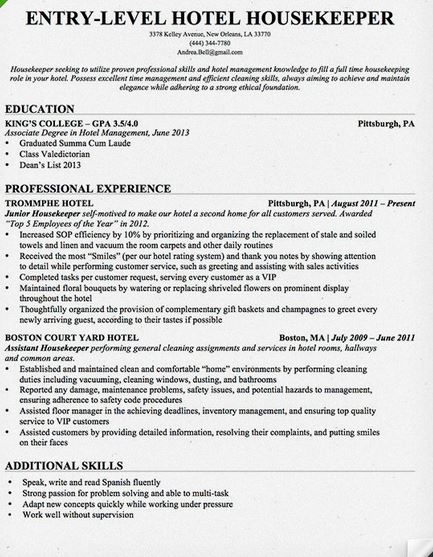 ---
7.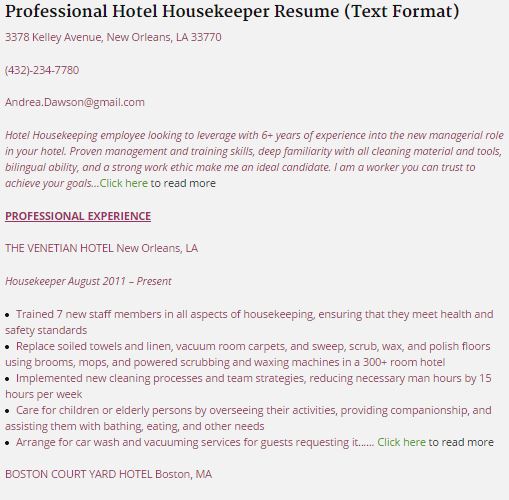 8.Resume.io housekeeping resume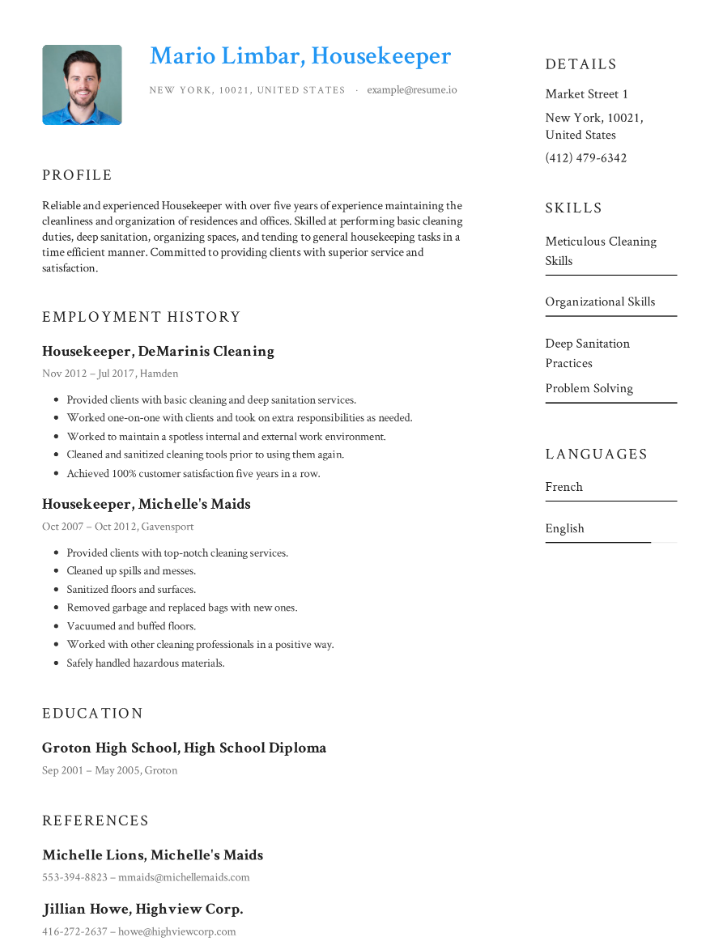 If you want to create your own housekeeping resume then check out the steps to write a housekeeping resume.
Writing a Housekeeping Resume
We already mentioned that a housekeeping resume should convey your abilities as a housekeeper. It should not have any other goal whatsoever. A housekeeper should also be a self-starter which has the motivation to do things by himself rather than waiting for instructions every time. Apart from that, the resume should offer a clear view of the candidate's capabilities including sanitation and cleaning knowledge.
Summary
As a user, you need to summarize your work in the summary section. It should your expertise and ability on how you can manage the job with your skills. Here, you need to add verbs and ensure that you can clean physical spaces without much difficulty. Also, try to mention your accomplishments and qualifications.
Employment History
Next, you need to list your past working history. This will enable you to showcase your work. Also, try to mention specific accomplishments so that it can attract HR achievements.
Education
In this section, you need to mention your education.
Skills
Here you should list all the skills that you are confident of. For instance, you should write about your leadership skills, project management skills, sanitation and cleaning skills, and so on.
Do you have anything to add to the story? Comment below and let us know!